Panoee is more than a 360-degree virtual tour platform; it is the ideal Kuula alternative. Not only is Panoee the most feature-rich and user-friendly tour creator out there, but it also includes web-based tools for sharing, getting feedback, embedding on websites and integrating with other platforms – making Panoee an all-in-one solution without losing control or flexibility over your virtual tour workflow! Here are some comparisons to show why you should choose Panoee over Kuula and why Panoee is the best Kuula alternative.
Panoee is easier to use than Kuula

Ease of use is a crucial factor when choosing virtual software. You want software that lets you create stunning virtual tours with ease; both Panoee and Kuula have features that simplify the process, such as drag-and-drop functionality, user-friendly interfaces, and instant editing features.
However, Panoee has an edge over Kuula in this aspect. Panoee automatically saves and applies any changes you make, while Kuula requires you to save and publish your modifications manually.
Panoee have more features than Kuula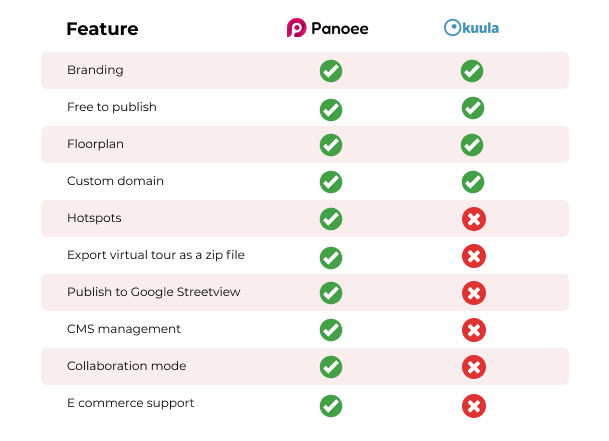 Both options offer many features to take advantage of, such as Hotspot, Branding Your Virtual Tour, Free Virtual Tour Publishing, Floorplan and Custom Domain.
However, Panoee does have more significant features than Kuula, such as:
Google Streetview Publishing: Panoee makes publishing virtual tours to Google Streetview an easy, cost-effective, and time-efficient process, giving your virtual tours greater reach. Furthermore, Panoee provides editing and management features for managing these tours as well as editing them directly through Panoee.
More unique hotspots: You can add more types of hotspots to your virtual tours, such as polygon to enhance virtual tours and create more engaging and immersive experiences for viewers.
Export virtual tour as a zip file: You can export your virtual tours as a zip file, to save them offline or share them with others. You can also host it on your own server
Panoee's CMS (Content Management System) can help you easily organize and search virtual tours using Post, Floorplans, etc in one convenient place. With Panoee's CMS management feature, you can manage all virtual tour content easily, as well as create categories, tags or filters to search through them all quickly.
Collaboration Mode: Panoee allows users to work together collaboratively on creating and editing virtual tours, as well as assign roles and permissions for different users.
E-Commerce Support: Your virtual tours can easily integrate with e-commerce platforms like Shopify or Custom Link, providing shopping carts, product details, and payment options within them.
Does Panoee provide Marketing support for virtual tours?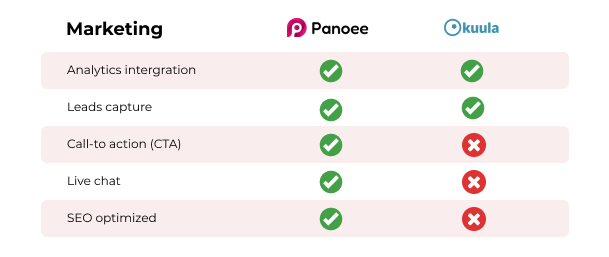 Panoee does have features not found in Kuula, including:
CTA: Your virtual tours can include call-to-action buttons such as book now, buy now and contact us, which allow visitors to quickly take action upon seeing an offer or service they might be interested in. Furthermore, these CTA buttons can be customized based on size, colour and animation features for optimal usability.
Live chat: When adding virtual tours, live chat can help your viewers communicate in real time and provide 24/7 customer service. Furthermore, chatbots may automate responses for added efficiency and an improved experience for viewers.
Virtual tour SEO Optimized: To increase its searchability on search engines, virtual tours should be optimized by including meta tags, keywords, descriptions and Schema Markup to enhance results and increase click-through rates.
Panoee provides some unique Offers for Customers

Panoee offers some distinct advantages over Kuula, such as:
Promotion that allows users to gain free storage: Panoee offers a promotion that allows you to gain extra virtual tour storage by performing some simple tasks – sharing on social media, writing a review, etc – up to 10 GB of extra storage is up for grabs for free.
Refund Policy for Customers Who are Dissatisfied: Panoee is committed to customer satisfaction. If, for any reason, the software or service doesn't meet expectations, within 30 days from purchase, you can request a full refund with no questions asked – simply return it!
Panoee's Affiliate Program Brings Passive Income: Panoee's affiliate program can help you generate passive income by introducing Panoee's software to others and earning a commission for every sale made through your referral link. Furthermore, offering discounted products increases the conversion rate.
Panoee offers new users up to an 80% discount on their first purchase – this limited-time offer must be taken advantage of quickly, or it may expire, so don't delay in signing up here and taking advantage!
Panoee has a more affordable Pricing

Panoee offers three pricing plans: Be Friend (Free), Companion ($18/month), and Companion+ ($180/year or $15/ month).
Kuula offers two pricing plans: Pro ($24/month or $20/month if paid annually) and Business ($48/month or $36/month, paid annually
Panoee has a Clear development roadmap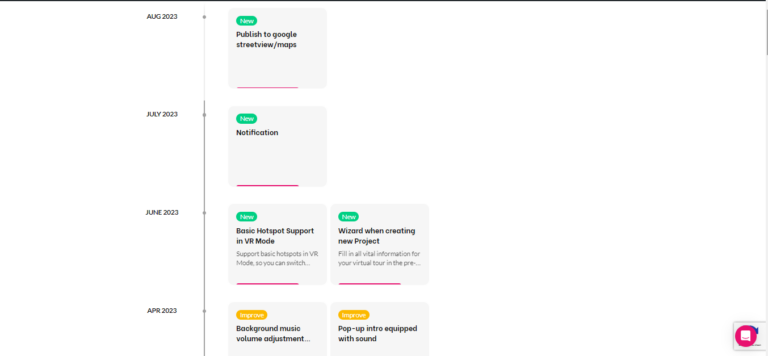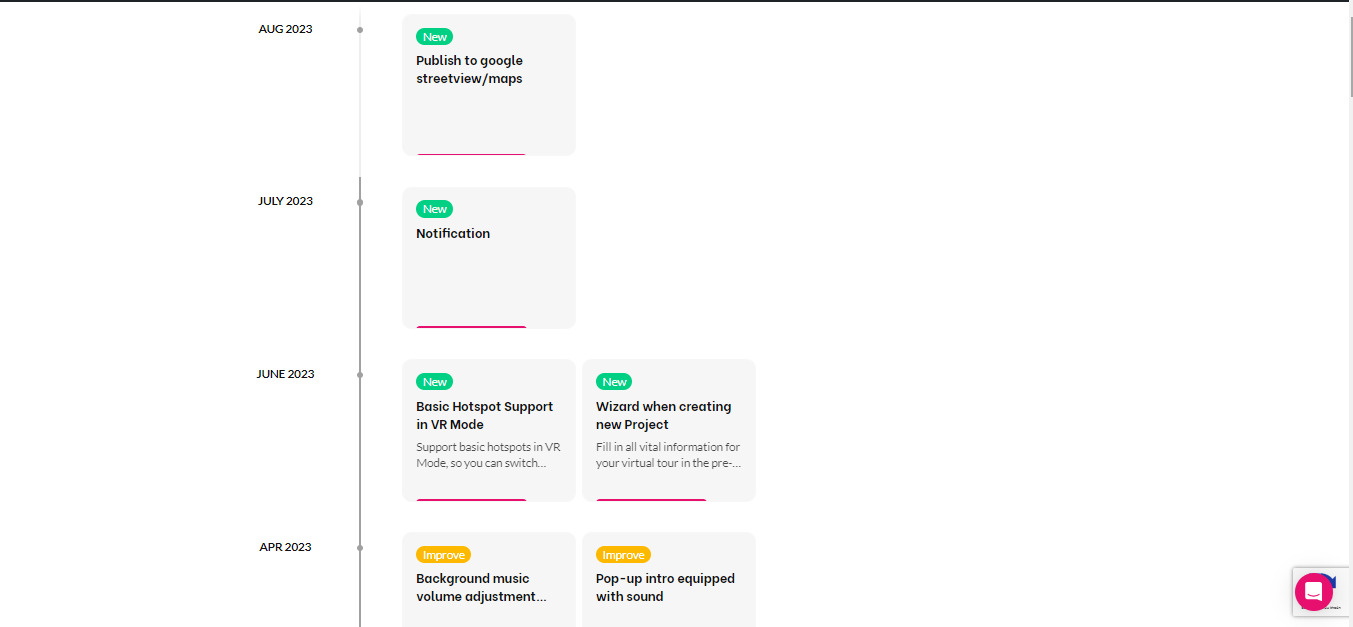 Panoee shares its yearly roadmap on its website, which reveals its vision and direction for the upcoming year. You can see what features and improvements Panoee is working on, and when they are planned to be launched. You can also suggest the feature you want to see on Panoee and vote for others' ideas. You can see it here.