Virtual tours have grown increasingly popular since the Pandemic Era. They allow you to showcase properties, products, or services without physically visiting each one. But creating one can be time-consuming and complex when dealing with multiple stakeholders such as clients, colleagues, or contractors – so how can you ensure all are on the same page and achieve an end product that satisfies expectations?
Panoee's collaboration mode comes to the rescue in this regard. Panoee is a free 360-degree virtual tour software with premium features allowing you to easily create stunning virtual tours in minutes. And thank Panoee's collaboration mode, team-working virtual tour becomes efficient, collaborative, and conversational – creating beautiful tours in minutes without effort!
What is Panoee's collaboration mode?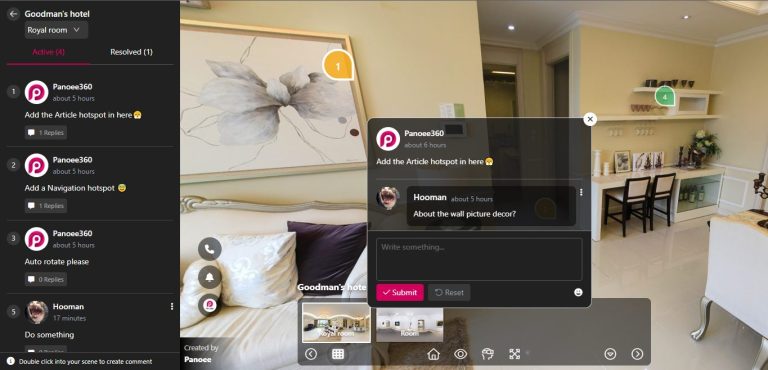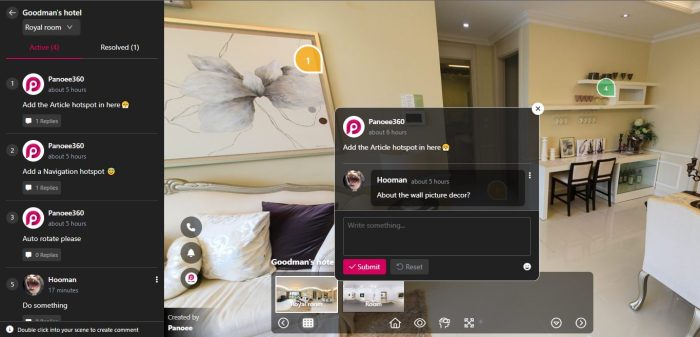 Panoee's collaboration mode is a feature that allows you to invite other people to join your project and comment on the virtual tour together in real time. You can also chat with them and share feedback within the Panoee platform. This way, you can streamline the communication and workflow of your team-working virtual tour and ensure that everyone is aligned and satisfied.
AI in a Virtual Tour: How to Create Better and More Engaging Experiences? – Learn more
What are the benefits of a Team-working Virtual Tour with Panoee's Collaboration Mode?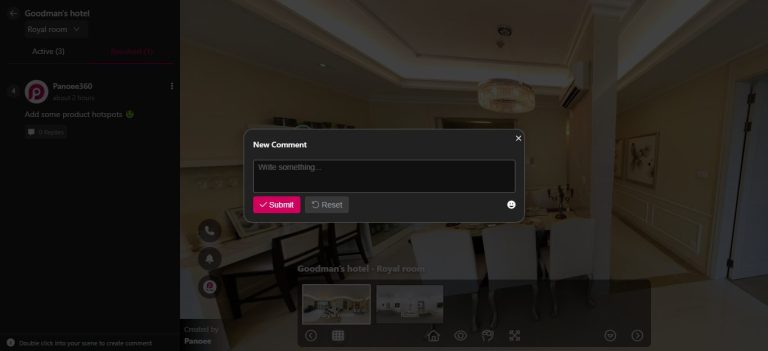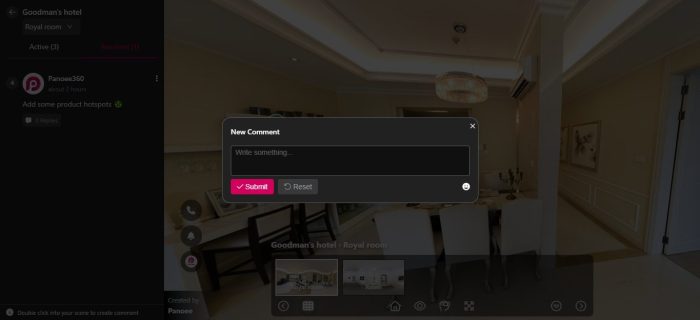 Panoee's collaboration mode offers many benefits for team-working virtual tour, such as:
Saving Time and Money
Panoee's collaboration mode offers many advantages for team-working virtual tour, including time and cost savings by eliminating unnecessary revisions and miscommunication. You can share ideas and feedback instantly, making adjustments as you go, without spending unnecessary money on traveling, meeting in person, emailing back and forth, or travel costs. Furthermore, streamlining workflow and delivering projects more quickly.
Enhance quality and accuracy
Panoee's collaboration mode enables you to collaborate seamlessly with team members for instantaneous feedback and suggestions to ensure that the virtual tour meets the highest standards of quality and accuracy. Invite them into your project, see their avatars, chat via text, edit together in real-time, switch views such as editor view, preview view, or VR view – and utilize all their talents and expertise to craft an experience that exceeds your goals and expectations!
Increase creativity and productivity
As another advantage of team-working virtual tour with Panoee's collaboration mode, teaming up can enhance the quality and creativity of virtual tours by tapping into the talents and expertise of collaborators. Leverage their insights and suggestions to craft something that meets all your goals and expectations while learning from one another and honing your skills further – adding hotspots, audio files, text, images, or videos can make for more striking and captivating virtual tours!
Enhancing customer satisfaction
Engage your customers in the creation process, showing them its progress and results to foster trust and loyalty while increasing satisfaction levels among your audience. This way, you can build stronger bonds between yourself and them while building lasting relationships.
Nadir patch for virtual tour – a superior essential tool – Learn more
How to Add a Tour Guide to a Virtual Tours in Minutes with Panoee – Learn more
How To Add A Call-to-Action In Your Virtual Tour (step-by-step) – Learn more
How to use Panoee's collaboration mode?
Using Panoee's collaboration mode is very simple and intuitive. Here are the steps to follow:
Enable the Collaboration mode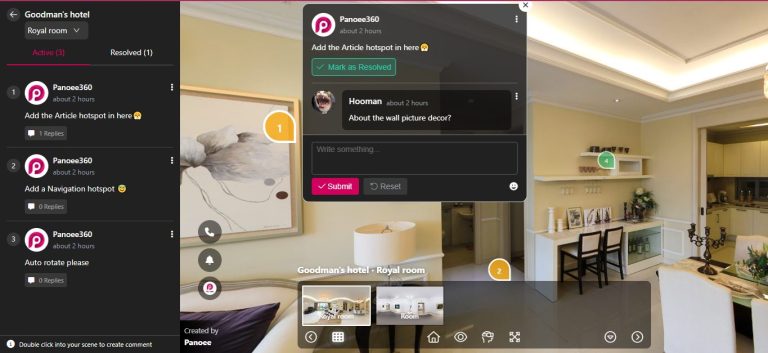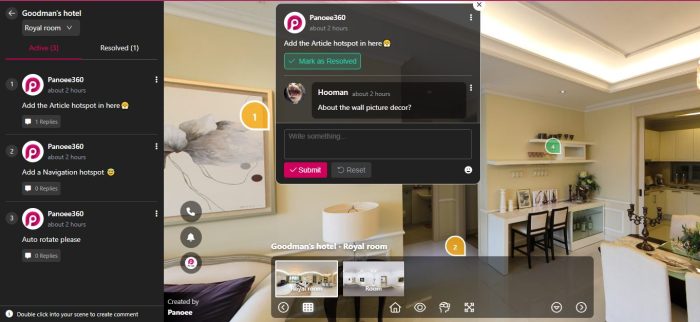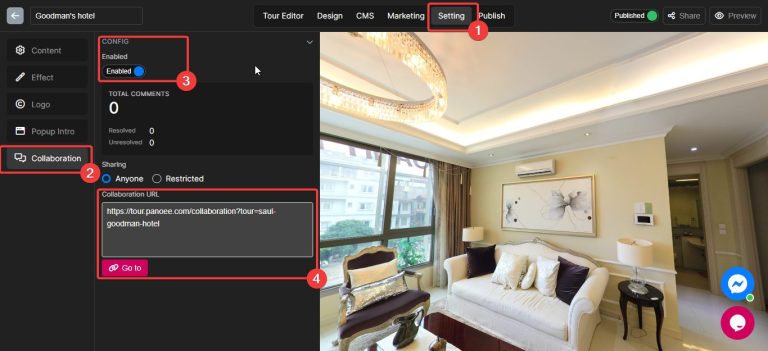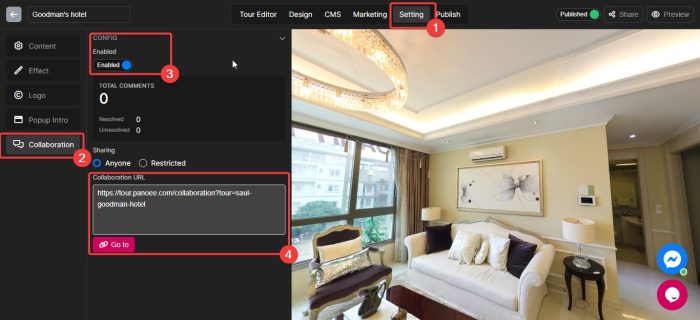 Choose the Setting tab.
Choose Collaboration section
Enable the Collaboration mode.
Copy your Collaboration mode link and share it with your co-worker (You can share it with Everyone or some specific people by entering their emails which have registered to Panoee)
Some operations withPanoee's Collaboration mode
Make a task: Make a task: Double-click on the position you wish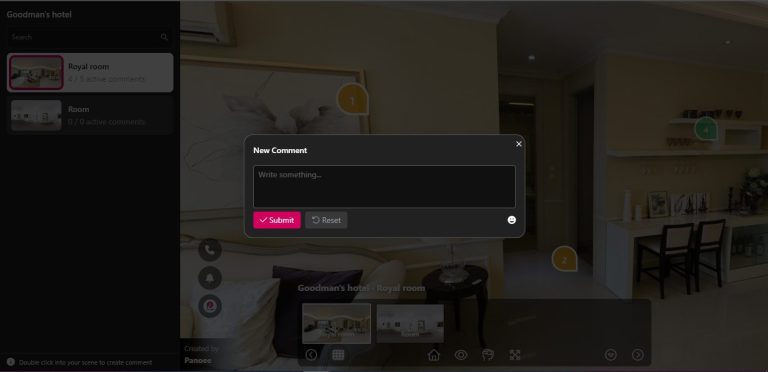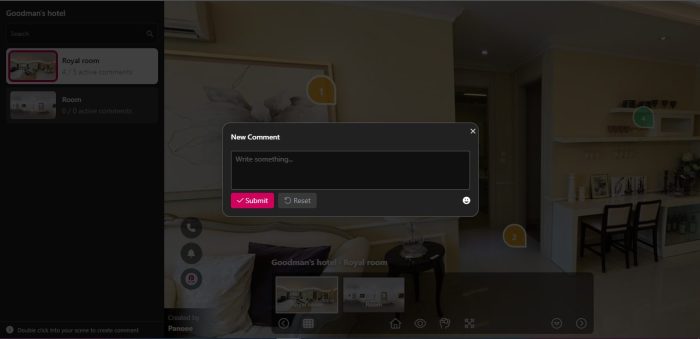 Task's checklist: Double-click on the Scene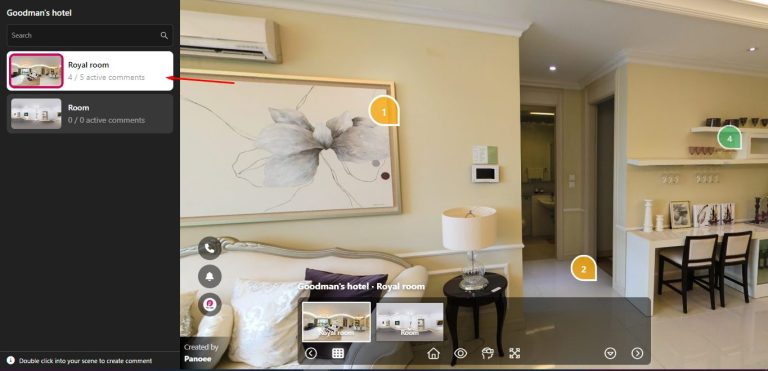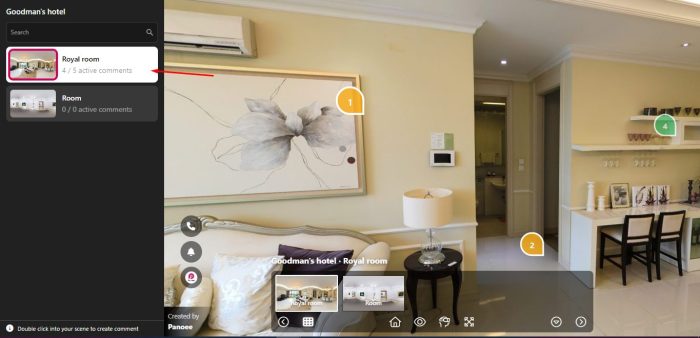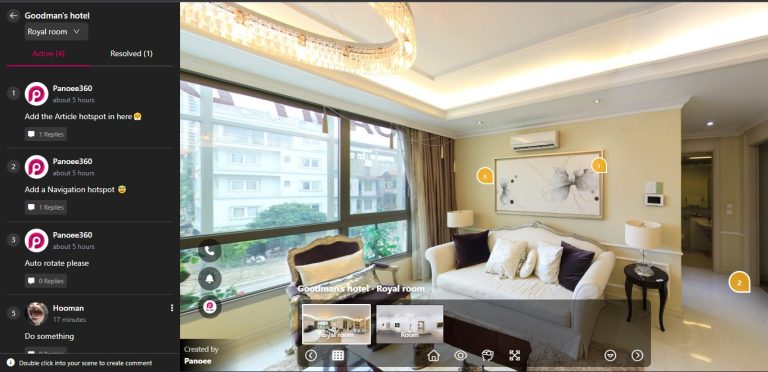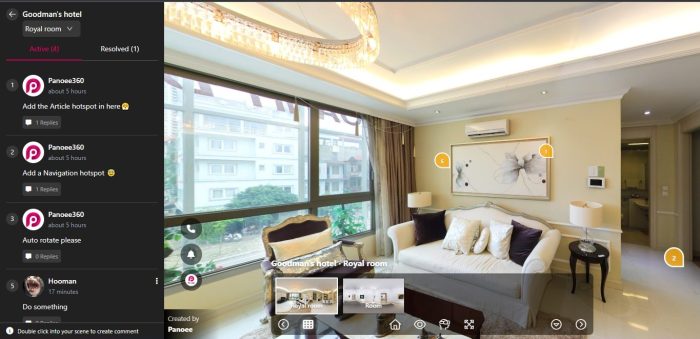 Reply to your co-worker: Click on their feedback and write something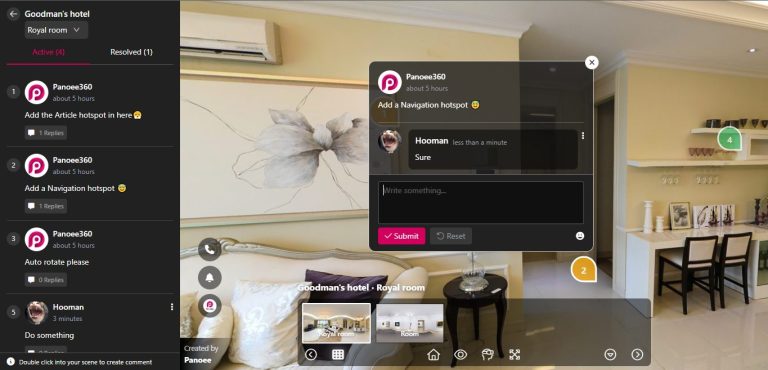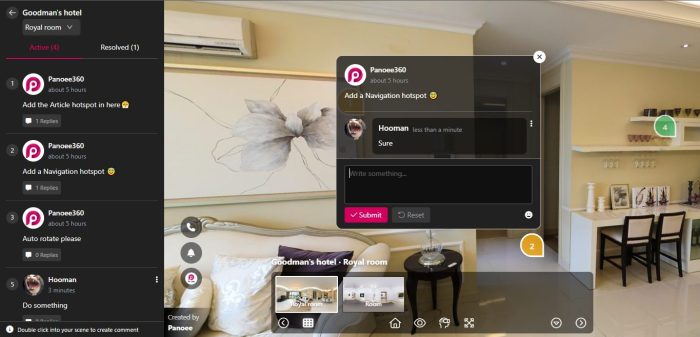 Mark as done (for tour owner's only)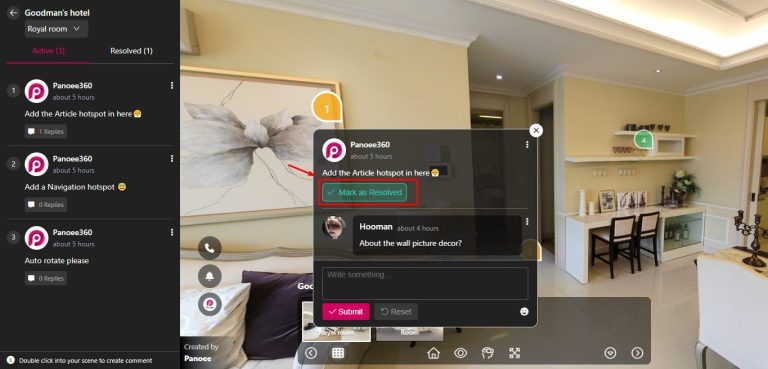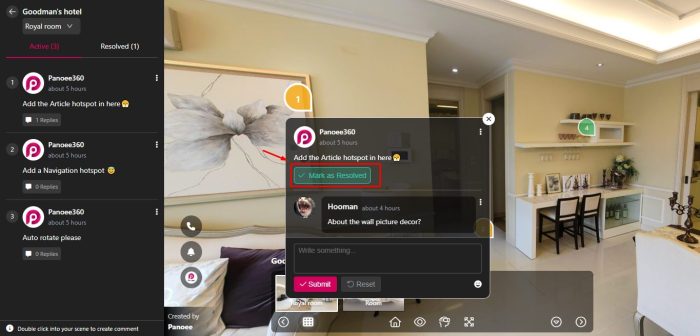 Edit and Delete task (for tour's owner only)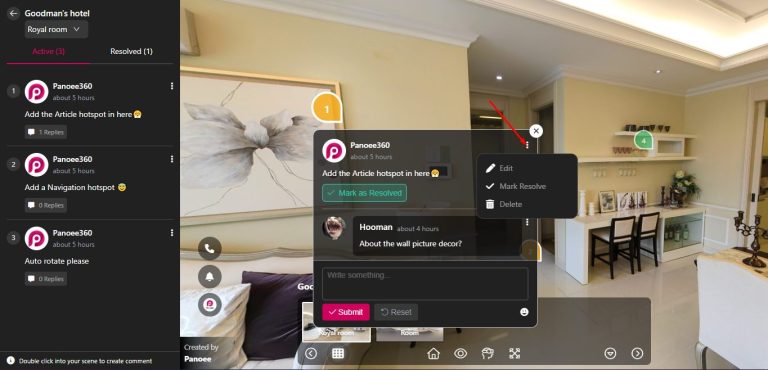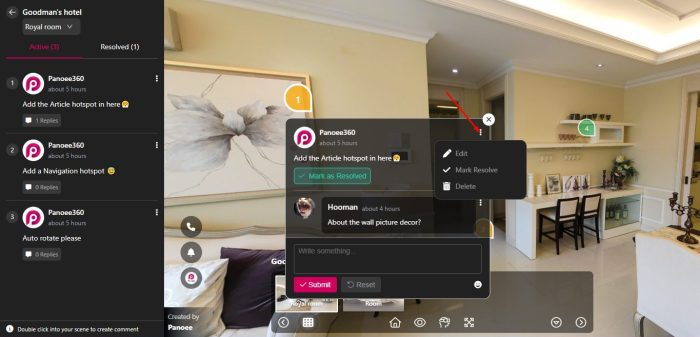 That's all about Panoee's Collaboration mode ?. Easy, right?
Panoee's collaboration mode provides an efficient means to produce team-working virtual tours that meet your goals and expectations and save time and money by eliminating unnecessary revisions or misunderstandings. Whether it is for real estate, education, tourism, or any other industry, Panoee can help make it happen!
Follow Panoee:
Facebook: https://bit.ly/Panoee_Community
Twitter: https://bit.ly/tw_panoee360
Youtube: https://bit.ly/yt_panoee360
Telegram: https://t.me/panoee360