Suppose you have created a stunning virtual tour of your property, business, or destination using Panoee, complete with 360-degree photos or videos, hotspots, scenes, audio text, etc. But it still misses something, isn't it? Something to engage with potential customers. Let's take a look at the call-to-action feature of Panoee! With just a few simple steps, you can master this great function.
1. What is Call-to-action?
Call-to-action (CTA) prompts are designed to inform visitors what you want them to do next, such as clicking a button, link, form submission form, or text prompt, encouraging action by visitors.
For instance, in a virtual tour of your hotel, you might ask visitors to book rooms, request quotes or reach out for more information from you.
Related topic:
Best Virtual Tour software for Real Estate 2023 – Learn more
Nadir patch for virtual tour – Learn more
All-in-one tools you need to create professional virtual tours – Learn more
2. Why do you need to use CTA in your virtual tours?
CTAs aren't simply nice-to-have features – they're essential! A CTA can help you realize numerous advantages, such as:
Increase Conversions
Calls-to-action can entice visitors to take action that converts into leads or sales, creating urgency and scarcity that boost conversions. For example, if you offer limited-time offers or discounted hotel rooms, you could use CTAs to encourage them to book now before it's too late!
Improve user experience
A CTA can guide visitors through your virtual tour and give clear directions for what comes next, eliminating confusion or frustration from not knowing what they should do next. For example, if your restaurant hosts virtual tours online, using CTAs could inform visitors how they can order online, book tables online, or view its menu.
Develop Trust and Credibility
CTAs can show your visitors your value proposition and show how your services meet their problems or needs, providing social proof and testimonials that increase trust and credibility – such as in a virtual tour of your gym where a CTA could show visitors the advantages of joining, success stories from members or trainers or customer reviews of each.
3. How to add CTA to the virtual tour?
Panoee is an online platform that allows you to create stunning virtual tours easily and quickly. You can upload 360-degree photos or videos and add hotspots, scenes, audio, text, etc. You can also add CTA to your virtual tour using Panoee.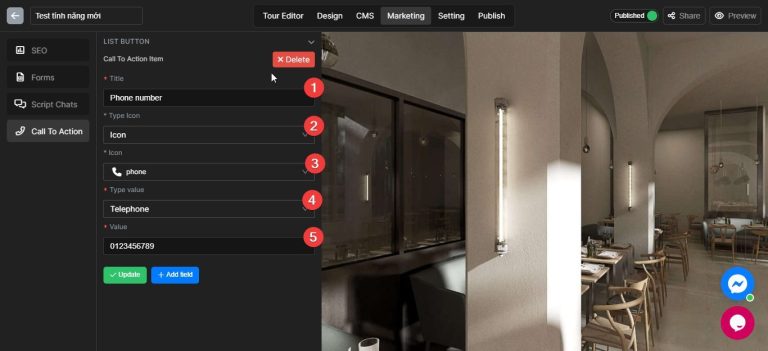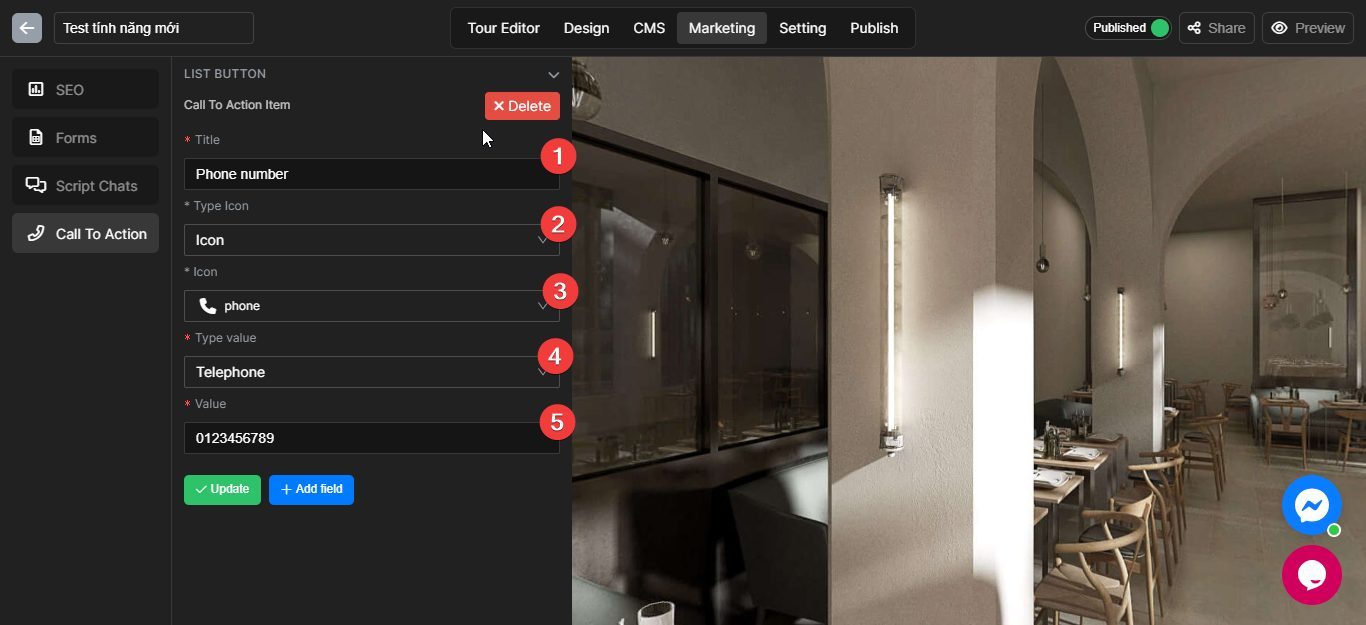 Here are the steps for adding a CTA in a virtual tour using Panoee
Are you ready to create stunning virtual tours with Panoee? Get started immediately by signing up for a free trial and experience how easy and fun virtual tour creation can be with Panoee. You will be amazed at how quick and straightforward creating tours can be with our platform!
Follow us:
Facebook: https://bit.ly/Panoee_Community
Twitter: https://bit.ly/tw_panoee360
Youtube: https://bit.ly/yt_panoee360
Telegram: https://t.me/panoee360