Virtual tours provide an effective means of showcasing products, services, or locations online to potential customers. Creating immersive and engaging virtual tour experiences that capture attention while increasing engagement and conversions. However, how can you ensure your virtual tours reach the appropriate audience and rank well on search engines? That is where virtual tour SEO comes into play.
What is Virtual Tour SEO?
Virtual tour SEO (search engine optimization or "SEO") applies standard SEO principles and techniques to virtual tours. SEO stands for search engine optimization; the practice involves increasing the quality and quantity of traffic coming through search engines – this includes keywords, content creation/management/link-building strategies/technical optimization issues/user experience considerations, etc.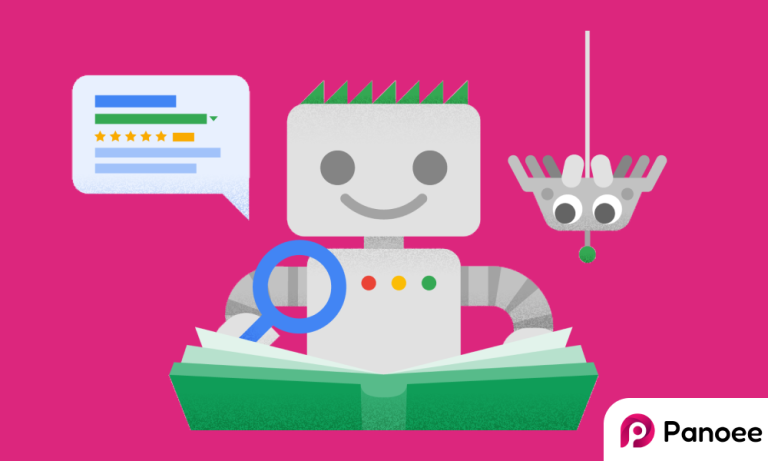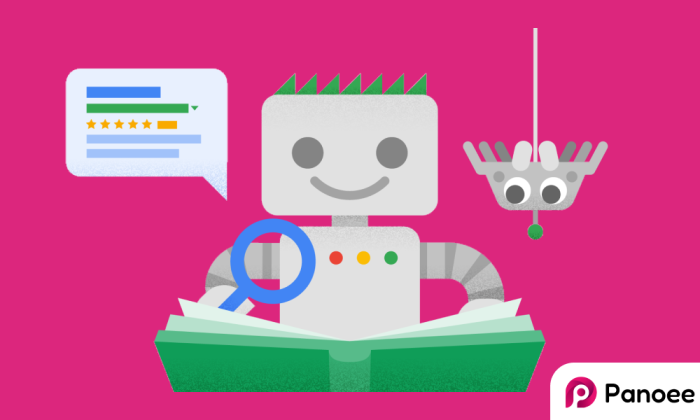 Virtual tour SEO works by applying these factors to virtual tours – interactive 360-degree images or videos that enable viewers to explore places or products realistically – choosing an optimal platform, conducting keyword research on them, optimizing metadata fields for them, and then promoting and tracking social media promotions while measuring and improving SEO performance over time.
Why is Virtual Tour SEO Important?
Virtual tour SEO can bring many benefits to your business, such as:
Increased Visibility and Awareness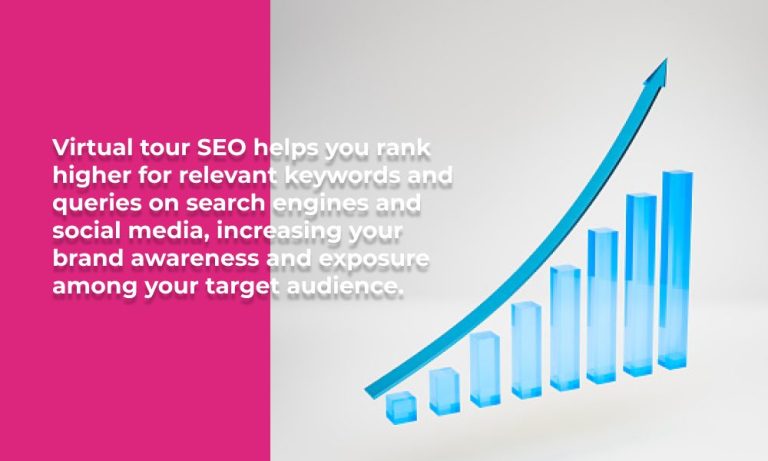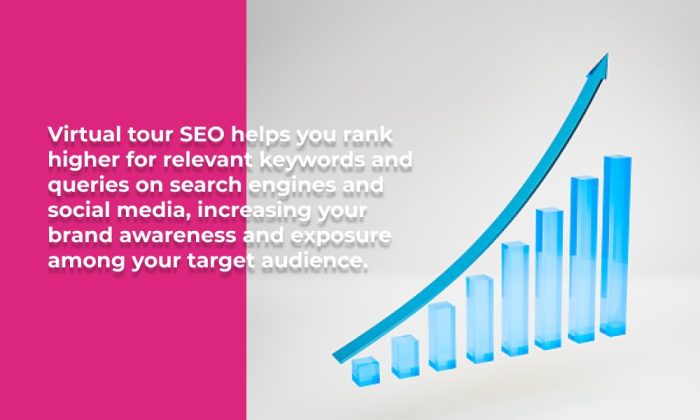 Virtual tour SEO can assist in ranking higher on search engines and social media platforms for keywords or queries relevant to your topic or niche, thus increasing brand recognition among potential customers searching for relevant information. For instance, hotel owners offering virtual tours should strive to rank well on these search engines/platforms for such terms as: "luxury home virtual tour," "360 industrial park", or even "College 360 tour" This would boost brand exposure among potential guests looking for information related to it.
Increased Engagement and Retention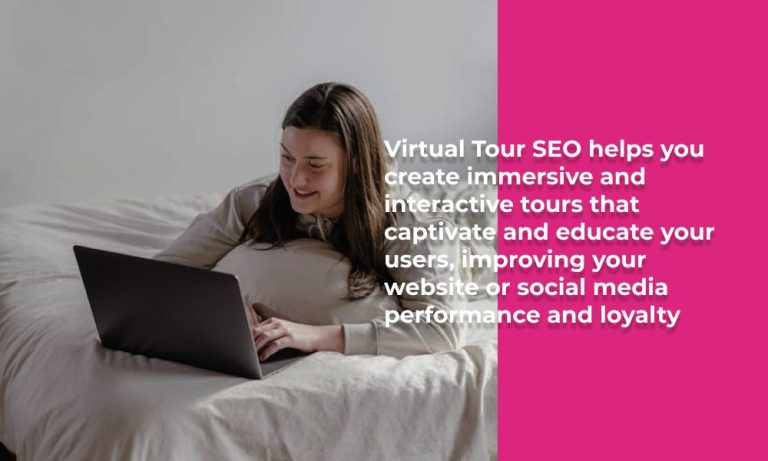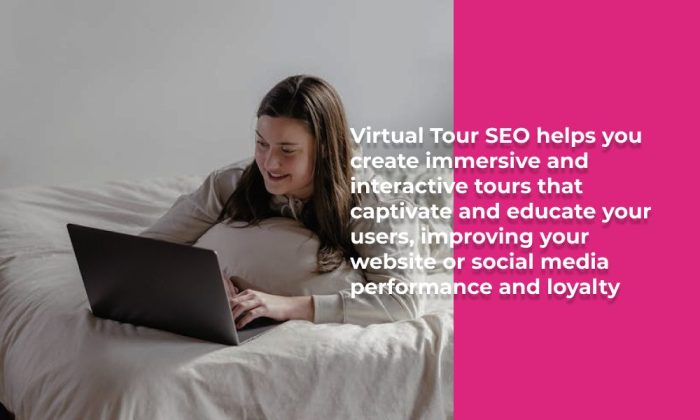 Virtual Tour SEO can assist with creating more immersive and interactive user experiences that capture their attention and interest, increasing time spent on the website or social media pages, decreasing bounce rates, and encouraging return visits from interested visitors. Suppose you offer virtual tours of museum exhibits and collections as a museum curator, for example. In that case, engaging and educational tours that keep users curious are key to increasing engagement and retention.
Increased conversions and sales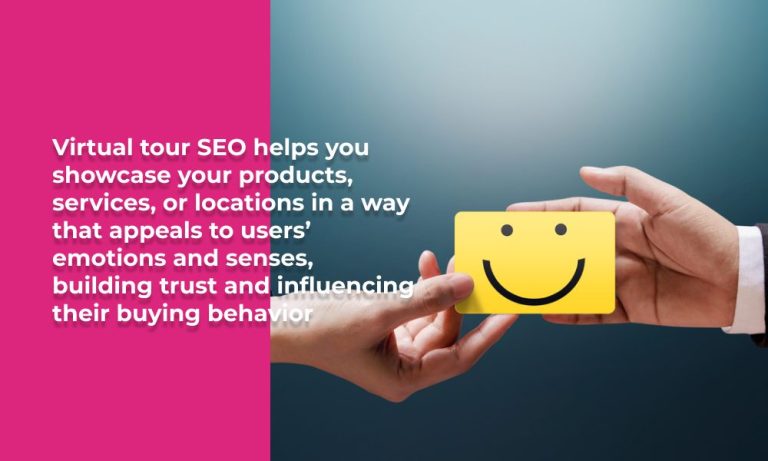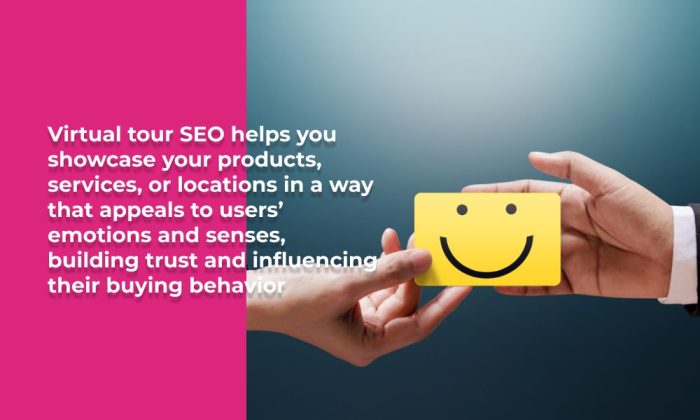 Virtual tour SEO can help your products, services, or locations present themselves in an engaging manner that attracts users' emotions and senses in a compelling manner that resonates with users – increasing trust with visitors while informing their purchase decisions and ultimately increasing conversions and sales. For example, car dealers offering virtual tours must highlight specific details and specs of their vehicles that entice users into making purchasing decisions quickly and seamlessly – such as showing users details that make purchasing them attractive.
How to Optimize Your Virtual Tours for SEO with Panoee?
Panoee is an intuitive platform designed to quickly create stunning virtual tours in minutes, including uploading 360-degree images from your own camera or customizing tours by adding interactive elements such as hotspots, audio/video files/clips/text, and much more.
Panoee goes beyond virtual tour creation – its SEO feature can also help optimize tours to reach more potential customers and generate leads. Here are just a few ways this feature of Panoee can enhance virtual tour SEO
Generate unique and relevant titles and descriptions for your tours
Panoee SEO feature automatically creates unique and relevant titles and descriptions for your tours based on their content and keywords provided, designed to catch search engines' eye while still appealing to human visitors who click. These titles and descriptions can entice more clicks for your tours!
Manually editing titles and descriptions may also provide more opportunities to add details or keywords that need attention. With Panoee SEO's preview function, you can see exactly how these will appear on search engines such as Google, so any necessary adjustments may be made accordingly.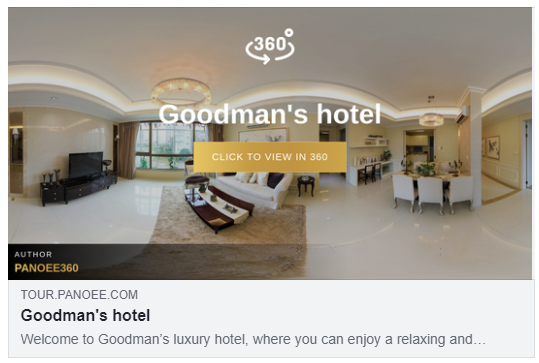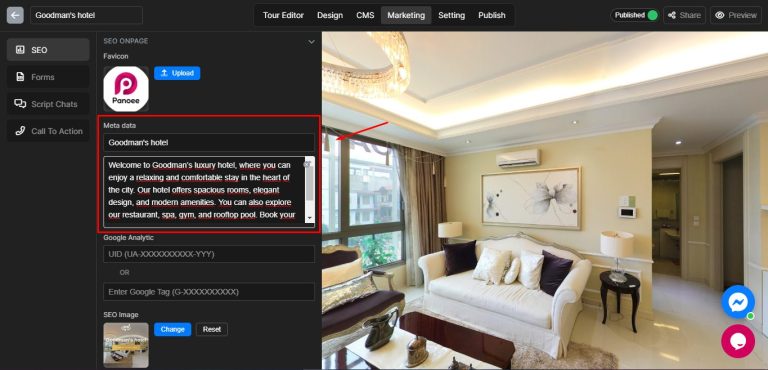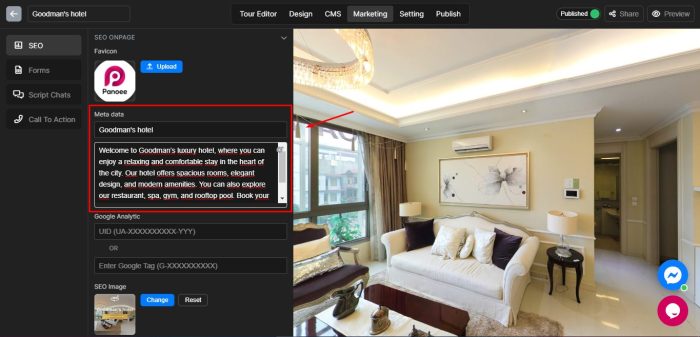 For example, if you have a virtual tour of a wedding venue, you could use a title and description like this:
Title: Wedding Venue Virtual Tour – Discover the Perfect Place for Your Big Day
Description: Explore this beautiful wedding venue in 360° and see why it's the ideal choice for your special occasion. You'll see the elegant ballroom, the romantic garden, the cozy chapel, and more. Learn about their catering packages, such as photography and decor services; book now your virtual tour and don't wait any longer – book it now.
Make your virtual tour SEO thumbnail automatically with Panoee's SEO feature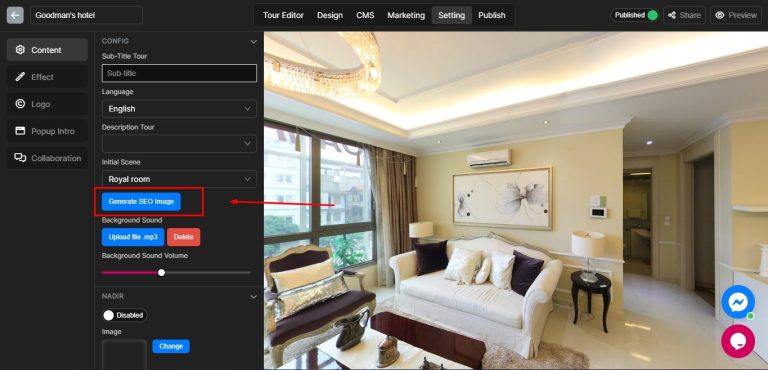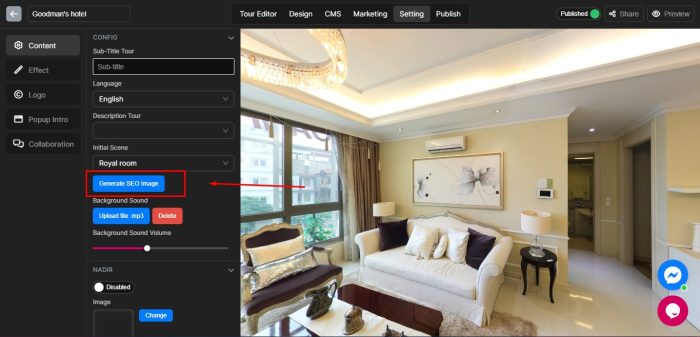 Panoee's SEO feature lets you automatically optimize virtual tour images. No longer worry about file sizes, formats, and resolution of images to be optimized – Panoee will compress and convert to web and mobile device-compatible formats automatically!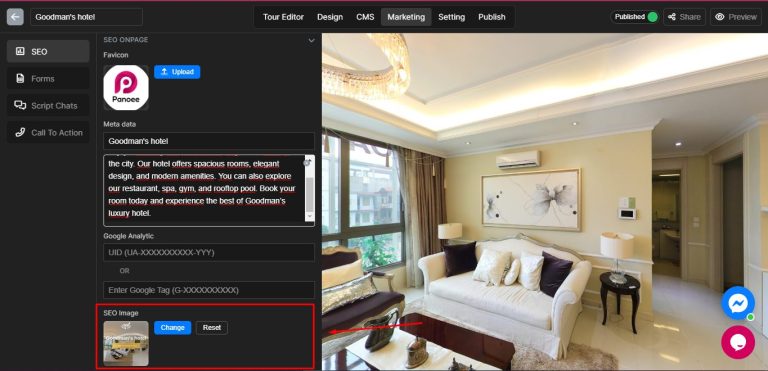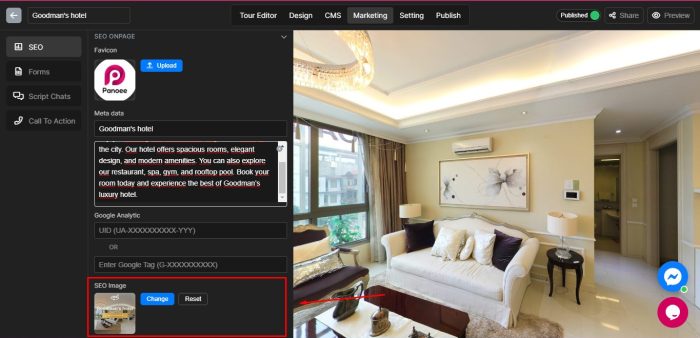 Panoee's SEO feature lets you easily generate thumbnails and previews for virtual tour images, making your virtual tour stand out on search engines and social media platforms. These previews and thumbnails can be tailored specifically for you by customizing size and shape options to meet your requirements.
Panoee offers an SEO feature that makes creating thumbnails and previews easier, such as this virtual tour of a property: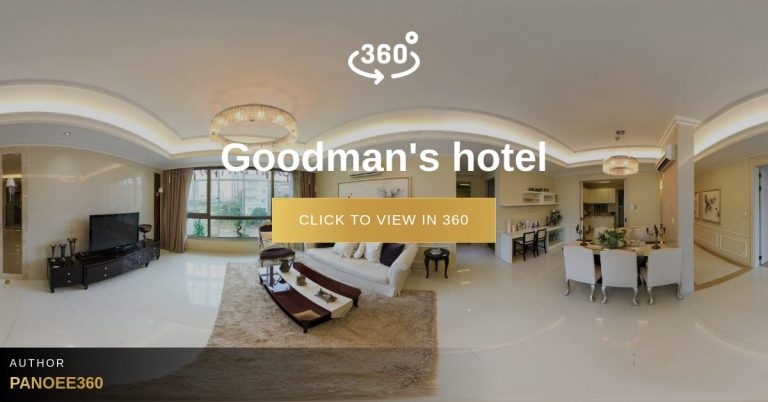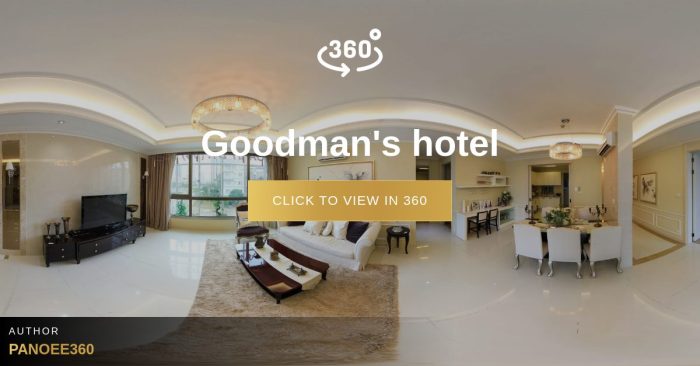 Customize your virtual tour favicon
Panoee's SEO feature allows you to personalize the virtual tour favicon for better SEO performance. A favicon is a small icon that appears next to the title of your website in browser tabs, bookmarks, and search results pages – giving visitors an immediate visual reference when browsing your virtual tour website. Favicons help your virtual tour stand out and create lasting memories for visitors; additionally, they improve virtual tour SEO by increasing brand recognition and trustworthiness among your audience.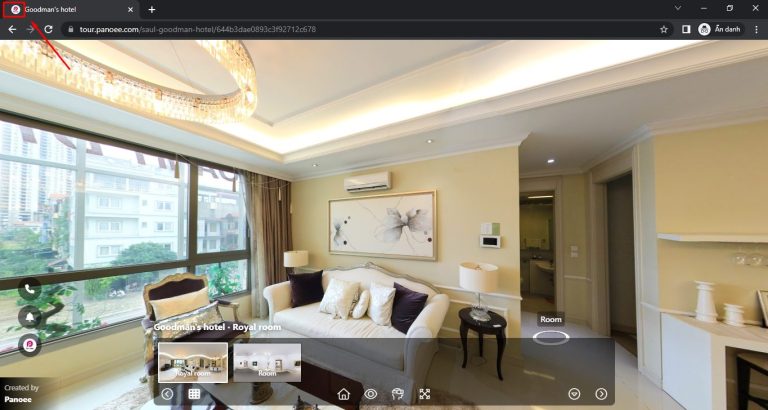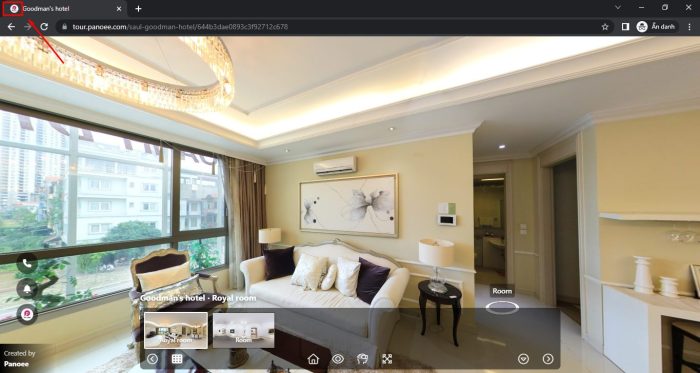 Panoee's SEO feature makes it simple to customize your virtual tour favicon to fit your website or business logo. Upload images directly from your device for a consistent and professional appearance; alternatively, change it whenever needed with just a click or two!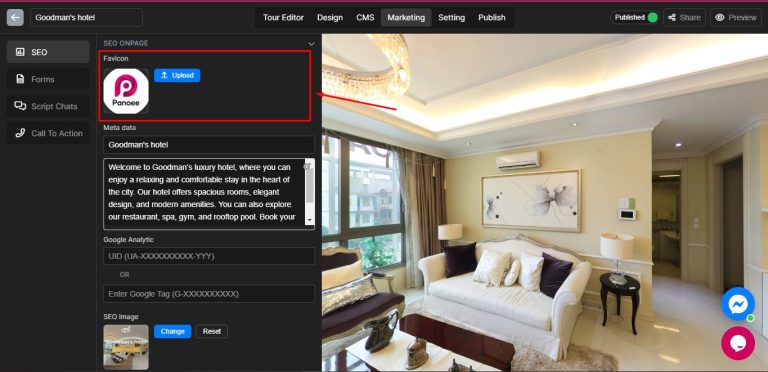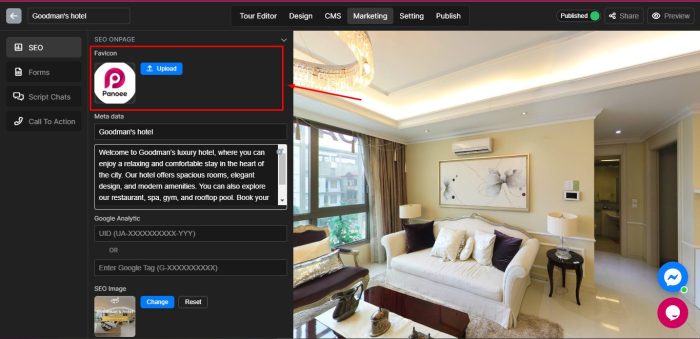 By customizing your virtual tour favicon with Panoee's SEO feature, you can increase virtual tour SEO and increase brand recognition and loyalty among visitors to your virtual tour.
Track and analyze your virtual tour SEO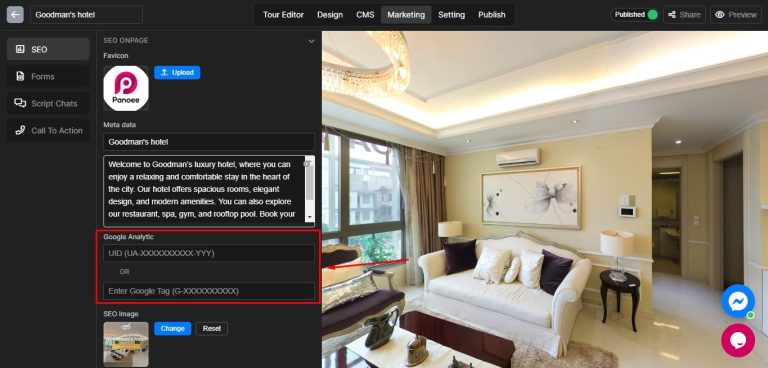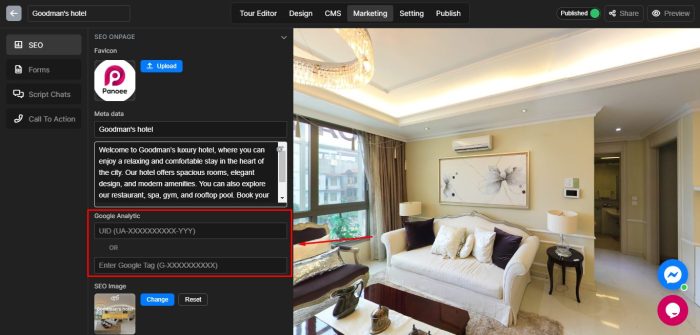 Panoee's SEO feature assists with optimizing virtual tours for SEO and monitors and analyzes performance with Google Analytics. You can connect your account easily, starting metric tracking of what matters for SEO: pageviews per visit, etc.
Traffic Sources: Understand where your visitors come from – whether through organic search, social media posts, referrals, or direct visits. Furthermore, track which keywords drive the most traffic toward virtual tours.
User Behavior: Gain a deep insight into how visitors react to your virtual tours by tracking how long they remain, the number of pages viewed, how often they return, and their interactions with interactive features.
Conversion Goals: Understand how virtual tours contribute to meeting business goals like leads generation, bookings, or sales, plus their conversion rates and values for each goal.
By pairing Panoee's SEO feature with Google Analytics, you can gain invaluable insight into your SEO performance and identify areas for improvement.
Virtual Tour SEO can give your virtual tours an edge against the competition and expand business growth. With the Panoee SEO feature, creating and optimizing virtual tours for SEO becomes simple and efficient; also take advantage of Panoee's other features – Call-to-action, lead capture form, branding options, and tour guide to enhance the virtual tour experience further.
Follow Panoee:
Facebook: https://bit.ly/Panoee_Community
Twitter: https://bit.ly/tw_panoee360
Youtube: https://bit.ly/yt_panoee360
Telegram: https://t.me/panoee360