The world of real estate is filled with competitors. As a real estate agent, you must ensure that you're putting your best foot forward. With virtual tour software for real estate, this technology renders a building plan into 3D and digital images, your potential buyers can make their virtual tours online, interact with this digital space as a 360 picture or use a singular headset. In this guide, we will be covering some basic information about virtual tours and some of the best virtual tour software available on the market today.
Overview of virtual tour software for real estate
One of the industries that have received a major boost from the integration of Information Technology (IT) is real estate. Nowadays, clients can take a walk through a house that they intend to build or buy before a single brick is laid or a document signed. This is made possible by Virtual Tours, which is provided across the industry by real estate firms that stay ahead of the curve through technology.
What is virtual tour software for real estate?
A 360 Virtual Tour is a collection of 360-degree panoramic rotating images, which are stitched together to form a full, 360° view of a location. A virtual tour package consists of several high-resolution photographs, brought together into a complete tour package.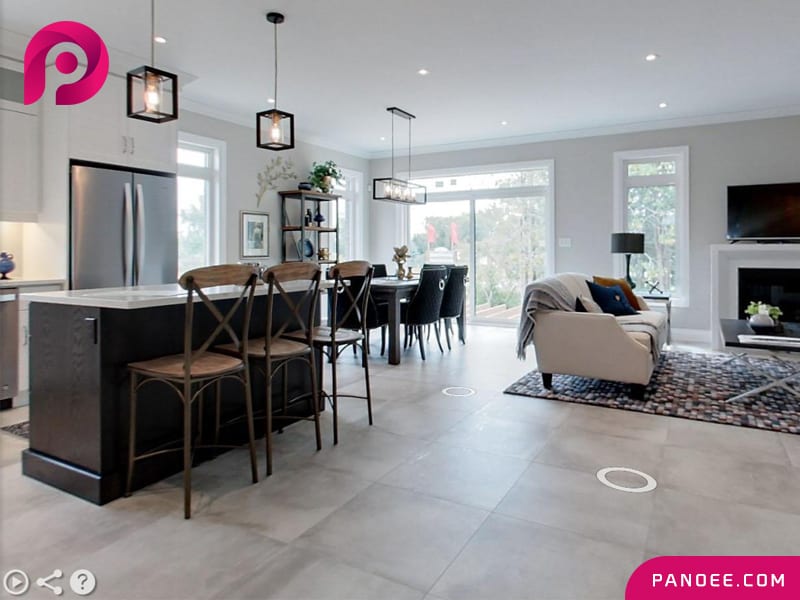 In this technology, special cameras, lenses, technology, and methods are used to bring a tour together into a visual experience for the viewer. The user has full control over the corners they want to look at and can zoom in or out to enhance the scene they're viewing. Besides, there are descriptive text and hotspots that transport the viewer from one place to another or simply provide more information, videos, and sound can also be included in a virtual tour package.
Features of virtual tour software for real estate
Viewers can research businesses or locations to make buying decisions. A tour on your website can help bump that decision in your direction. Your clients or customers have more choices to do, or not to do a business based on what they see.
Making it easy to collect data and information about locations.  Users can make a buyer's connection to your business when viewing a tour.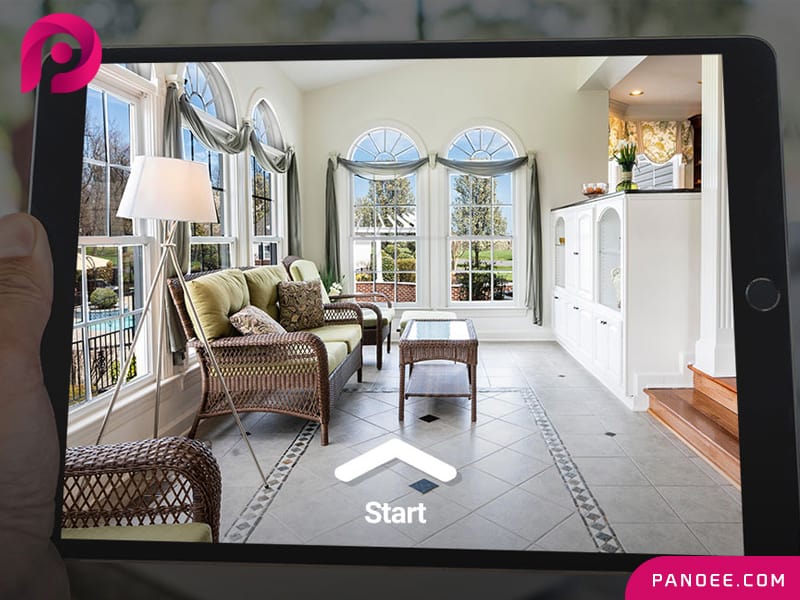 Virtual tours are used to provide a real view format that allows viewers to move through any location as though they were right there and actually sightseeing what's in every nook and cranny.
Virtual tours are also providing websites with high access in their search engine rankings. The initial interest in seeing a location brings a visitor to your website and viewing the tour and keeps them there for an extended time.
Full control allows viewers to stop and start wherever they want in the scene. Rotate left, right, up, or down to look around and discover the spatial relationships between the objects.
The right 360 virtual tours real estate software enhances the quality of your listings and will differ depending on your business' needs. The best virtual tour software for your business will come to be down to a number of factors:
Target cost

Preferred type of tours

Hardware integration

Easy of use

Essential features

CMS integration
Investing in 360 Virtual Tour Software for Real Estate: Is it really worth it?
According to certified Google Street View Trusted photography CPCP, two out of three people want more virtual tours. Their survey found that 67% of respondents want more business listings to have virtual tours.
In real estate, virtual tours are a trend that is set to stay and has a real benefit for listings and attracting high-quality buyers and investors. Travel restrictions were a key driver behind virtual tour adoption, but their popularity has meant many buyers want this option when exploring their property choices, and that is the reason why the virtual tour has become more popular as a result of COVID-19.
Despite adding a virtual tour feature can be quite expensive, it definitely impacts the visitors to your website and increases conversions.
Let's see what software can help you create a virtual tour for real estate and boost your property business.
Top 5 Real Estate Virtual Tour Software
Choosing the best virtual tour software for real estate agents varies depending on what you are trying to achieve. The features are may different, but the end result will be the same, just increasing your inquiries to get higher interest. There is a wide range of different software platforms to choose from. We're looking more closely at some of the most popular and effective virtual tour software options below. 
1. Panoee – Create 360 Virtual Tours in minutes, with ease.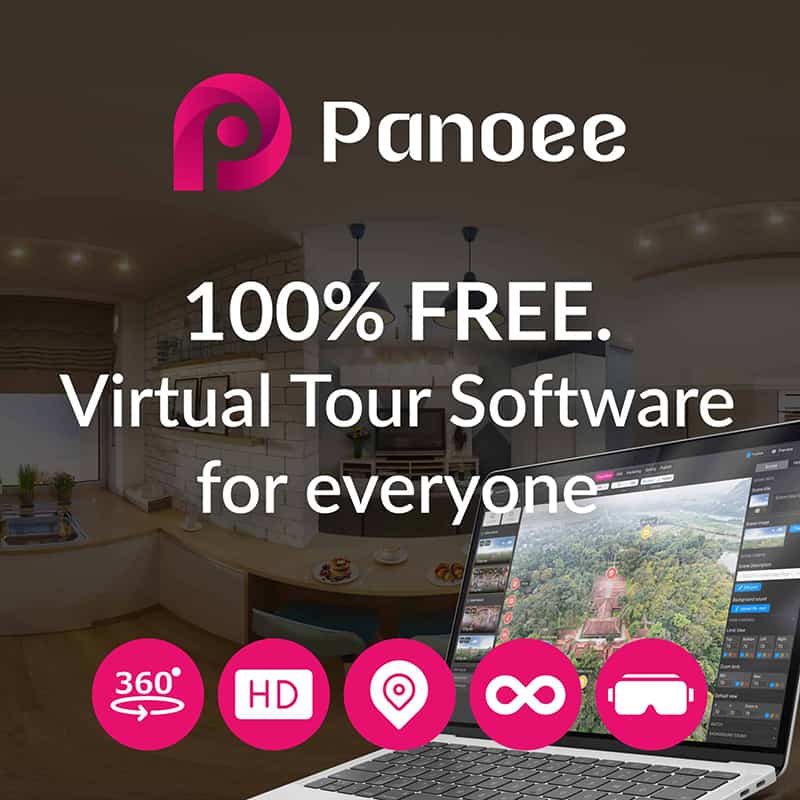 Panoee is a Virtual Tour software that focuses on helping both 360 photographers & end-users to edit & publish high-quality, versatile, beautiful, interactive 360 Virtual Tours in a few minutes. Panoee is presented as a cloud platform that supports unlimited high-quality, multiresolution panorama at no cost. Moreover, Panoee supports variant types of Hotspots including polygon Hotspots, media hotspots & product hotspots with customization. Panoee has built-in CMS to manage posts & data central.
Pros
Cons

It's free.

Most advanced features like support for Multi-resolution, interactive customization, and multiple types of Hotspots like Connect, Video, Info, Article, and Gallery.

The software is constantly growing and keeping up with the newest technology. It is easy for clients to use.

Speed is what impressed me when using this software. The tour creation process is almost faster than other products in the same segments.

Layout and features are arranged reasonably and conveniently. 

Good support services

Need more testing over time and user experience

s
2. iStaging
iStaging is a software tool that you can use to turn any residential or commercial real estate space into a 3D rendering that clients can view and interact with iStaging creates immersive digital architecture using augmented or Virtual Reality (VR) techniques. iStaging can transform floor plans into 3D presentations to enhance the photographs of any elements in your building into 3D models for better promotion. This virtual tour software for real estate is only available through subscription.
Pros
Cons

It can transform smartphone or tablet footage into 30 renderings

This software is easy to use

It can capture photos and turn them into 30 models

You can use it to scan floor plans easily

It is not available for free through a demo account
3. Tourwizard – Real Estate Virtual Tours
Designed to be a self-service software solution, Tourwizard allows you to capture panoramic shots and transform them into a virtual tour. Tourwizard creates videos that are compatible with all versions of modern browsers and adds as much property information as you desire into the 360-degree tours. This software can be experienced for a limited time through a free demo.
Pros
Cons

It easily transforms footage into 30 360-degree tours

The resulting video emerges already optimized for search engines

It can be viewed on mobile devices as well as computers

You can utilize it for free through a limited demo

It cannot be integrated with other audio-visual software
4. My360
My360 enables real estate agents to capture and create their own 3D virtual tours to develop 3D footage that can be viewed on all VR headsets. By using this virtual real estate office software, you can capture every angle and corner of the property and embed it into your 360-degree rendering. A real estate agent can show houses to prospective clients so as to guide decision-making and boost purchases. My360 is available at no cost through a 14-day demo, and any further use requires payment.
Pros
Cons

It is easy to use

The software accepts footage from a variety of cameras

It creates versatile 360 images that can be viewed on any Virtual Reality (VR) headset

This software can be used at no cost through a trial period

Its trial period is quite limited
5. Roundme – Virtual Tour Online
Roundme software tool enables you to capture, publish and post panoramic tours, and transform panoramic pictures into 360-degree tours of any property you wish. The software creates footage compatibly with a variety of devices for example tablets, smartphones and computers. It is easy to make publishing, drag and drop the content into your website. Roundme has attractive skins and templates so as to develop visually pleasing panoramic shots to create an online VR portfolio by embedding multiple shots into your website. This software is accessible at no fee through a limited-time demo.
Pros
Cons

It is user-friendly

The resultant 360 panoramic shots are visually attractive

This software makes it very easy to publish content

It can help you to create a complete VR portfolio

Many of its features require payment