Travel is one of the most enriching and satisfying experiences available; it provides opportunities to see new places, cultures, and perspectives and learn about humanity's past and present. However, travelling comes with several obstacles, such as time constraints, money issues, distance issues, accessibility concerns or environmental impact considerations that must be carefully addressed before undertaking such adventures.
Virtual museum tours have quickly become one of the newest trends for travelling without actually leaving home, providing many benefits without breaking the bank or losing precious vacation days. Not only can virtual tours save us time and money while being educational and captivating – helping us discover unique artworks, artefacts and stories from around the globe whilst deepening appreciation and understanding of other cultures and histories – so here we explore why they're considered future of travel today.
Accessible and Inclusive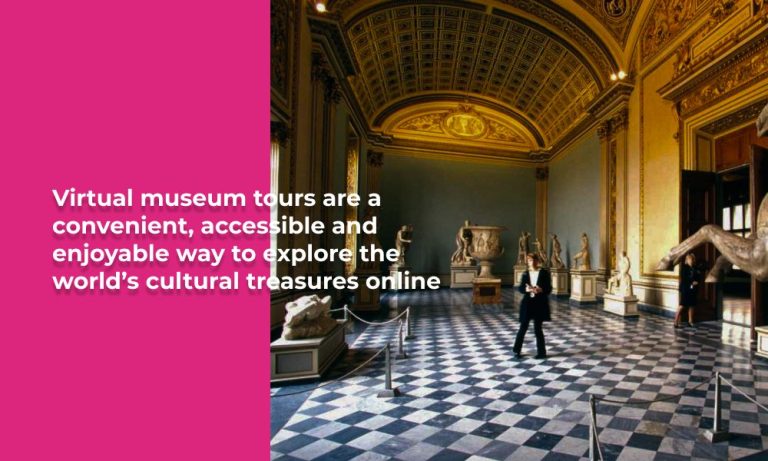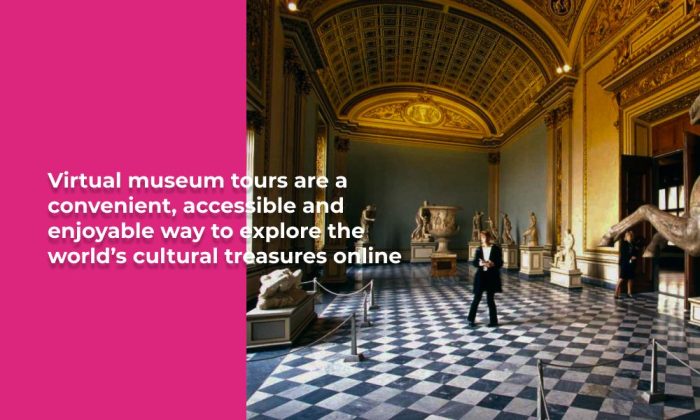 Virtual museum tours offer many advantages to all. No matter your location, budget or physical ability – everyone can visit some of the world's most well-known and engaging museums just by clicking.
Virtual museum tours can also help overcome barriers and challenges associated with traditional museum visits, such as crowds, queues, noise levels, distance or language issues. Visitors can view museums at their own pace without feeling pressured or distracted from seeing everything on offer; choose the language of information according to interests – even customize one according to individual preferences!
Virtual museum tours can also provide a fun way for children and students to discover art, culture and creativity while sparking their interest. Many virtual museum tours feature engaging games, quizzes and activities designed to make learning fun and engaging. For example, you can try The Museum of the World, a collaboration between The British Museum and Google Cultural Institute that lets you explore hundreds of artifacts from different continents and historical periods.
Engaging and Interactive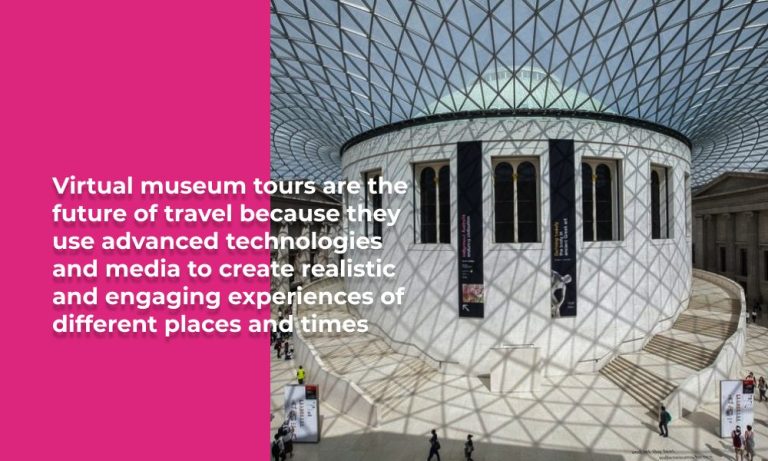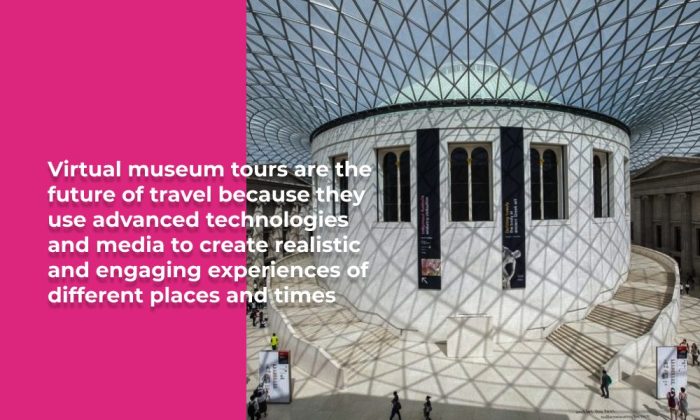 Virtual museum tours are the future of travel because they are innovative and immersive. Thanks to modern technologies and digital media, virtual museum tours provide realistic images and sounds that create the illusion that you are actually present on site.
Some virtual museum tours utilize 3D models, augmented reality (AR), and virtual reality (VR) technologies for an even more immersive experience that transports you to another time and place. For instance, The Smithsonian National Museum of Natural History provides virtual tours of selected exhibits and areas within their museum, offering access to select collections and research areas.
Some virtual museum tours utilize storytelling, narration and animation techniques to heighten the experience and make it more emotionally impactful. One such tour is The Anne Frank House, offering virtual access to the secret annexe where Anne Frank hid during World War II – with excerpts from her diary and photos and videos telling her story.
Diverse and Inspiring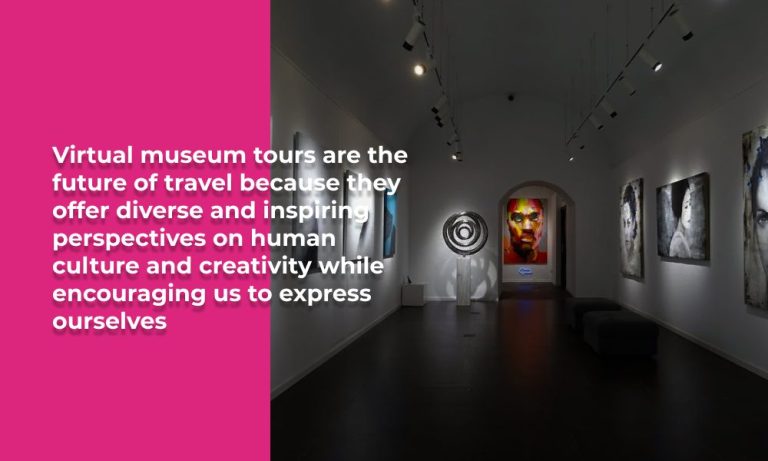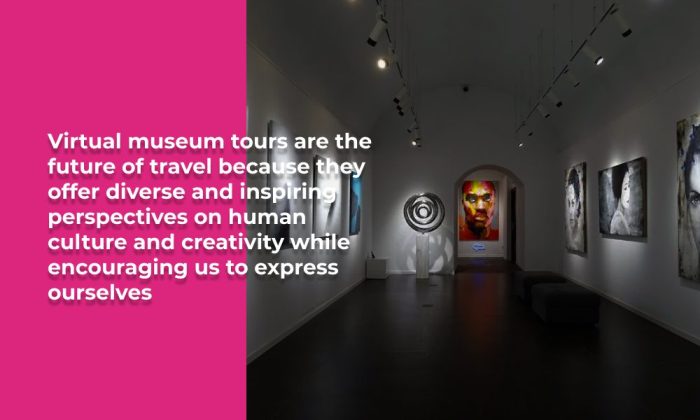 A third factor why virtual museum tours should become the future of travel is their diversity and inspiration. Virtual tours expose us to a wide range of artworks, artefacts and stories from across cultures, regions and periods in history, inspiring us to learn more or even visit them someday.
Virtual museum tours can help us appreciate the vastness and diversity of human creativity across time and space while challenging us to reflect critically upon our views and values while respecting those of others.
Virtual museum tours can also motivate us to create our own artworks or projects inspired by what we learn while sharing our thoughts or emotions through social media or online platforms. One such example is The National Gallery of Art which hosts two online exhibits through Google – American fashion from 1740-1895 and Dutch baroque painter Johannes Vermeer's works – both available through Google Art Palette so users can create personalized art creations using different colours as inspiration.
Sustainable and Responsible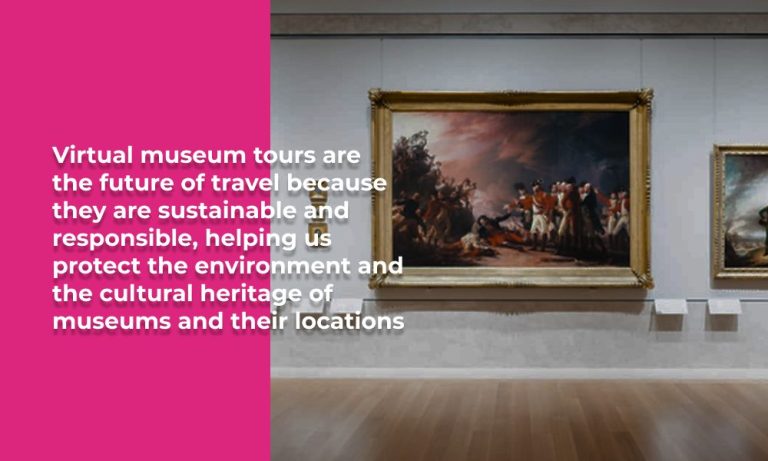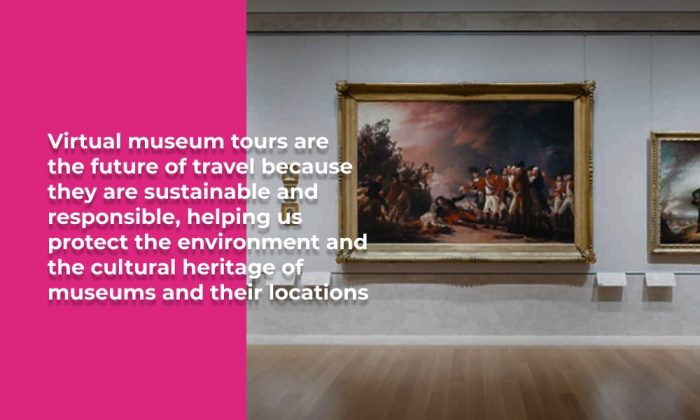 A fourth factor which makes virtual museum tours attractive is their sustainability and responsibility. By eliminating transportation, accommodation or any other resources which might harm our planet or local communities, virtual museum tours help reduce our carbon footprint while helping reduce environmental impact.
Virtual museum tours can also help us support the preservation and conservation of museums and their collections, as well as their cultural heritage and the identity of the places they represent. By touring museums online instead of physically visiting them in person, we can avoid contributing to overcrowding, deterioration or vandalism, which might damage specific artworks within them.
Virtual museum tours can also help us raise awareness and appreciation of museums' mission while allowing us to donate or volunteer our services if desired. One such virtual tour would take you to The Louvre, one of Paris' premier art museums with iconic works like the Mona Lisa, Venus de Milo or Winged Victory of Samothrace on display – as well as providing us with information about its history, architecture, collections as well as supporting its projects and programs.
Fun and Adventurous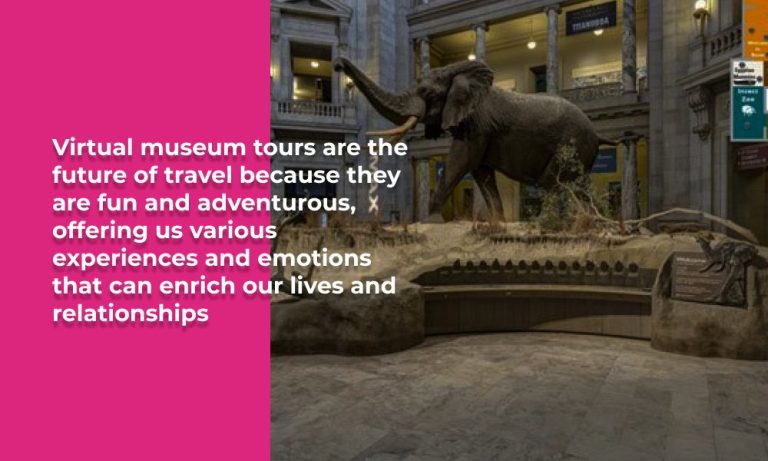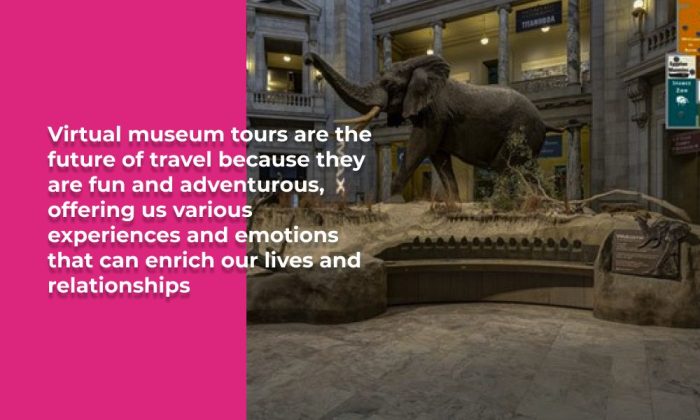 A fifth reason virtual museum tours are the future of travel is that they are fun and adventurous. Virtual museum tours can offer various experiences and emotions that can make us happy, excited, surprised, or amazed. They can also challenge us to try new things, learn new skills, or discover new passions.
Virtual museum tours can also offer us a sense of adventure and exploration that can satisfy our wanderlust and curiosity. They can also help us escape from our daily routine and stress, relax and enjoy ourselves, and connect with other people who share our interests or passions or have different perspectives or experiences. We can join online communities, forums, or groups that discuss or review the museums or their artworks. We can also make new friends or find travel buddies for future trips.
Make Museum Virtual Tour with Panoee
A virtual museum tour made bt Panoee
Panoee is an online platform that enables users to create and share virtual tours of any location or space. Panoee can capture 360-degree photos or videos of any place of interest, such as museums, galleries or landmarks, before adding interactive elements like audio, text or links.
Especially, Panoee is enjoyable and helpful for museum enthusiasts and lovers. Use Panoee to create virtual tours of museums you visit or want to visit, share impressions and insights, and join virtual tours from museums you might otherwise never get the chance to visit directly – learning more from their collections and stories than ever before!
If you want to start your virtual museum tour with Panoee today, here are some steps to help you:
Sign up for a free account on Panoee's website or app and select a museum you want to capture and share.
Take 360-degree photos or videos of the museum exhibits with your smartphone, tablet or camera!
Upload photos or videos directly onto the Panoee website or app.
Use the Panoee editor to edit and customize your virtual tour. Add titles, descriptions, tags, categories, audio, text or links for context to the museum's artworks and artwork collection.
Share or embed your virtual tour on a website or blog, inviting others to participate and interact with it through comments, ratings or questions.
Experience museum virtual tours by joining Panoee.
Panoee hopes this blog post has inspired you to try virtual touring, using Panoee as an easy and collaborative way to build and share museum virtual tours. If any questions or feedback arises, feel free to reach out or leave them below – happy virtual touring!
Virtual museum tours are the future of travel because they are accessible, innovative, diverse, inspiring, sustainable, responsible, fun and adventurous. Virtual museum tours allow us to enjoy all the benefits of travel without leaving home and discover unique artworks, artifacts and stories from across the globe. They deepen our appreciation and understanding of different cultures while sparking our curiosity and creativity.
If you want to start making your virtual museum tour today, use Panoee as an easy and collaborative way to build and share virtual museum tours.