Luxury home virtual tours aren't simply nice-to-have features for high-end properties; they should be considered essential components of real estate marketing strategies that aim to stay ahead of the competition and attract qualified buyers. In this blog post, we'll examine why luxury home virtual tours should become integral elements of real estate promotion and how real estate agents can leverage them for increased sales.
What are luxury home virtual tours?
Luxury home virtual tours provide potential homebuyers with an immersive and engaging 3D representation of a property that allows them to explore every inch of every detail from any device and any location imaginable. Unlike photos or videos, luxury home virtual tours provide potential buyers a more realistic and immersive experience of walking through it as if in person.
Luxury home virtual tours can be created through various technologies such as 360-degree cameras, drones, or 3D scanners. Furthermore, they may include features like floor plans, measurements, annotations, a Call-to-action button, a virtual tour guide, or virtual staging that further customize these tours for visitors to enjoy their virtual visit to luxury properties.
Best Virtual Tour software for Real Estate 2023 – Learn more
Real Estate Marketing: 9 Benefits of Using 360 virtual tours – Learn more
Why are luxury home virtual tours the future of real estate marketing?
Luxury home virtual tours offer many benefits for both real estate agents and buyers, such as:
Provide convenience and flexibility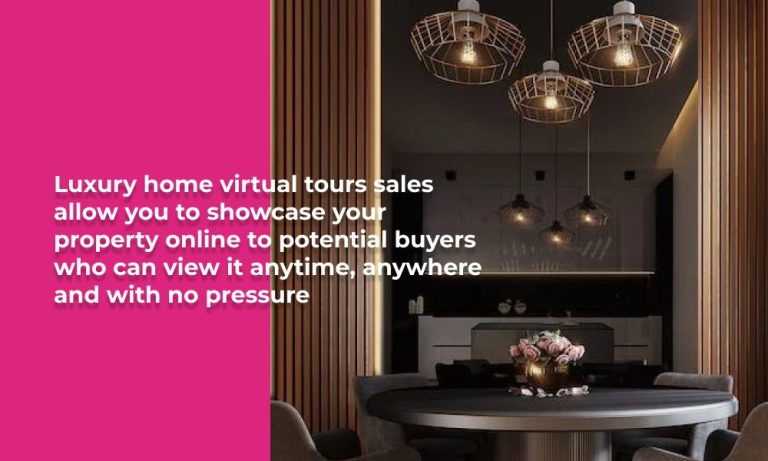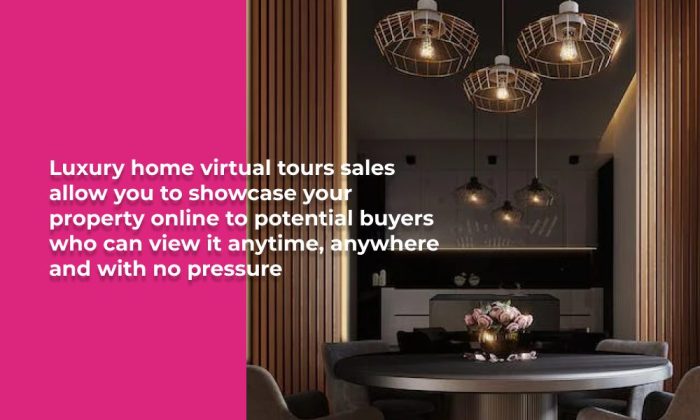 Luxury home virtual tours sales offer both convenience and flexibility to both you and your potential buyers. View a home at any time without scheduling an appointment, saving both time and money by bypassing unnecessary travel logistics and expenses.
Moreover, luxury home virtual tours enable potential buyers to view properties at their own pace and with minimal pressure or interruption, without feeling pressured into making decisions quickly or decisively. They can explore every room, corner and angle using any device such as their smartphone, tablet, laptop or VR headset and revisit virtual tours as often as they wish or share them with family and friends.
Expand your reach and exposure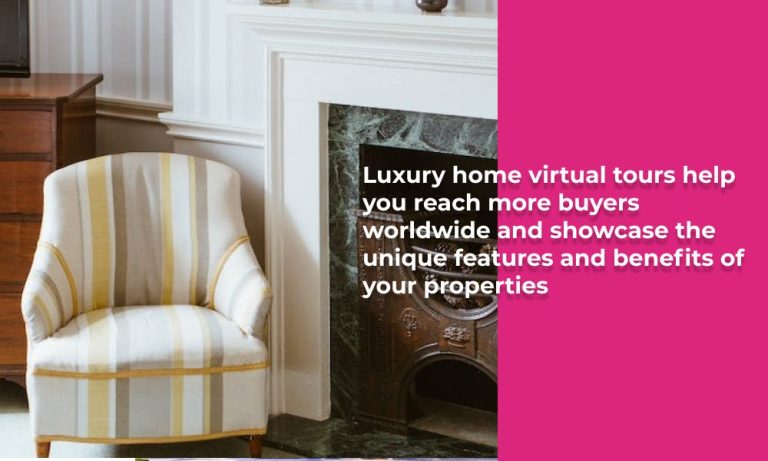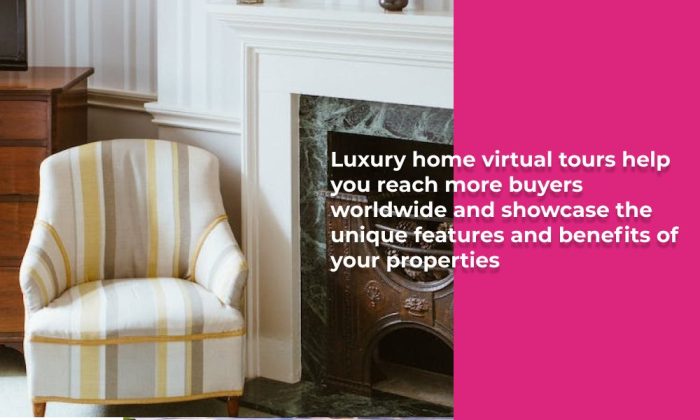 Another advantage of luxury home virtual tours is expanding your reach and exposure to an expanded audience. By showing potential buyers your properties from any part of the globe without geographical or time restrictions, virtual tours allow you to tap into a larger pool of buyers who may not be available physically to visit but still want luxury properties in your region.
Luxury home virtual tours can also help you target specific markets more likely to purchase your properties; for instance, if selling waterfront property, use luxury home virtual tours to highlight views, amenities and lifestyle benefits that your waterfront property provides – something which may appeal to buyers searching for waterfront real estate who may pay premium prices for it.
Showcase your properties' unique features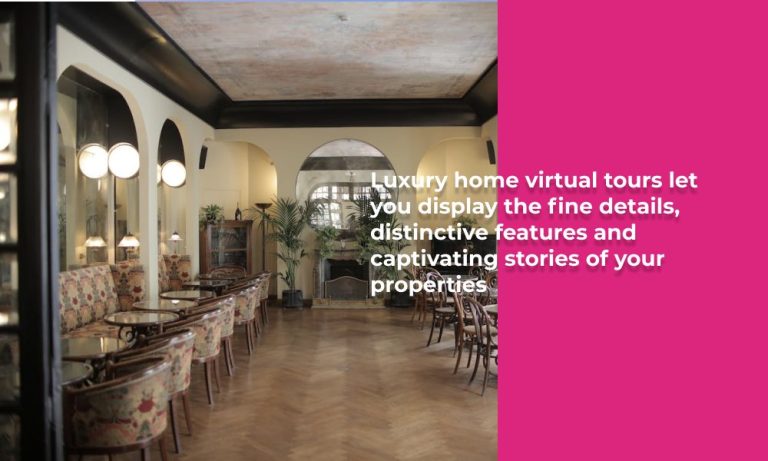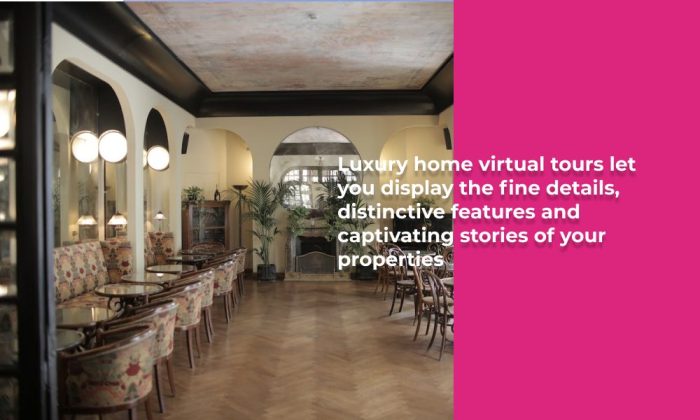 Luxury home virtual tours can also showcase your properties' unique features and details that might otherwise go undetected in photos or videos. Incorporating virtual tours can create an engaging, realistic viewing experience for viewers who can explore every corner, angle and corner of your properties with them. They can also zoom in on specific elements, such as the quality of the materials, the finishes' craftsmanship, or the fixtures' design.
Luxury home virtual tours can also help highlight features that set your properties apart from competitors, like custom wine cellars or state-of-the-art home theatres, stunning outdoor pools or luxurious amenities like wine cellars or wine rooms that make them more desirable to buyers. In addition, luxury home virtual tours allow you to share stories about them; their history, architecture or sources of inspiration could all come alive through virtual reality tours of luxury properties.
Enhance the trust and credibility of agents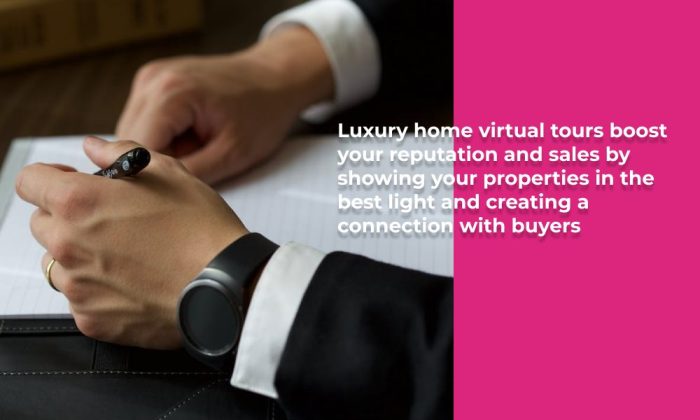 Luxury home virtual tours represent the future of real estate marketing because they demonstrate your professionalism and credibility as an agent. Employing luxury home virtual tours indicates that your listing showcases are being presented in their finest possible light. Display your honesty by providing buyers with accurate and up-to-date information regarding your properties' condition and features, allowing them to make educated choices about buying them.
Luxury home virtual tours can also help build rapport and trust among buyers by creating an immersive and realistic experience that provokes emotional responses and sparks connections with them. By employing luxury home virtual tours effectively, your chances of closing deals faster are increased exponentially.
How to create and use luxury home virtual tours?
Creating and utilizing luxury home virtual tours are more accessible than you may realize; here are a few steps that should help:
Step 1: Select your equipment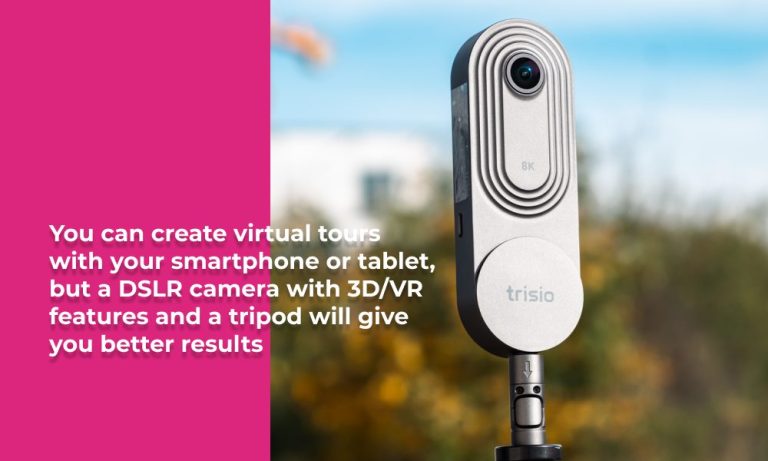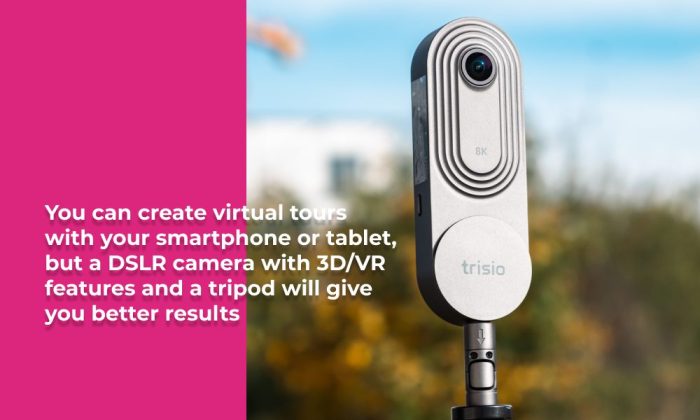 Just because creating virtual tours requires an expensive setup doesn't mean they must be expensive; all it requires to get going is using your smartphone or tablet to capture digital panoramas of properties you own. But upgrading to a DSLR camera with 3D/VR capabilities could prove more helpful for maximum quality and realism.
Here is a highly recommended combo that may be suitable for you as a starter
Once you select your camera, a sturdy tripod that allows it to turn 360-degree will also be necessary to capture all aspects of a room with precision and control.
Step 2: Choose your virtual tour software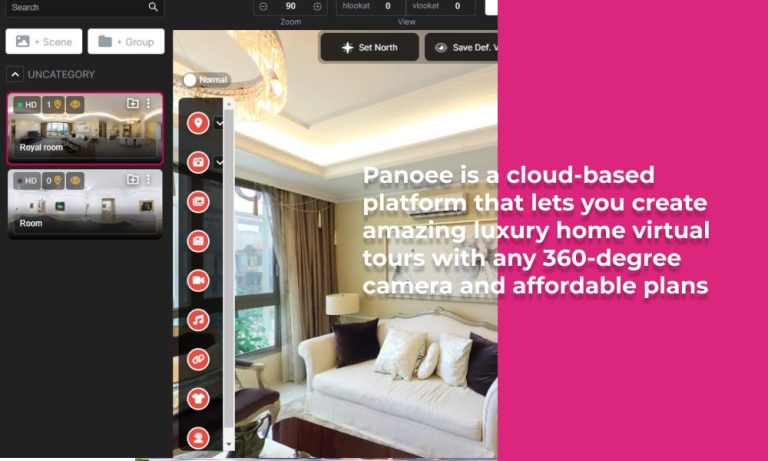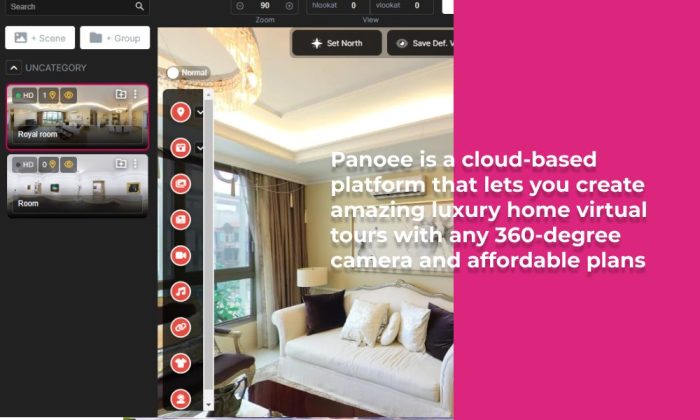 After you find a camera capable of taking photos, the next step should be selecting software or platforms capable of stitching these together and producing virtual tours for properties you own.
Look no further than Panoee, a cloud-based platform that makes creating stunning luxury home virtual tours simple with advanced features and user-friendly tools. Compatible with any camera that captures 360-degree images, Panoee offers you fast and easy virtual tour creation. Affordable yet flexible plans are available to suit different budgets, making Panoee the top choice for creating these stunning virtual tours for luxury properties!
Step 3: Capture your images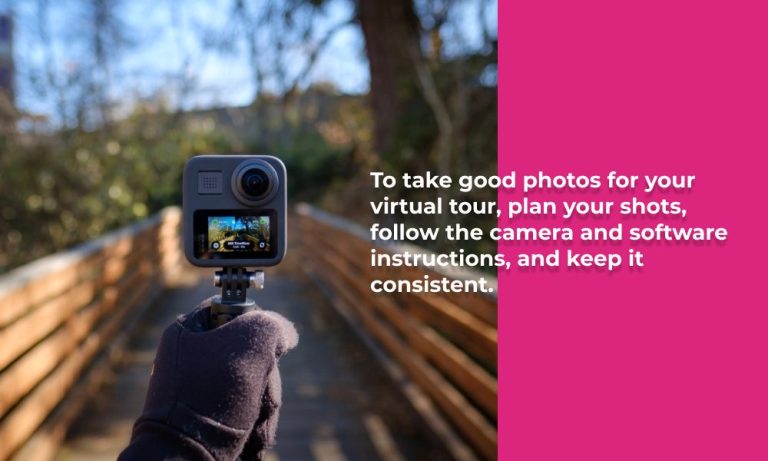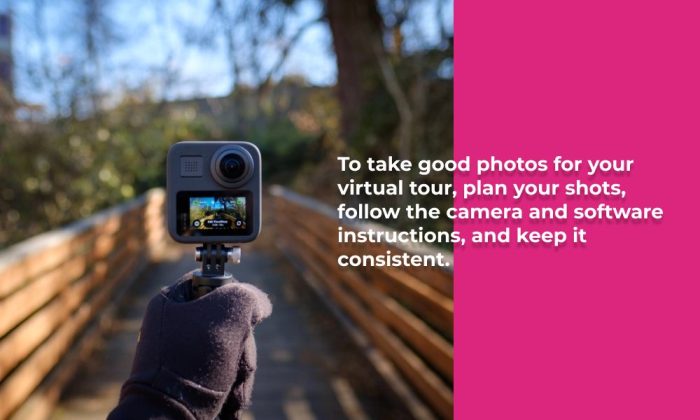 Once your equipment and software are prepared, you can take photographs for your luxury home virtual tour. Here are a few tips to ensure you capture the highest-quality images possible:
Plan Your Images: Before beginning to capture images for a virtual tour, you must plan and outline which rooms and angles you would like included. De-clutter and stage your property for an inviting yet spacious appearance before inspecting its lighting to ensure it appears natural.
Follow Instructions: Depending on the camera and software you use, follow its instructions on capturing images.
Keep it consistent: To maintain consistency throughout your virtual tour, strive to maintain consistent image quality and style across each shot. Furthermore, keeping furniture or objects the same between shots could create consistency and clarity for viewers.
Step 4: Stitch your images and create your virtual tour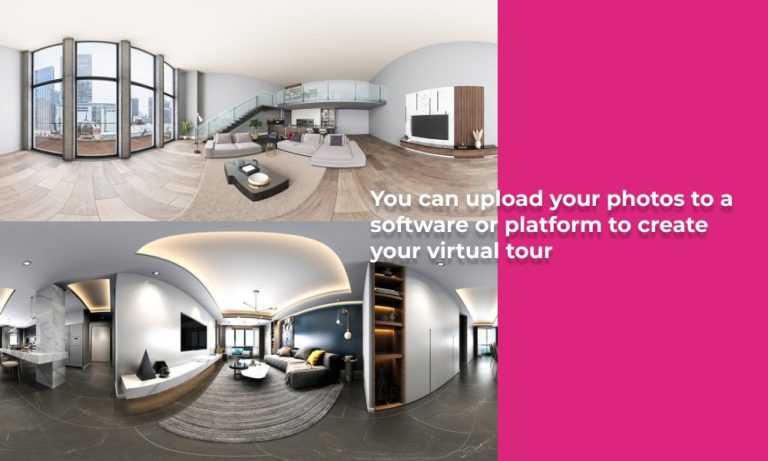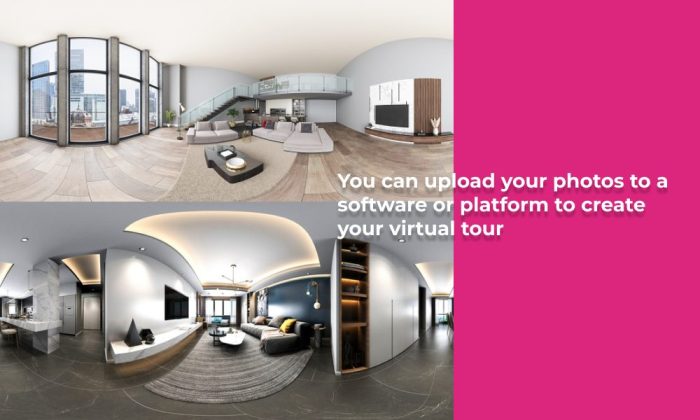 As soon as your images have been captured, upload them to a software or platform, allowing it to stitch them together and create your virtual tour. Depending on which software or platform you use, this may take anywhere from minutes to several hours – be sure to test its quality and accuracy to avoid any gaps or errors!
Or you can easily automatically use the Trisio camera with Auto stitching 360 panoramas of Trisio lite 2, a feature that allows you to create a seamless and high-quality 360 panorama of your property using a single lens and a motorized rotating mount. Rotating one lens in a circle can take multiple photos and perform automatic panorama stitching. Compared with the traditional multi-lens panoramic camera, it retains more picture details and presents more textured panoramic images with 32 million pixels. You must download the Trisio 360 camera app on your smartphone or tablet and connect it to the camera via Wi-Fi.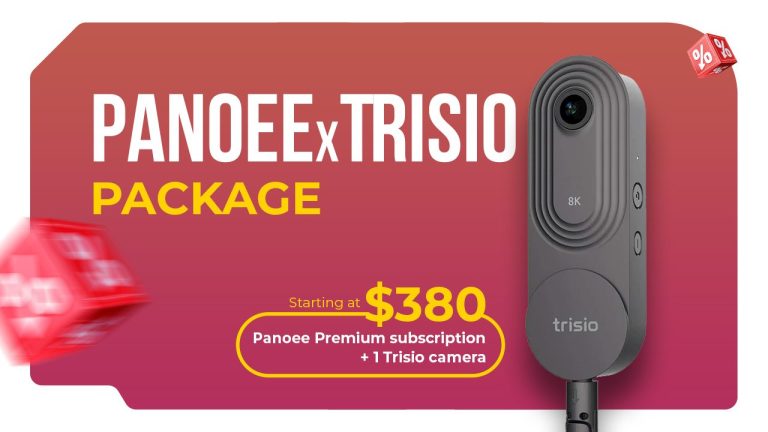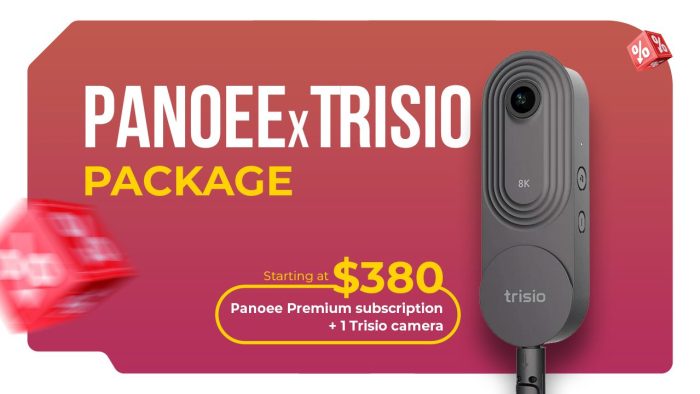 With PanoeexTrisio package, you can easily create stunning tours with minimal effort and cost for customers that are looking to take their photography to the next level. Not only does this package provide customers with a Trisio Lite 2 camera, but it also comes with a Panoee Companion plan starting at only $381.
Step 5: Add features and enhancements to your virtual tour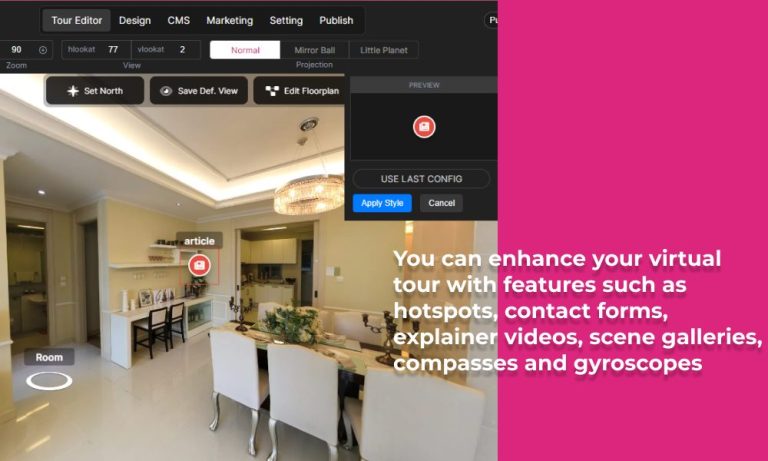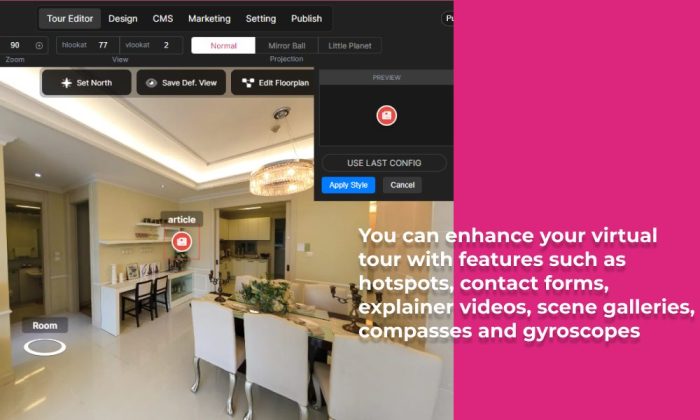 Once your virtual tour is ready, you can add features and enhancements to make it more interactive and engaging. Depending on the software or platform you use, elements may include:
Hotspots: Hotspots are clickable points that can display different content such as text, images, videos, links or audio. Hotspots can help highlight specific features or details about your property while providing additional insight or perspective.
Contact Forms: These forms allow potential buyers to leave their contact details, request showings, or make offers, giving you an effective tool for lead generation and following up. By collecting their data through forms, you can use contact forms as a powerful lead-gen strategy.
Explainer videos: Explainer videos provide an interactive way of explaining certain features or aspects of your property and offering testimonials or case studies that create more direct, emotional connections with potential buyers.
Scene Galleries: Scene galleries allow you to present all the scenes or rooms of your property at one time, giving potential buyers an overview or allowing them to access any scene directly.
Compasses: Compasses are indicators that help users visualize where each scene or room is about the north. You can use compasses to help buyers understand the orientation and positioning of your property.
Gyroscopes: Gyroscopes are sensors that detect device movement and adjust accordingly, creating an immersive and realistic virtual tour experience for buyers using mobile phones or tablets to view it. You can use gyroscopes to give buyers a more engaging virtual tour experience.
Step 6: Share or embed your virtual tour on different platforms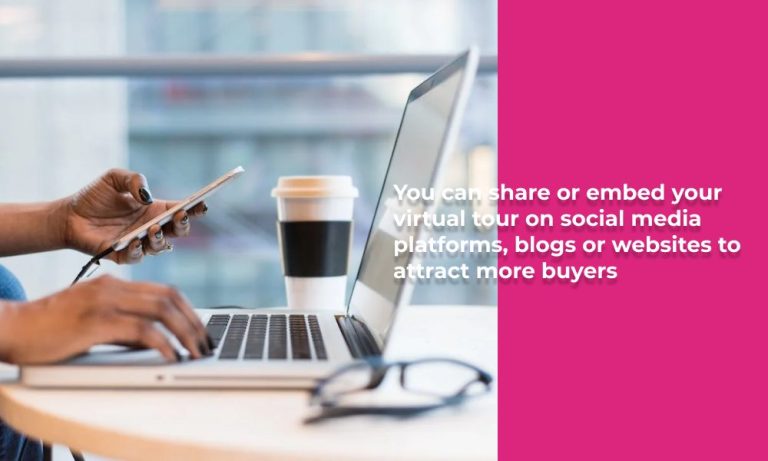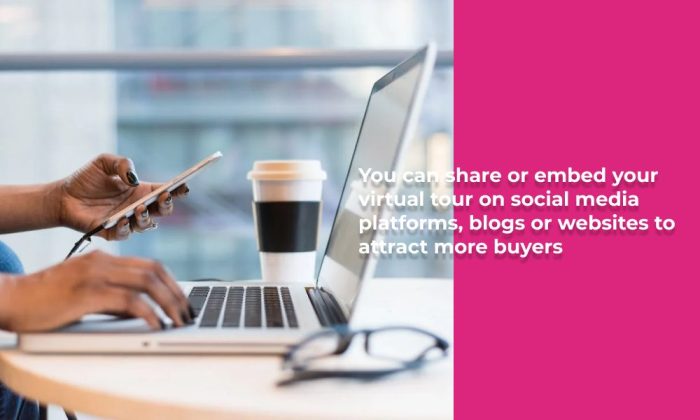 Once your virtual tour has been updated with features and enhancements, it can be shared or embedded across different platforms to reach more potential buyers. Depending on which software or platform you use, sharing or embedding may include the following:
Social Media Platforms: Your virtual tour can be shared across social media platforms like Facebook, Instagram, Twitter or LinkedIn to expand its exposure. Hashtags, captions, stories or ads can also help drive more visitors towards it.
Blogs or websites: Your virtual tour can be embedded on blogs or websites related to real estate or luxury homes. Furthermore, you could write articles that feature your virtual tour and provide additional value for readers.
Luxury home virtual tours have quickly become an indispensable trend in today's highly competitive real estate market, providing buyers and sellers with advantages such as convenience, safety, efficiency, engagement and more. Luxury home virtual tours should be considered an effective real estate marketing strategy – use this opportunity to stand out from your competition using virtual tours!
Follow Panoee:
Facebook: https://bit.ly/Panoee_Community
Twitter: https://bit.ly/tw_panoee360
Youtube: https://bit.ly/yt_panoee360
Telegram: https://t.me/panoee360