Have you visited museums, historical sites, or other attractions? You probably know how helpful it is to have a guide who can tell you more about the place and give directions to explore and answer your questions. But what if you could also have a guide for your virtual tours? With Panoee's tour guide feature, you can add video narration to your 360 virtual tours and create engaging and interactive experiences for your viewers. It's easier than ever to use this feature to make your virtual tours stand out.
1. What is Panoee's tour guide feature?
Panoee's virtual tour guide feature lets you add personalized video narrations directly into 360 virtual tours. You can upload a prerecorded file with a green screen and choose where and when your video should appear on-screen for optimal effect.
This tool enables you to introduce yourself, explain features/benefits of offerings, tell anecdotes about past visits/experiences, or provide useful answers and recommendations – making Panoee an indispensable asset when marketing businesses online!
The most affordable 360 camera for a starter – Learn more
How to Create a Virtual Tour for Real Estate – Learn more
2. How to use Panoee's tour guide feature with a green screen video?
Green screen videos use a green background that can easily be removed and replaced with another image or video later, also known as chroma or color keying. A green screen video allows you to pretend you are somewhere other than where you are, such as at the Eiffel Tower, Hanoi, or the Statue of Liberty.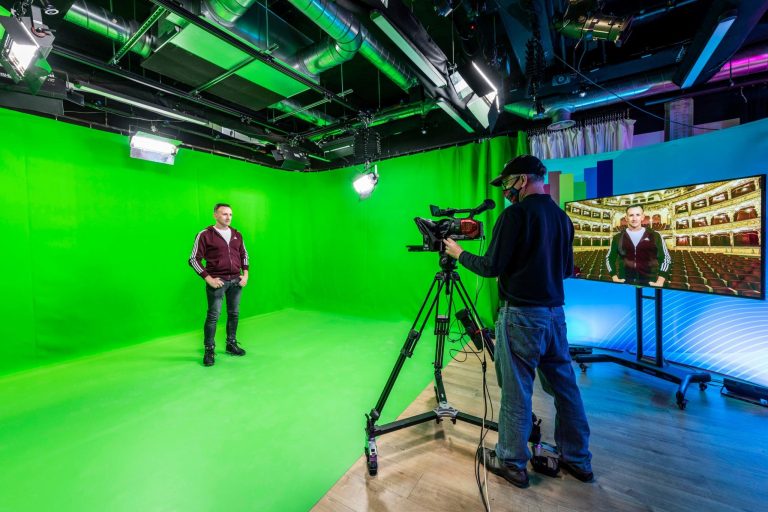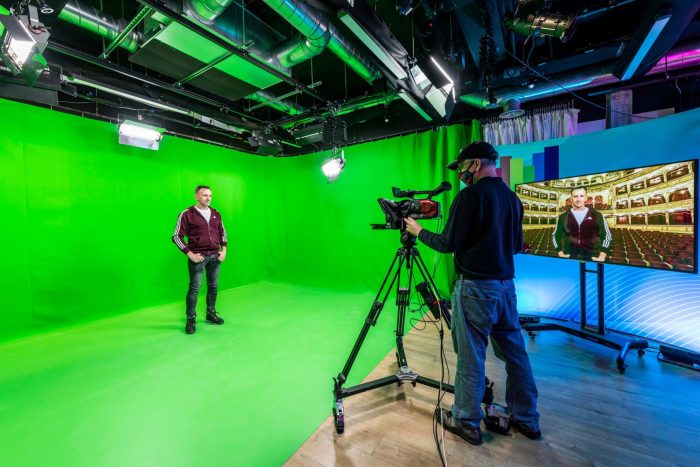 Note: You can choose the background color as you want. However, Panoee recommends choosing a green background.
Recording
You need a green-screen video to use Panoee's tour guide feature with a green screen video first. The following equipment will be required: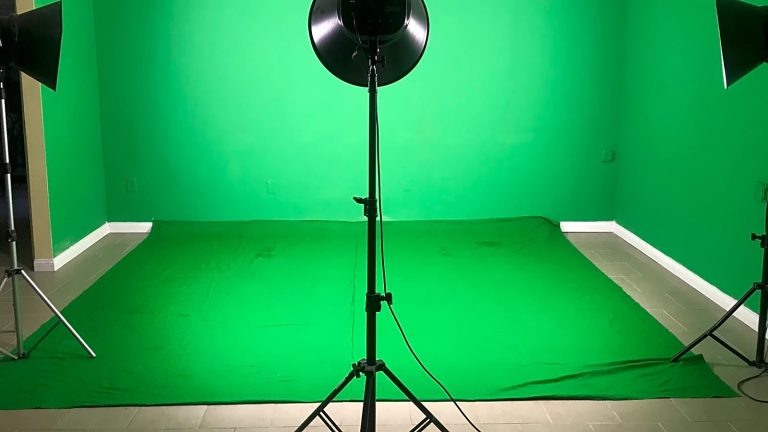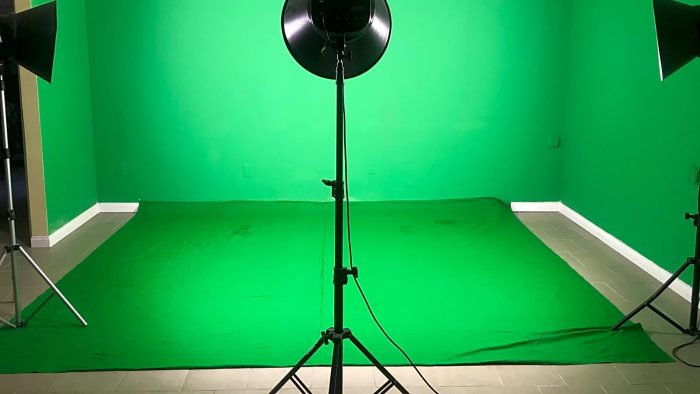 A green screen: You can buy a professional green screen kit online or make your own using a green cloth or paper. Make sure the green screen is smooth and evenly lit.
A camera: You can use your webcam or any camera to record videos. Make sure the camera settings are adjusted for optimal quality and exposure.
A microphone: You can use your built-in microphone or an external microphone for better sound quality. Ensure the microphone is close enough to capture your voice clearly and avoid background noise.
After prepare all the equipment, you can start make your own green-screen video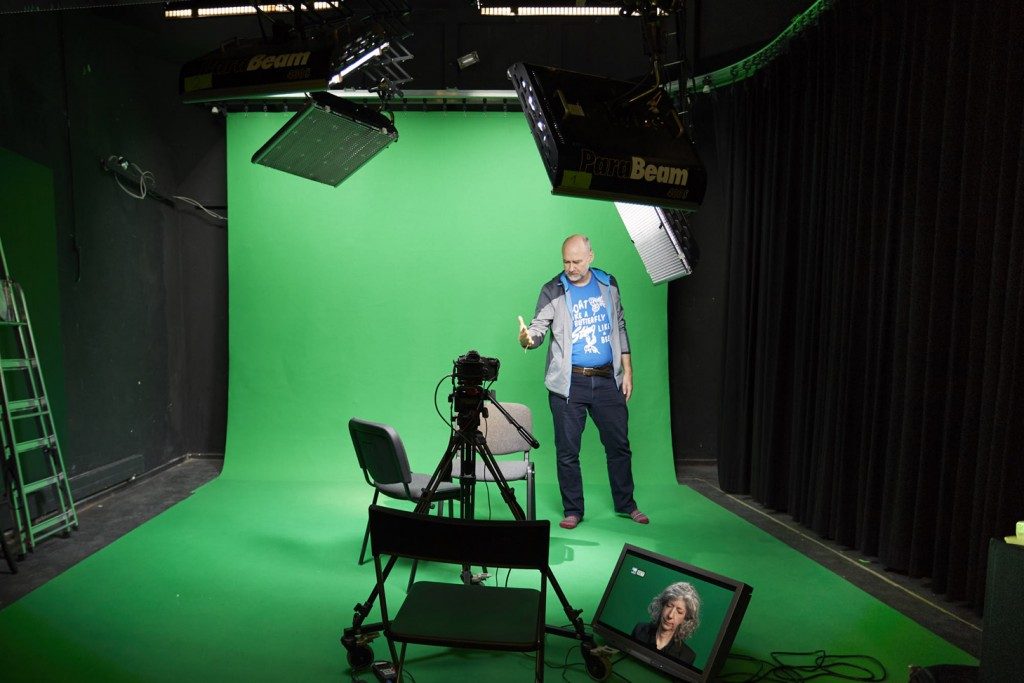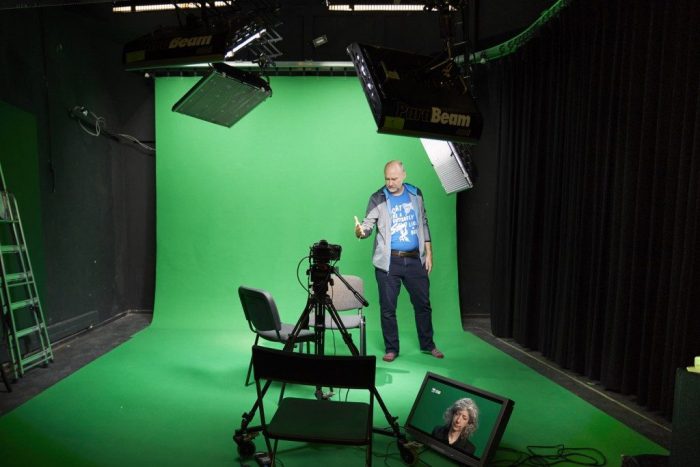 1. Set up your green screen: Find a suitable location where you can set up your green screen. Make sure there is enough space to stand in front of the green screen and move around if needed. Also, ensure enough light to illuminate the green screen evenly and avoid shadows or reflections. You can use natural light from a window or artificial light from lamps or studio lights.
2. Record your video: Position your camera on a tripod or a stable surface facing the green screen. Adjust the camera settings for optimal quality and exposure. Check the framing and focus of your shot. Plug in your microphone and test the sound level. Start recording your video narration for your virtual tour. You can use a script or an outline to guide you through your speech. Try to be natural, confident, and enthusiastic. You can record multiple takes and choose the best one later.
3. Edit your video: You can crop or trim your video depending on your requirements.
Or you can use websites to create virtual MCs with green screens like Ai.clip. This website offers a way to create artificial videos from the text in more than 40 languages. You can choose different templates, virtual MCs, and backgrounds for your videos. You can also use voice or text input to generate the content.
Creating Awesome 360 Images: 9 Tips and Tricks – Learn more
Adding to your virtual tour
Here are the steps to use Panoee's tour guide feature with a green screen video:
1. Add your video to Panoee: Log in to your Panoee account and open the virtual tour if you want to add your video narration. Click on the "Tour Guide" button on the left sidebar. Click on the "Upload Video" button and select your edited video file from your computer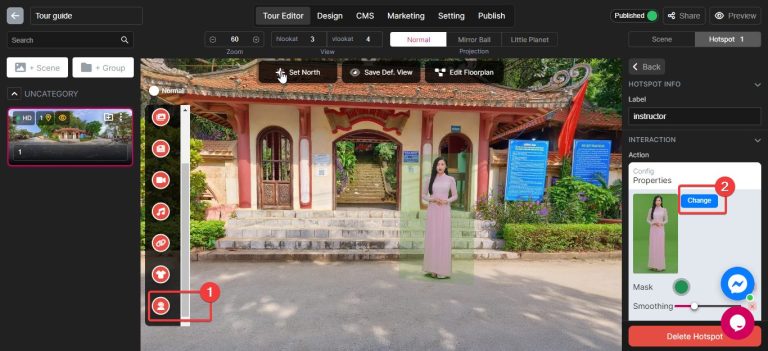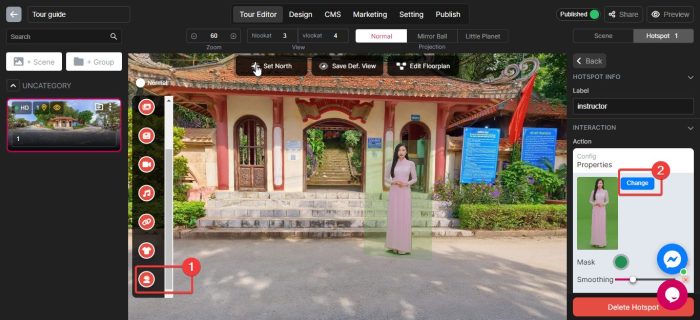 2. Config your setting: After uploading your video file, you can adjust the settings of your video narration on Panoee – Details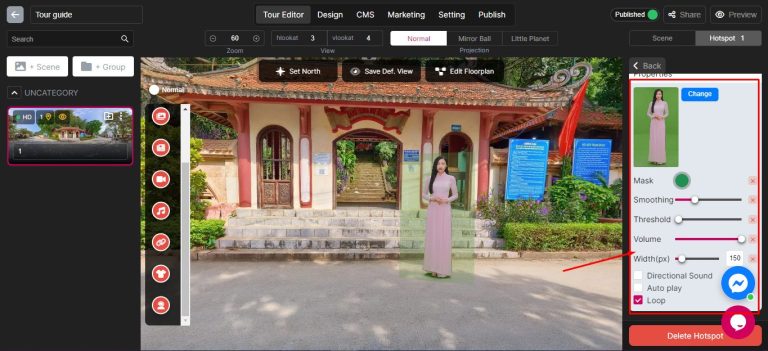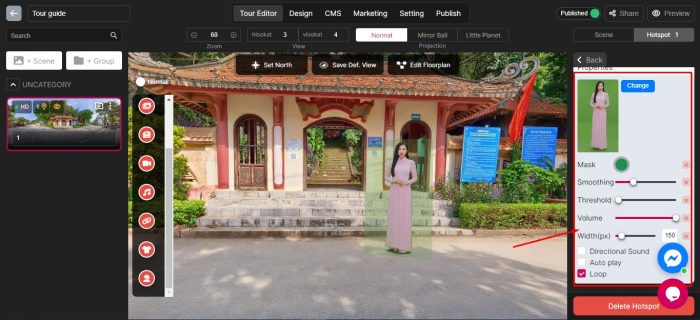 3. Why use Panoee's tour guide feature with a green screen video?
Using Panoee's tour guide feature with a green screen video can help you create more engaging and interactive virtual tours that will impress your audience and achieve your goals. Here are some of the benefits of using this feature:
Add a personal touch to your virtual tours by showing your face and voice to your viewers. This can help you build trust and rapport with potential clients, customers, or students.
Showcase your expertise and knowledge by providing relevant and useful information about your property or destination. This can help you educate and persuade your viewers to take action, such as booking a visit, purchasing, or signing up for a course.
Save time and money using a green screen instead of traveling to different locations or hiring professional actors. You can reuse and repurpose your green screen videos for virtual tours or projects.
How Virtual Tours Help You Decide on the Perfect House Plan – Learn more
Enhancing the Patient Experience with Virtual Tours in Healthcare – Learn more
Panoee's tour guide feature with a green screen video is a powerful and creative tool that can help you create amazing virtual tours that will stand out from the crowd. Whether you are a real estate agent, a travel agent, a teacher, or a marketer, you can use this feature to showcase your property or destination in a new and exciting way. Try it out today and see the difference for yourself! 
Follow us:
Facebook: https://bit.ly/Panoee_Community
Twitter: https://bit.ly/tw_panoee360
Youtube: https://bit.ly/yt_panoee360
Telegram: https://t.me/panoee360