Virtual tours are an engaging and immersive way to highlight properties, businesses, or destinations online. They enable immersive and engaging experiences for potential customers, – but how can you create one? For this task, you need software that helps upload, connect, and publish 360-degree photos.
CloudPano and Panoee are two popular virtual tour software programs on the market, so which one should you select for your virtual tour project? This blog post will compare these softwares and discuss why Panoee may be better.
Ease of Use

Panoee is a web-based platform that requires no installation or download; you can access it from any device and browser. With its friendly yet powerful interface, Panoee provides more flexibility and customization options.
You can upload photos, drag and drop them into viewing scenes, add ambient music, insert hotspots, and edit panoramas with filters, text, etc.
Panoee has a real-time preview feature so you can see precisely how your tour looks before publishing it live! Moreover, Panoee has an edge over Cloudpano in this aspect. Panoee automatically saves and applies any changes you make, while Cloudpano requires you to save your modifications manually.
Features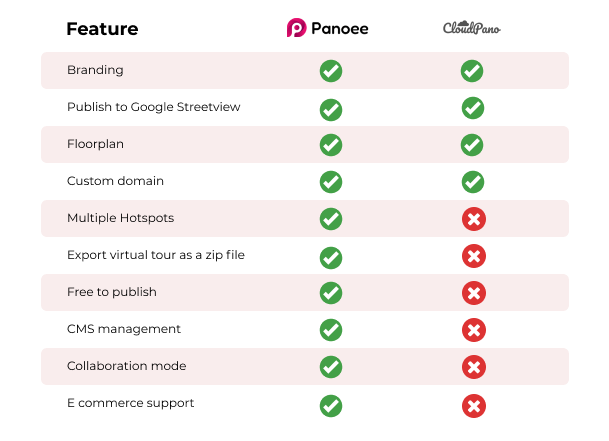 Panoee offers many features that can assist you in creating impressive virtual tours, with more features than CloudPano.
Panoee makes it possible to create unlimited tours with unlimited scenes and projects entirely for free, as well as super high-resolution panoramas rendered into multi-resolution 360 interactive media formats that work on devices from mobile to 60" screens.
Additional unique features may include:
Google Street View Publishing: Panoee makes publishing virtual tours to Google Streetview an easy, cost-effective, and time-efficient process, giving your virtual tours greater reach. Furthermore, Panoee provides editing and management features for managing these tours as well as editing them directly through Panoee.
More unique hotspots: You can add more types of hotspots to your virtual tours, such as polygon, Tourguide, etc to enhance virtual tours and create more engaging and immersive experiences for viewers.
Export virtual tour as a zip file: You can export your virtual tours as a zip file, to save them offline or share them with others. You can also host it on your own server
Panoee's CMS (Content Management System) can help you easily organize and search virtual tours using Post, Floorplans, etc in one convenient place. With Panoee's CMS management feature, you can manage all virtual tour content easily, as well as create categories, tags or filters to search through them all quickly.
Collaboration Mode: Panoee allows users to work together collaboratively on creating and editing virtual tours, as well as assign roles and permissions for different users.
E-Commerce Support: Your virtual tours can easily integrate with e-commerce platforms like Shopify or Custom Link, providing shopping carts, product details, and payment options within them.
Marketing Tools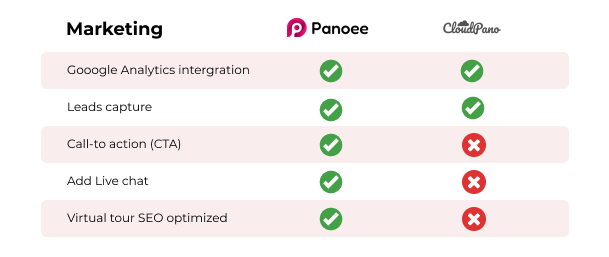 Panoee has more marketing tools than CloudPano that can help you promote your virtual tours and generate leads. Both Panoee and CloudPano have lead capture forms and Google Analytics integration that allow you to collect and track your visitors' information. However, Panoee has some additional features that CloudPano does not have, such as:
Add CTA button: You can add a call-to-action button to your tours that can direct your visitors to your website, landing page, or any other URL.
Add live chat plugin: You can add a live chat plugin to your tours that can enable you to communicate with your visitors in real time and answer their questions or concerns.
Virtual tour SEO optimized: Panoee's virtual tours are SEO optimized and can rank higher on search engines such as Google or Bing. You can also customize your tour's title, description, keywords, and meta tags.
Pricing

Panoee has a more affordable pricing than CloudPano. Both Panoee and CloudPano have free plans, but CloudPano's free plan expires in 120 days and requires you to upgrade your subscription if you want to publish your virtual tours. Panoee's free plan, on the other hand, allows you to create unlimited tours with unlimited scenes and free 20 GB storage. You can also publish your tours for free with Panoee.
If you need more features or support, Panoee has a monthly plan of $18 and a yearly plan of $180. These plans unlock all the features Panoee offers, such as unique hotspots, Google Streetview, Export, priority support, etc.
While CloudPano has a monthly plan of $19 and a Pro Plus plan of $33, which is more expensive than Panoee
Unique offers for customers

Panoee offers more than just great virtual tour software – we also offer special offers and benefits to customers that help save you money and increase their benefits! Take a look at what Panoee has in store for you today:
Promotion that lets you earn more storage for free: You can get extra storage space for your tours by writing an honest review of Panoee on some review platforms such as G2, Capterra, Facebook, etc. For each review, you can get 5 GB of free storage. You can write up to 5 reviews and get up to 25 GB of free storage.
Affiliate program: Panoee has a referral program allows you to earn money by inviting others to use Panoee. For each person who signs up with your referral link and upgrades to a paid plan, you can get up to 30% of their subscription fee. This way, you can create a passive income stream and help others discover Panoee.
Special offer for new users up to 80% off discount: Panoee has a limited-time offer for new users who want to try the Premium plan.
Clear Development Roadmap
Panoee is a virtual tour software that strives to keep up with current trends and technologies. Their development roadmap reveals their future plans and features; you can see this here and review them anytime.
Likewise, join Panoee's community, where you can exchange ideas, opinions, and experiences with other Panoee users as well as suggest, request, and vote for desired features to determine their priority for the next release.
Panoee is the ultimate virtual tour software to help you create stunning and engaging virtual tours for your audience. You can join Panoee for free and start making virtual tours immediately. Switch to the Basic or Premium plan anytime if you want more features or support. Panoee is the best virtual tour software for anyone.
Follow us:
Facebook: https://bit.ly/Panoee_Community
Twitter: https://bit.ly/tw_panoee360
Youtube: https://bit.ly/yt_panoee360
Telegram: https://t.me/panoee360