The real estate industry is hotter than ever, and the competition to stand out keeps getting more challenging. To make your business stand apart, you need something unique that will dazzle customers – That's where Virtual Tour or VR (Virtual Reality) Technology comes in! This revolutionary tech gives businesses an unbeatable customer experience by giving them immersive previews of properties like never before.
What is Virtual Tour Software for Real Estate and its benefit?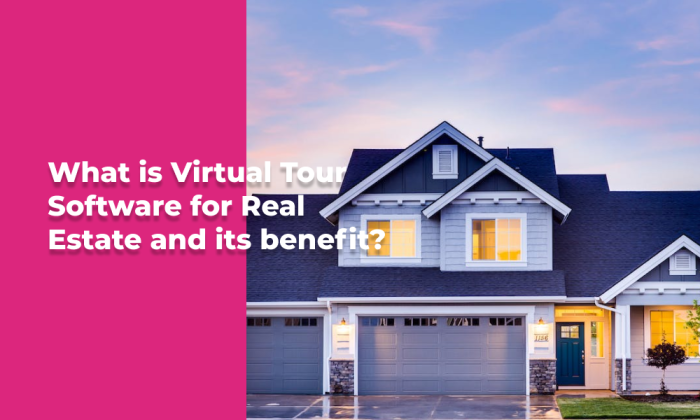 Virtual tour software for real estate agents provides an easy and efficient way for these professionals to provide their clients with a comprehensive tour of prospective properties. This software uses high-definition 360° images, voiceovers, video clips, and other features to create a detailed walkthrough experience for potential buyers.
With the help of virtual tour software, real estate agents can save time and energy by not having to physically show clients around expansive plots of land or dozens of houses in person. Furthermore, it's also easier for clients to review available properties since they can access these virtual tours from anywhere in the world with an internet connection instead of being restricted by geographical location while house hunting. Virtual tour software is revolutionizing how real estate professionals do business, allowing them to connect with a broader audience of clients while showcasing their properties more effectively than ever before.
Besides, the Panoee Virtual Tour can fully immerse your customers in all the essential details they need. From utility services and prices to addresses and location markers on google maps, you can easily add this information into 360 images or videos so that with just a few clicks, customers can access all of it!
How to publish Virtual Tours for Real Estate from scratch?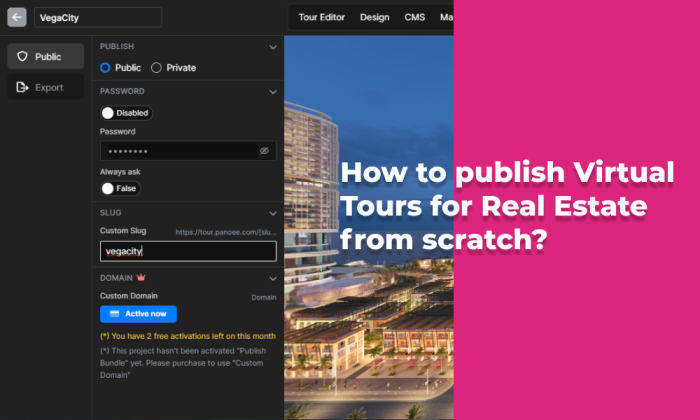 Real estate agents can rapidly create virtual tours to help potential buyers better understand a listing with trisio's camera captures 360 panoramas.
With 360 camera solutions like Trisio's innovative photography technology, agents can discover the immersive visuals of a property even if they're not able to see it in person. After capturing photos with 360 cameras, agents can quickly publish their virtual tour using Panoee software. Panoee is an easy-to-use platform that allows agents to tailor their tours with features such as walkthroughs and residential views, making it possible for professionals to provide clients with detailed views of any property anytime, anywhere across the globe.
Learn more
Essential features of any Virtual Tour software for Real Estate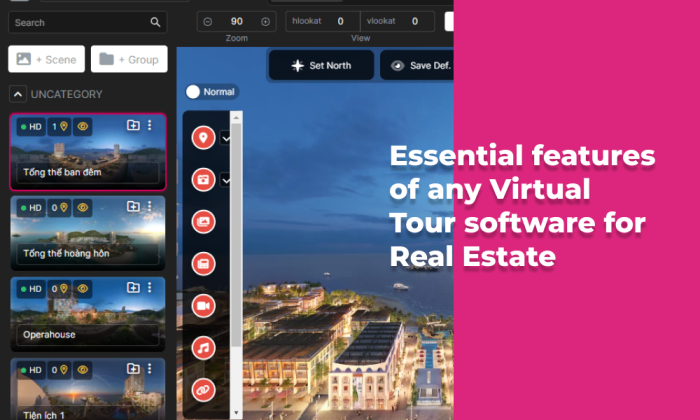 Experience the actual space of real estate projects.
Get the complete view of a project, building, or model house with 360 virtual tour technology! Immerse yourself in all the details with an aerial view, easier interaction, and 3D visual simulation that let you zoom in and out. Rotate your perspective from any angle – explore inside like never before!
Explore Wyndham Phu Quoc from the comfort of your own home! With Panoee 360 virtual tour solution, you can get a bird's-eye view of this luxurious villa. Enjoy rotating and moving around for an immersive experience to take in all corners of its campus and see how it fits into the local scenery. Plus, peek inside each room with interactive visuals.
Selecting each area to explore
With the Virtual Tour 360 solution for Real Estate, customers are given an immersive experience that allows them to move around just like they would in real life. Furthermore, a handy map on the display screen (aka floorplan or dollhouse) gives users even more control by making it easy to quickly jump right into their desired spot without navigating through each area one by one!
Selecting a sightseeing area in the 360 virtual tour project of a real estate property
Experience in interior design details
Looking for the perfect property can be an exciting experience, but let's make it even better. By selecting your desired sightseeing area at our site – outdoor areas, rooms, and swimming pools – you can explore everything with a 360-degree view! Glide through different spots of the spotless estate project while zooming in and out to check all associated details, such as services provided by its owner. Sounds amazing? You bet!
Let's visit the 3D 360 model apartment of 7Home project.
Real estate project distributors have an opportunity to give potential customers a holistic experience of their properties! Rather than just taking in the view, they can now provide additional information that sheds light on essential details to help clients find and choose the right product for them.
Register to view the project, order, and rent.
With our Virtual Tour Platform, customers can easily find the perfect property. Whether they want to view it first or go straight ahead and secure their dream home, we've got you covered! They can order through one of our popular partner websites or contact us directly via hotline —all at your fingertips!
Display location on Google Maps.
Panoee's convenient feature makes it simple to find the perfect real estate project – quickly assess if a particular area fits your needs, explore nearby amenities, and easily make an informed decision.
Locate on Google Maps 360 virtual tour for real estate.
Integrate 2D video, 2D image, or even 3D object.
With Panoee virtual tour software, customers will have a more realistic 3D experience! Our technology makes integrating 2D videos into your TV or projector screen possible – so you can feel like you're actually visiting the destination in person. Now that's what we call transformative viewing!
Floor plan moving in 360 virtual tours for real estate.
Floor Plans are the perfect way for real estate traders to show off their apartments in a fully immersive and interactive way. With multiple floor plans to choose from, customers can feel like they're actually walking around inside each room – or even jumping between points! It's an exciting step forward in 3D apartment showcasing.
? Learn more about Floorplan feature
Let's experience the Ecopark real estate project here.
Virtual tour guide
At Panoee 360 Virtual Tour solution, we're getting more interactive by introducing our new virtual tour guide feature! Say goodbye to uncertainty as you embark on your journey – a friendly and professional tour guide will be there every step of the way, guiding customers around with clear instructions and helpful information. Get ready for an immersive experience at Virtual Tour 360 like never before!
Panoee Virtual Tour software proudly serves a variety of customers from around the world, with its multilingual capabilities allowing it to connect and create meaningful experiences across cultures.
Live Video with Customers (Live Guide Tour)
With Live Guided Tour, you can now provide a personal and interactive product experience with customers – one that rivals being in the same room as them! Guide your customers through 360 virtual tours on their smart devices, giving them full access to all pertinent information, so they get an authentic feel for what it's like using the service.
Integrating 3D models into real estate space
For real estate areas that are still unknown, combining 3D models into the space provides customers with a glimpse into what they may soon call home. This option carries enormous potential for salespeople who now have even more tools to guide and advise their clients – ensuring success in closing each sale!
Experience the 360 Virtual Tour (with integrated 3D model) of the Cullinan project here.
How to Choose the Right Virtual Tour Software for Real Estate for your needs?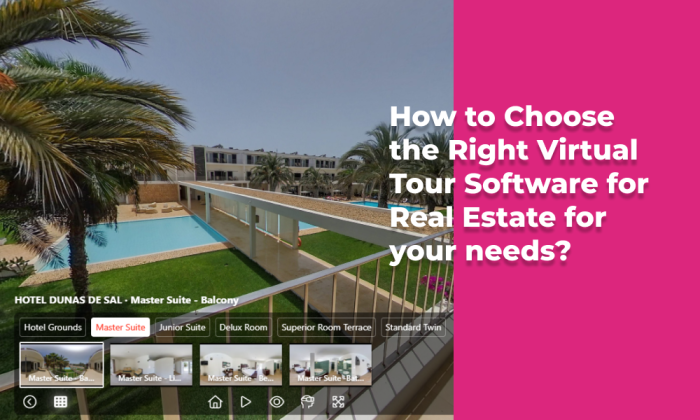 When choosing the right virtual tour software for your real estate needs, you need one that is cheap yet has all the advanced features you require. The ideal virtual tour software should be based on a cloud platform, allowing you access to all information from anywhere worldwide during any time of day.
Pricing comparison
You should also ensure that you find a program with 24/7 customer support services, so if something ever goes wrong or you have any problems, help is always close. Additionally, it's crucial to find a program that will enable you to easily export and handoff tours to your clients with minimal steps in between.
Listing all support channel
With these factors in mind, finding the right virtual tour software for your real estate needs is only a short and straightforward process; Panoee is proudly one of the solutions that can satisfy all the above requirements.
Looking for the Best Free Virtual Tour software?
Here are a few tips for creating the best virtual tours for your next real estate project.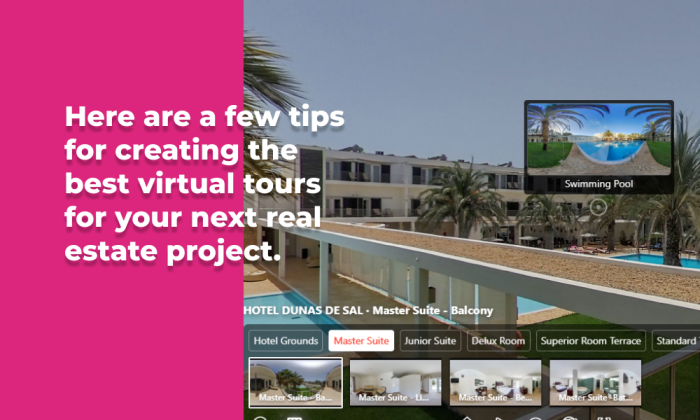 Creating the perfect virtual tour for your upcoming real estate project has become increasingly necessary to attract potential buyers and maintain a competitive advantage.
To start, please make sure to take enough pictures for the 360 virtual tours, including all angles and details of the space. It is also essential to capture high-resolution images to bring out the best quality. Consider adding panoramic shots of each room if you can and any relevant outside views or attractive features that could help sell the property. As needing more photography experience, the Real Estate agents need to consider a 1-shot 360 camera solution like Trisio.
Including virtual tours of available model homes so people can get a natural feel of the neighborhood.
Lastly, provide detailed descriptions of every area of the tour. With careful attention to detail and extra effort, you can create an exciting virtual tour that ensures your project stands out.
–
In conclusion, virtual tour software is an essential tool for real estate agents to create and host virtual tours for their clients. It enables them to create engaging content through fully interactive 3D walk-throughs, which can help differentiate their brand from competitors.
Furthermore, a well-chosen virtual tour software with the right features can significantly reduce the time needed to create and publish virtual experiences. When you are ready to build an attractive and captivating 360° tour of your properties, don't forget to include essential features such as hotspots, animations, floor plans, and navigation controls on the interface. Above all, always consider what your target audience needs to ensure your next project stands out from the crowd!