Virtual tours can effectively show potential customers your products or properties in an engaging and immersive manner. By creating an immersive and interactive experience on virtual tours, they provide a high level of engagement that captures customers' interest quickly. But how can virtual tour visitors become leads and eventually customers? In this blog post, we share tips to collect leads through a virtual tour faster and better.
Add Form to your virtual tour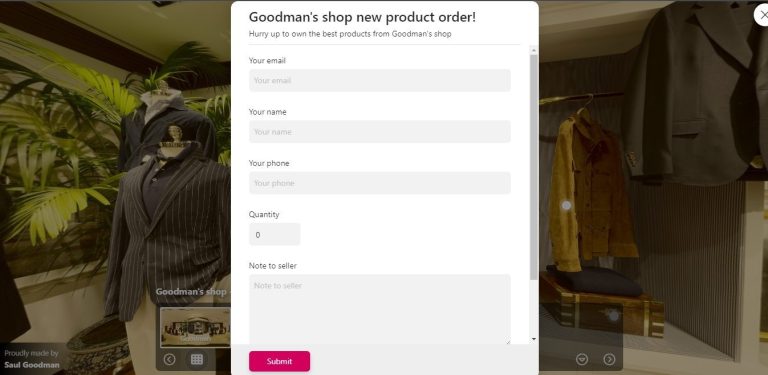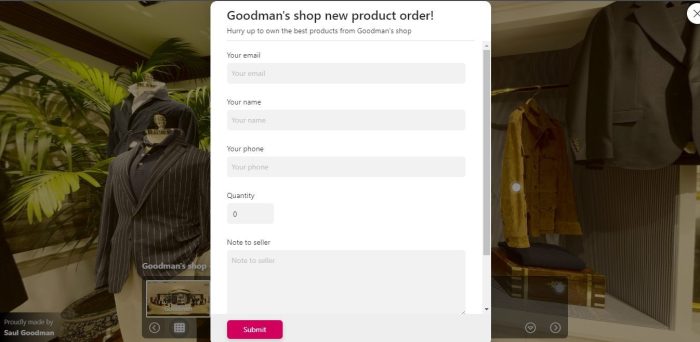 Incorporating a form is one of the easiest and most efficient ways to collect Leads through a virtual tour. A form allows you to collect the contact details of visitors who enter, such as name, email, phone number or any other necessary details. Furthermore, you could offer them something in exchange for their data, such as free consultation, quote, brochure or coupon – providing more value while getting their permission for future contact.
Use a form to qualify leads by asking them questions about their needs, preferences or budget. By segmenting leads by interest and readiness to buy, you can personalize follow-up messages and offers accordingly.
A form can help you generate more leads and segment them based on their interests and readiness to buy. You can use tools like Panoee to create engaging and user-friendly forms for your virtual tours. Panoee is a platform that allows you to create stunning and interactive virtual tours easily. You can use Panoee to add forms to your virtual tours and collect leads through a virtual tour directly.
Learn more: Simple Steps to Add a Form to a Virtual Tour
Add Call-to-Action Buttons to your virtual tour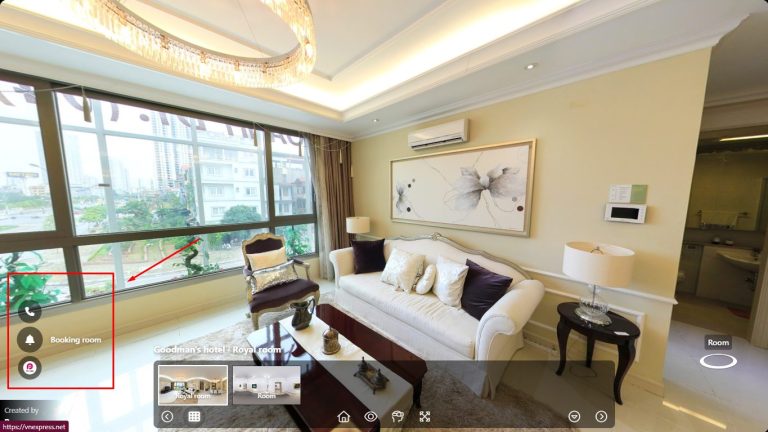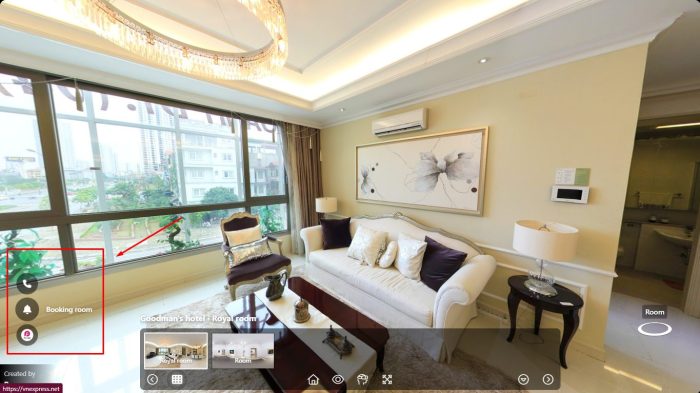 Call-to-action buttons can also help generate collect leads through a virtual tour by prompting visitors to take certain actions, such as signing up, booking a demo, requesting a callback or purchasing immediately. Use call-to-action buttons to guide your sales funnel and motivate visitors on their buyer journey.
Make use of call-to-action buttons to create a sense of urgency or scarcity by including phrases like "limited time offer", "only a few left", or "don't miss this opportunity". By doing this, you can motivate visitors to act quickly before missing out on an amazing offer!
Call-to-action buttons can help increase conversion rates and drive sales. Panoee is an easy and efficient way to create eye-catching call-to-action buttons for virtual tours that draw customers' attention, including customizing its colour, shape, size, and text options. Panoee also allows you to track the performance of these call-to-actions so that they can be optimized accordingly.
Learn more: How To Add A Call-to-Action In Your Virtual Tour (step-by-step)
Add a Live chat to your virtual tour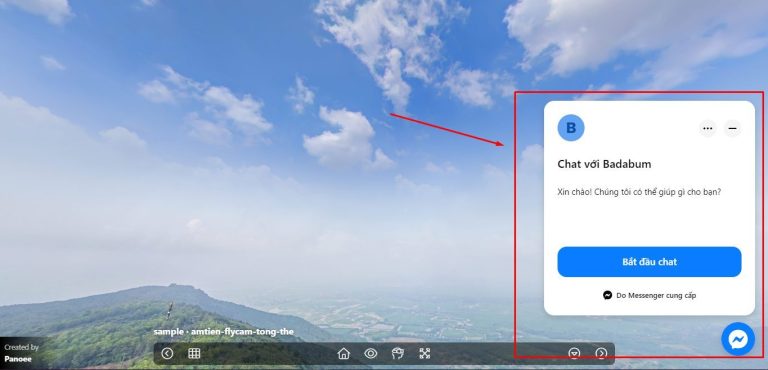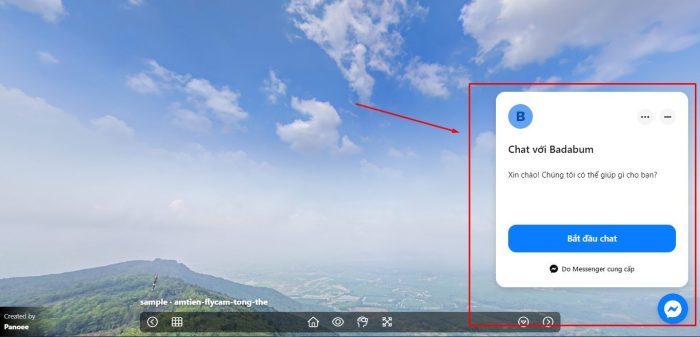 Add live chat functionality to your virtual tour as an additional means of gathering and collecting leads effectively. Live chat allows visitors to communicate directly with you in real-time using text or video, so it can help answer their questions, address concerns and provide additional information or even persuade them to purchase.
Live chat can also help build rapport and trust among visitors by showing that you are accessible, friendly and helpful. Plus, use emoticons, GIFs or stickers to add fun and individualization to the dialogue!
Live chat can help your company enhance customer service and satisfaction, collect leads through a virtual tour and referrals. Panoee is an easy and cost-effective way to integrate live chat features directly into virtual tours; it integrates with Tawk, Facebook Messenger or whatsApp so visitors can instantly communicate with support staff from within these platforms for immediate support and guidance during tours.
Learn more: How to Add Facebook Messenger Chat to a Virtual Tour
Add your virtual tour to your website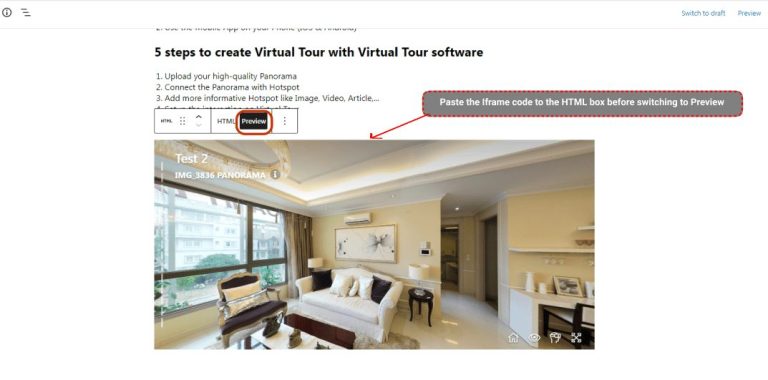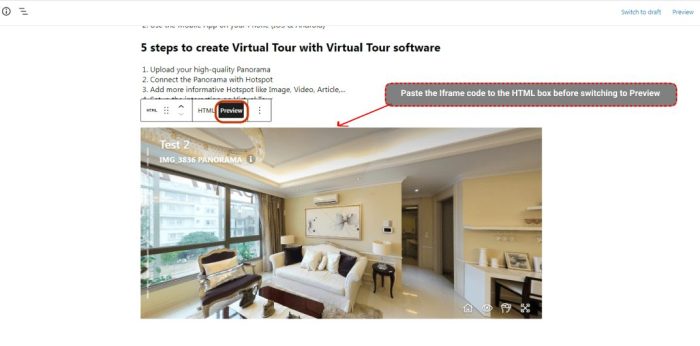 An another effective to collect Leads through a virtual tour is integrating it with your website. Your online storefront and initial impression of customers should reflect positively in this first impression of what your virtual tour can offer them; your virtual tour should showcase prominently here to gain more visitors and leads.
Use your website to optimize virtual tour SEO by including relevant keywords, titles, descriptions and tags that will rank higher on search engines and drive more organic traffic and leads for your virtual tour. This will increase its ranking on search engines while increasing organic leads.
Integrating virtual tours onto your website is a surefire way to increase its online visibility, authority and credibility, generate more traffic and leads, and generate additional sales leads. Panoee can help you quickly add virtual tours onto any web page with just a few clicks – as well as customize its look and feel and customize its look and feel to tailor each virtual tour's look and feel to fit perfectly into its context.
Learn more: How to add a Virtual Tour to Your Website? (Step by Step)
Optimize your virtual tour SEO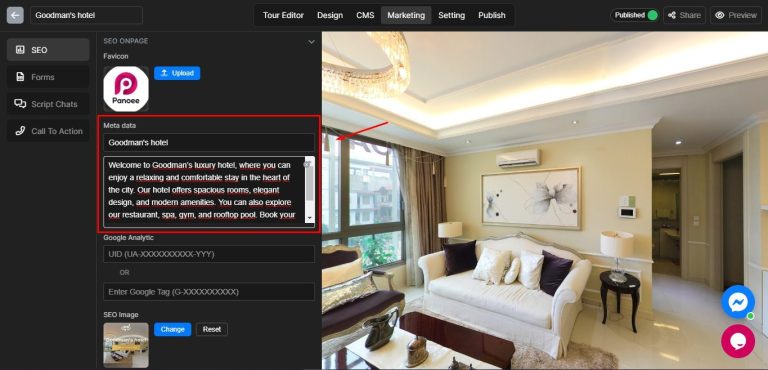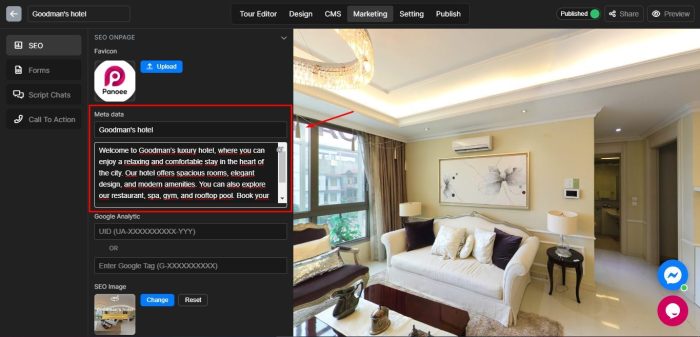 Optimizing its SEO is excellent solution to collect Leads through a virtual tour. SEO stands for search engine optimization and is the practice of increasing the visibility and relevance of online content for search engines and users. To optimize virtual tour SEO effectively, follow these best practices:
Use keywords that match the intentions and queries of your target audience
Utilize appealing titles and headlines that spark intrigue and curiosity
Utilize clear, detailed descriptions that accurately convey what the virtual tour entails
Use tags and categories that help users discover and navigate your virtual tour
Use engaging images and videos that meet these criteria; link only to relevant, trustworthy sites that offer useful content
Use analytics tools to measure and enhance virtual tour performance
Optimization of virtual tour SEO can help increase online visibility, authority and credibility while increasing traffic and leads. Panoee can make virtual tour SEO optimization easy and effective; edit keywords, titles, descriptions and tags before compressing, resizing or cropping images or videos before monitoring views, clicks, shares or conversions with Panoee's analytics capabilities.
Learn more: How to Master Virtual Tour SEO in 3 Easy Steps
Improve your virtual tour quality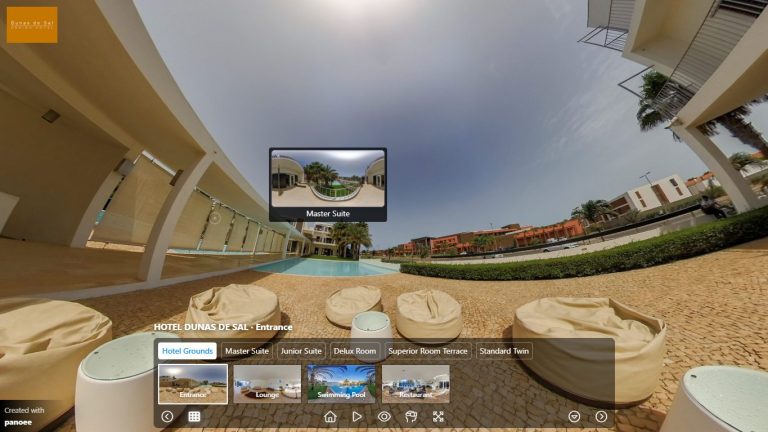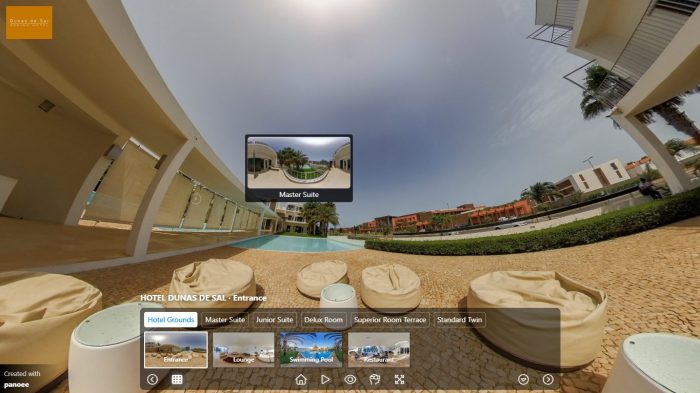 Enhancing its quality is one effective strategy for collect leads through a virtual tour . Quality is the cornerstone of virtual tour success and satisfaction among visitors; use these tips to improve it:
Utilizing professional equipment and software that produce high-quality images and videos.
Utilizing 360-degree cameras that capture every angle and detail of your space.
Utilizing lighting and sound effects that add realism and appeal.
Use narration or music that creates an emotional connection between yourself and your visitors;
Employ interactive features allowing your visitors to explore, zoom, rotate or customize your space
Enhancing virtual tour quality can create a memorable visitor experience while generating more leads and loyalty. Panoee can help improve virtual tour quality quickly and effortlessly by creating stunning tours in minutes! You can use Panoee to:
Upload or capture high-quality images or videos of your space
Edit or enhance these files using various effects, filters or transitions
Add interactive features such as hotspots, pop-up menus or maps and more
Check out all Panoee tutorials and tips here
Virtual tours are a fantastic way to showcase products, services and properties online. They can attract more visitors while engaging them longer for faster conversion rates and retention rates. However, it would help if you learned how to collect leads through a virtual tour effectively to expand your business. In this blog post, we shared with you some strategies on how to do that, such as using forms to capture and qualify leads, using call-to-action buttons to guide them toward conversion, communicating and building trust through live chat, increasing online exposure via your website and increasing rankings on search engines as well as driving organic traffic with SEO techniques as well as creating memorable and impressive experiences through quality.