Did you know that virtual tours can increase the number of students by as much as 30 percent? Virtual tours are immersive and interactive experiences allowing potential students to visit your facilities and campus anytime, from anywhere. They can highlight your unique strengths, draw applicants in, and enhance your online presence.
However, how do you select the most effective virtual tour software for your college by 2023? There are many options on the market, but they're not all suitable to your requirements and goals. This is why Panoee has come in to assist you in selecting the best software for virtual tours. Let's get started!
1. Virtual tour for college
What is a virtual tour using in a college?
A virtual tour of colleges is a method to showcase the college's campus and its facilities to potential students who cannot visit the campus in person. It will help them gain an idea of the atmosphere as well as the culture and academic facilities of the institution. Some methods to demonstrate your desire to attend include:
An on-campus visit or virtual tour participation.
Interviewing with admissions representatives.
Having discussions with admissions representatives and applying for admission early
Best Virtual Tour software for Real Estate 2023 – Learn more
Virtual tour in 2023: All you need to know – Learn more
Why do you need to use virtual tours for colleague?


You may need to use virtual tours for college because they can offer many benefits for both prospective students and colleges, such as:
Increasing student engagement and interest in the college
Showcasing the campus and facilities in a realistic and immersive way
Reaching a broader and more diverse audience of students who cannot visit in person due to financial, geographic, or other barriers
Boosting online presence and visibility for the college
Providing more information and interactivity than static photos or videos
Allowing students to compare and contrast different colleges quickly and conveniently
Virtual tours can also be a valuable tool for demonstrating interest in a college, which can improve your chances of admission. Some ways you can show interest in attending include a campus visit or virtual tour participation, having an initial interview, conversations with admission representatives, and applying for early admission
How to make a virtual tour for college?
Various approaches are available for creating virtual tours for colleges depending on your budget, resources, and desired goals. Here are a few standard techniques:
Utilizing a 360-degree camera, take photos and videos of your campus facilities.
Using software or platform to create and edit interactive virtual tours with features like hotspots, media, maps, etc.
Utilize a service or company specializing in creating virtual tours for colleges, providing 3D scanning and VR support, etc
But there are many virtual tour platforms or software on the market. What should you choose? Let's read the next part; Panoee will show you some selection criteria.
2. Criteria for choosing the best virtual tour software for college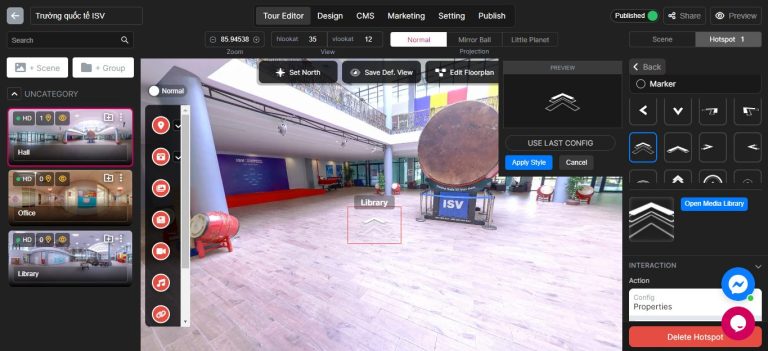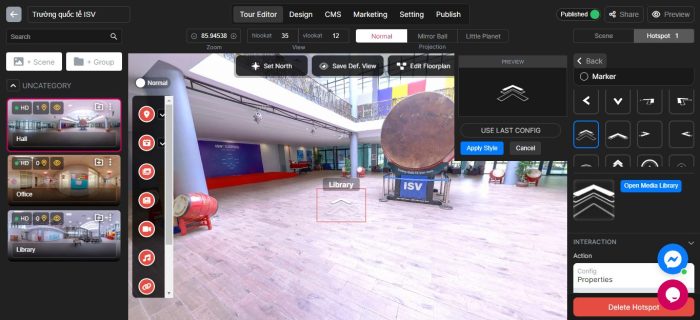 When selecting a virtual tour software for your college, you should consider the following factors:
Cost: How much does the software cost? Is it a one-time fee or a recurring subscription? Does it offer a free trial or a demo? What are the hidden fees or limitations?
Ease of use: How easy is creating and editing virtual tours? Do you need any technical skills or special equipment? How long does it take to upload and publish your tours?
Customization: How much can you customize your virtual tours? Can you add your own logo, branding, colors, fonts, etc.? Can you add interactive elements such as hotspots, media, floor plans, maps, etc.?
Interactivity: How interactive are your virtual tours? Can you engage your visitors with audio, video, text, images, etc.? Can you capture their feedback, contact information, or preferences?
Responsiveness: How well do your virtual tours adapt to different devices and screen sizes? Do they load fast and smoothly on mobile phones, tablets, laptops, etc.?
Compatibility: How compatible are your virtual tours with different platforms and browsers? Do they work on iOS, Android, Windows, Mac, etc.? Do they support VR headsets or glasses?
Support: How reliable is the software provider? Do they offer customer support via phone, email, chat, etc.? Do they provide tutorials, guides, FAQs, etc.? Do they update their software regularly and fix bugs or issues?
Enhancing the Patient Experience with Virtual Tours in Healthcare – Learn more
Art Gallery: The Advantages of Using a Virtual Tour App for Promotion – Learn more
3. The Free Virtual Tour Software for College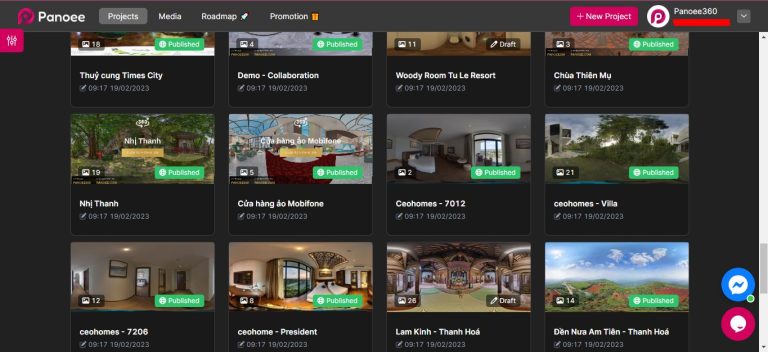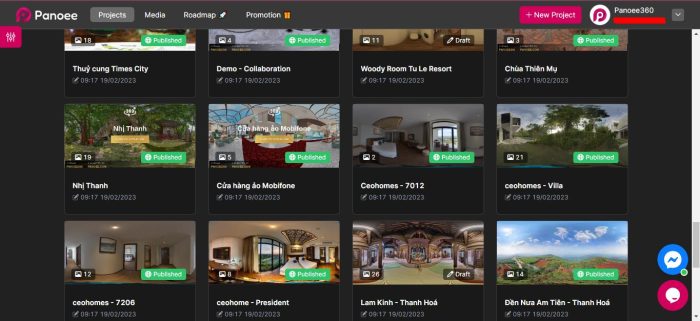 With the criteria above, Panoee is the best solution for you to create virtual tours for college. Panoee is a free virtual tour software that allows you to create high-quality, interactive, and engaging virtual tours for your campus and facilities. Panoee has many advantages over its competitors, such as:
Supports high-resolution panoramas and multi-resolution rendering that work best on all devices
Offers unlimited virtual tours with private and public options and password control access
Allows you to customize your virtual tours with your branding, theme, domain, logo, etc.
Provides 12 types of interactive hotspots and 6 types of hotspot styles that you can add to your virtual tours
Integrates with eCommerce platforms such as PayPal, as well as Google Map, Google Analytics, live chat scripts, etc.
Export your virtual tours and embed them on your website or social media channels
Supports VR technology, virtual staging, split screen, lens flare, green screen, media hotspot, etc.
An intuitive and user-friendly interface that allows you to create and edit your virtual tours easily
Panoee is a platform for everyone who wants to create beautiful and immersive virtual tours for any needs. You can try it for free and see for yourself how it can benefit your college.
Follow us:
Facebook: https://bit.ly/Panoee_Community
Twitter: https://bit.ly/tw_panoee360
Youtube: https://bit.ly/yt_panoee360
Telegram: https://t.me/panoee360