Have you ever considered ways to attract more customers to your store, making them choose you over competitors, showcasing products, services, and features in an effective manner, etc? If so, keep reading – We've got your answers!
If any of the questions above apply to you and your business, then Google Street View could be beneficial in increasing exposure for both. Google Street View allows users to explore places around the globe through 360-degree panoramic images. Users can explore streets, buildings, landmarks and natural features on Google Maps and Search in real-time.
Google Street View allows businesses to showcase interior and exterior spaces via high-resolution virtual tours or street-level imagery on Google Maps and Search, giving customers a glimpse of what you offer before visiting in person. Customers will see exactly what's waiting for them before visiting you personally!
In this blog post, we'll present six reasons Google Street View can increase foot traffic to your store – and how it's easy to start using this fantastic tool!
1. Showcases your interior and exterior spaces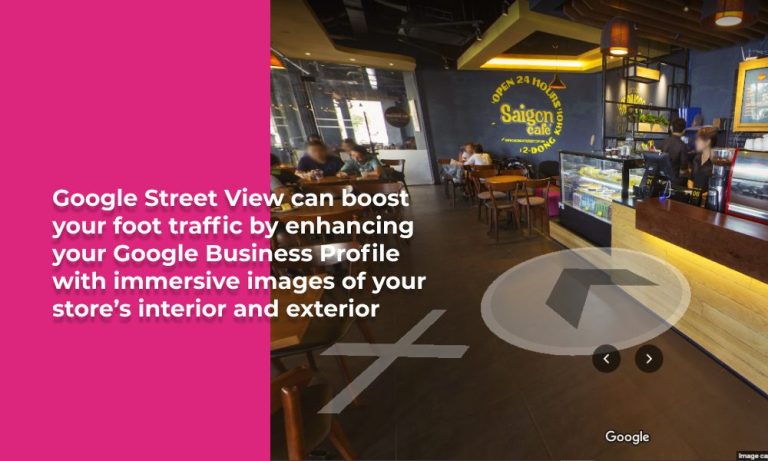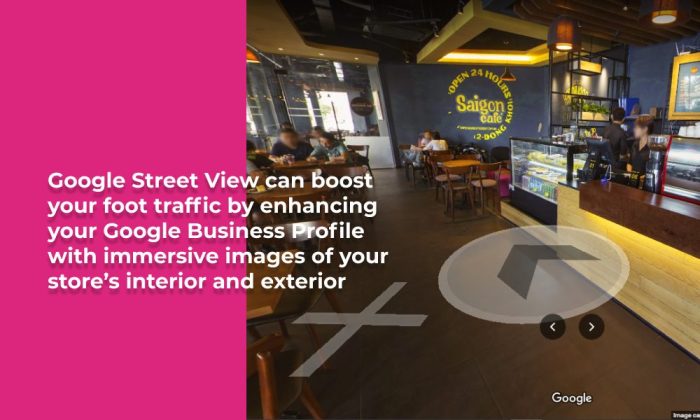 Google Street View offers numerous advantages that can enhance your Google Business Listing with immersive imagery that showcases your establishment's interior and exterior spaces. One such advantage is providing Google with engaging images for their listing page showcasing your space's interior and exterior spaces.
Your Google Business Profile is a free listing that appears when people search Google Maps or Search to locate businesses like yours. It includes your vital details such as name, address, phone number, website URL, hours of operation, reviews, rating, photos etc.
Adding a virtual tour or street-level imagery to your Google Business Profile can make it more inviting for potential customers. Show them the whole picture – what your store looks like from the outside and inside, how spacious and clean it is, well organized, friendly professional staff members work there, etc.
Your best-selling items, special offers, customer testimonials, awards or anything else that differentiates your store can also be highlighted here.
Create an appealing first impression and encourage customers to visit in person by creating an appealing online experience for them.
2. Drive more traffic and conversions to your website or physical location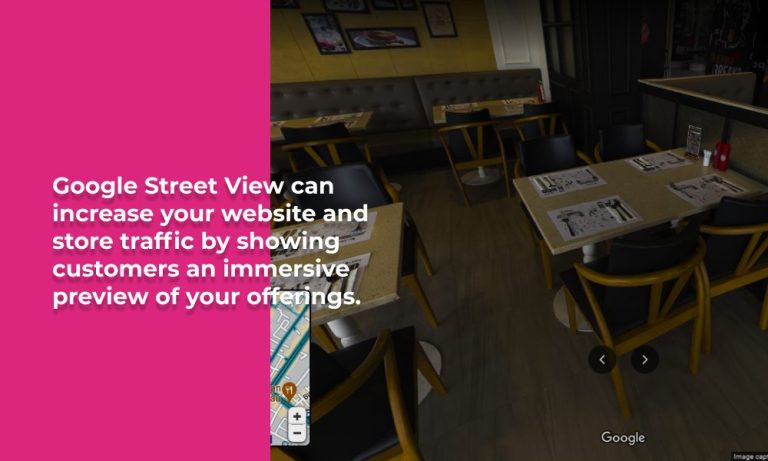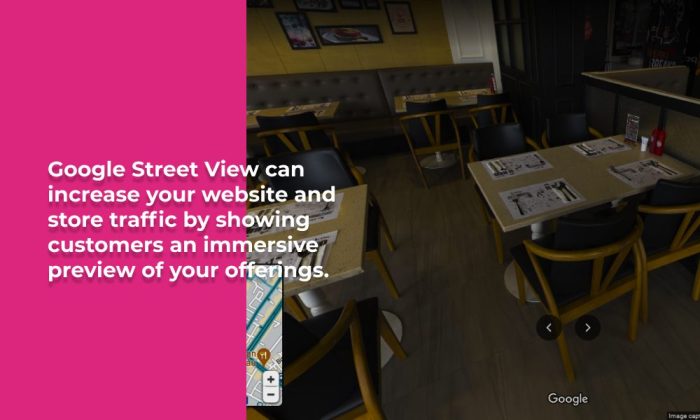 Another benefit of using Google Street View is driving more visitors and conversions to your website or physical location.
According to research by Ipsos MORI, businesses that feature virtual tours or street-level imagery on their Google Business Profile are twice as likely to generate customer interest than those without such features.
Customers who view your virtual tour or street-level imagery are likelier to click on your website link, call your number, request directions or visit your store than those who don't see these features.
By providing an engaging preview of what you offer, you can reduce customer uncertainty and increase their likelihood of selecting you over others. Plus, this increases your chance of creating loyal customers that keep returning repeatedly!
3. Build customer loyalty and engagement by letting them peek inside before they visit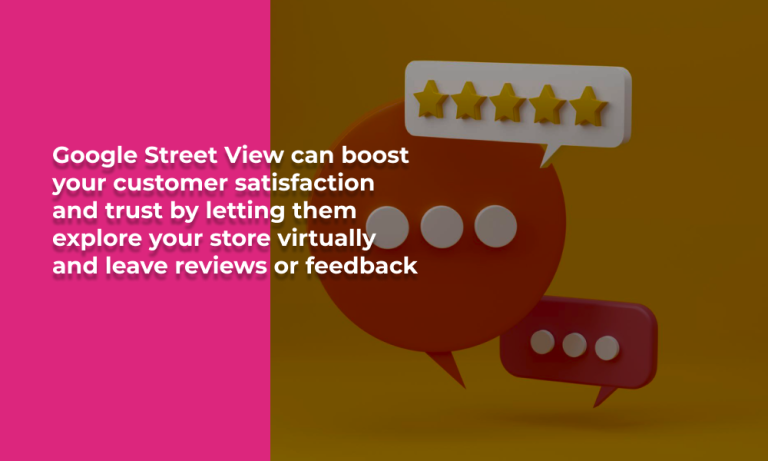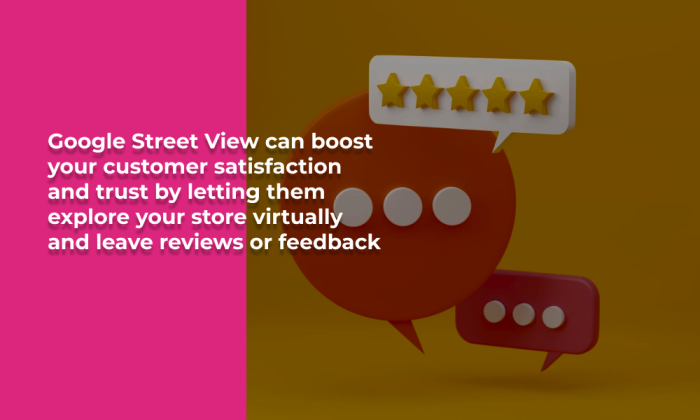 Customers today are more savvy and demanding than ever, expecting to know everything about a business before deciding to spend their money there. They want an overview of products, services, prices, hours, amenities and more without calling up or visiting its website directly.
By inviting customers to explore your store virtually with Google Street View, you can satisfy their curiosity and expectations while making them feel more at ease with your business, increasing trust and customer satisfaction.
Encourage visitors to leave reviews or feedback on your Google Business Profile after their visit – this can help build and strengthen your online reputation and word-of-mouth referrals.
4. Boost your SEO ranking and online reputation by providing relevant and updated content that Google values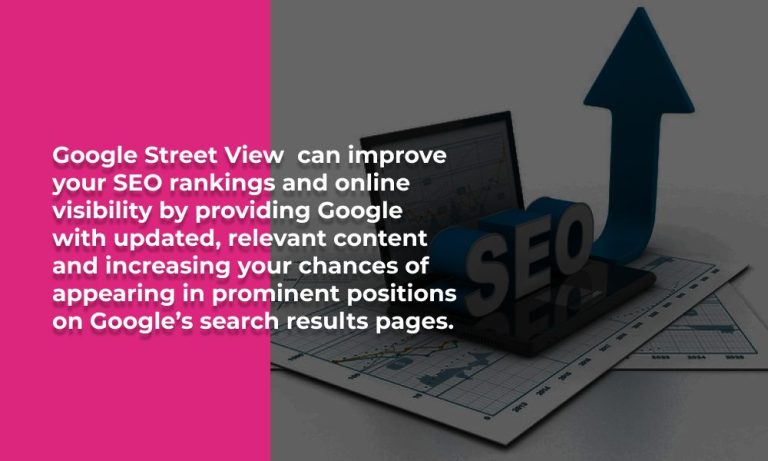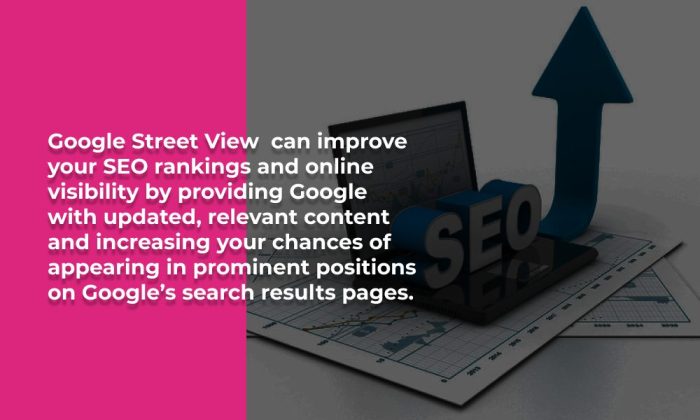 Google is the world's most-used search engine, receiving billions of queries daily from people seeking information, products, services or businesses online.
Your content must meet user intent and needs to succeed on Google's search results pages. Furthermore, keep it fresh by regularly updating it.
You can increase SEO rankings and online visibility by including virtual tours or street-level imagery in your Google Business Profile. Google will appreciate having updated, relevant content that it rewards with higher ranks.
Your business can increase its chances of appearing in Google's search results pages' local pack, featured snippet or knowledge panel by improving its chances of appearing there. These apparent positions display rich information about you, such as name, address, phone number, website hours of operation, reviews, rating, photos, virtual tours and more – perfect advertising opportunities!
These spots can help your business gain attention and clicks from potential customers searching Google for businesses like yours.
5. Be a passive marketing tool that works 24/7 for you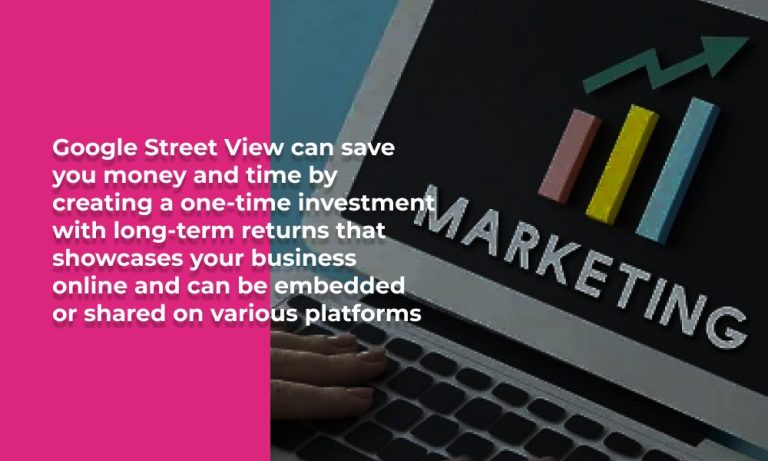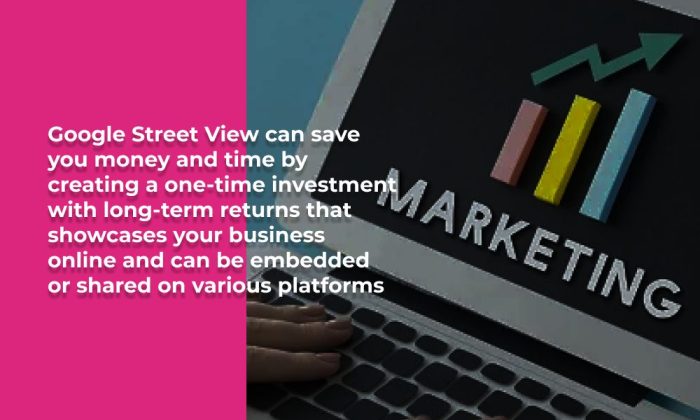 Google Street View can help businesses take a strategic marketing approach that saves both money and time in creating ads or flyers that pay dividends over time — a one-time investment with long-term returns.
Once your virtual tour or street-level imagery is live on Google Business Profile, its impact will speak for itself and showcase your business in its best possible light. It will always be available to anyone who wants to view it – no need to consider opening hours, holidays, weather or any other factors that may alter its visibility!
Your virtual tour or street-level imagery can also be embedded into websites, social media channels, or other platforms to broaden its exposure and reach. Furthermore, it can be shared with existing or potential customers via email, text, or other channels to generate interest and leads.
6. Provide a convenient and comfortable experience for your customers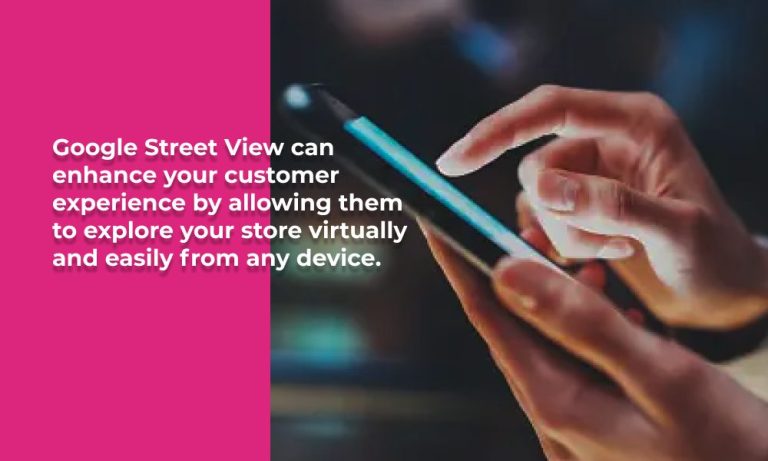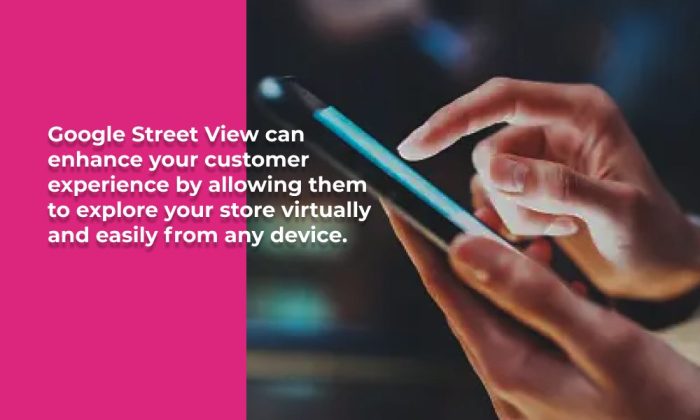 Customers today are busy and impatient; they want their needs fulfilled quickly and painlessly while having an enjoyable shopping experience.
By providing them with virtual tours or street-level imagery of your store through Google Street View, you can provide customers with an enjoyable and effortless shopping experience.
Customers can explore your store at their own pace and from any device. Zooming, rotating and navigating are all capabilities available through virtual tours or street-level imagery for them to see every angle and detail in full detail.
It will make them feel more at ease about coming in person and more likely to recommend you to their friends and family.
Google Street View can help your store attract customers by showing them what's available online and offline. In addition, it can boost conversions, foster customer loyalty, and build customer engagement while increasing SEO ranking and online reputation – all while being an affordable marketing tool and offering convenient service.
To get started with Google Street View, two approaches are available: hiring a professional or doing it yourself. Your choice will depend on factors like budget, goals and needs, and following Google's publishing policy guidelines.
If you need further assistance or need more information, don't hesitate to reach out or visit our website – our expertise lies in creating high-quality virtual tours and street-level imagery of all sizes and industries.
Thank you for reading our blog post; we hope it was both educational and valuable for you. Please let us know via the comments section below if any questions or feedback arise.