Like websites or landing pages, Virtual Tour is designed so that users can easily access it in the online environment. Many companies in the real estate or accommodation area use Virtual Tour links to share with their customers via social networking platforms or embed directly into the sales website.
Many businesses have used their Virtual Tour links as landing pages to attract customers about their products and services. The appearance of the link is extremely vital because the landing page, in this case, represents the official Brand & Business. Users tend to click and visit an easy-to-remember link or website link with a precise slug such as /car/360 instead of a long and confusing slug-like /tour/65180/view/160422/. Obviously, Owning a professional virtual tour link will have more advantages when running marketing campaigns or sending information to customers for reference.
What's unique about the Panoee Hosting Solution?
Panoee is a new Virtual Tour software platform that allows panoramic photographers or agencies to build and publish Virtual Tour 360 easily and quickly. Unlike other Virtual Tour software, we don't want to control; we use technology so that partners can be themself and manage all their data.
To take advantage of the Cloud-based Platform's capabilities and meet the demanding publishing, we provide three main aspects of Panoee Hosting Solution with many benefits.
Customize slugs easily when using Panoee Hosting Solution.
To have a professional virtual tour link, the first thing you need to do is change the slug. Instead of using the default project name slug, you can customize it and choose a shorter and easier-to-remember slug-like https://tour.panoee.com/ha-long.
In the term of Panoee, the slug will be shared by all Panoee users, so it must be unique, then first come first serve. If the slug has already been used for another Virtual Tour, the system will add the suffix -[number] to ensure system consistency.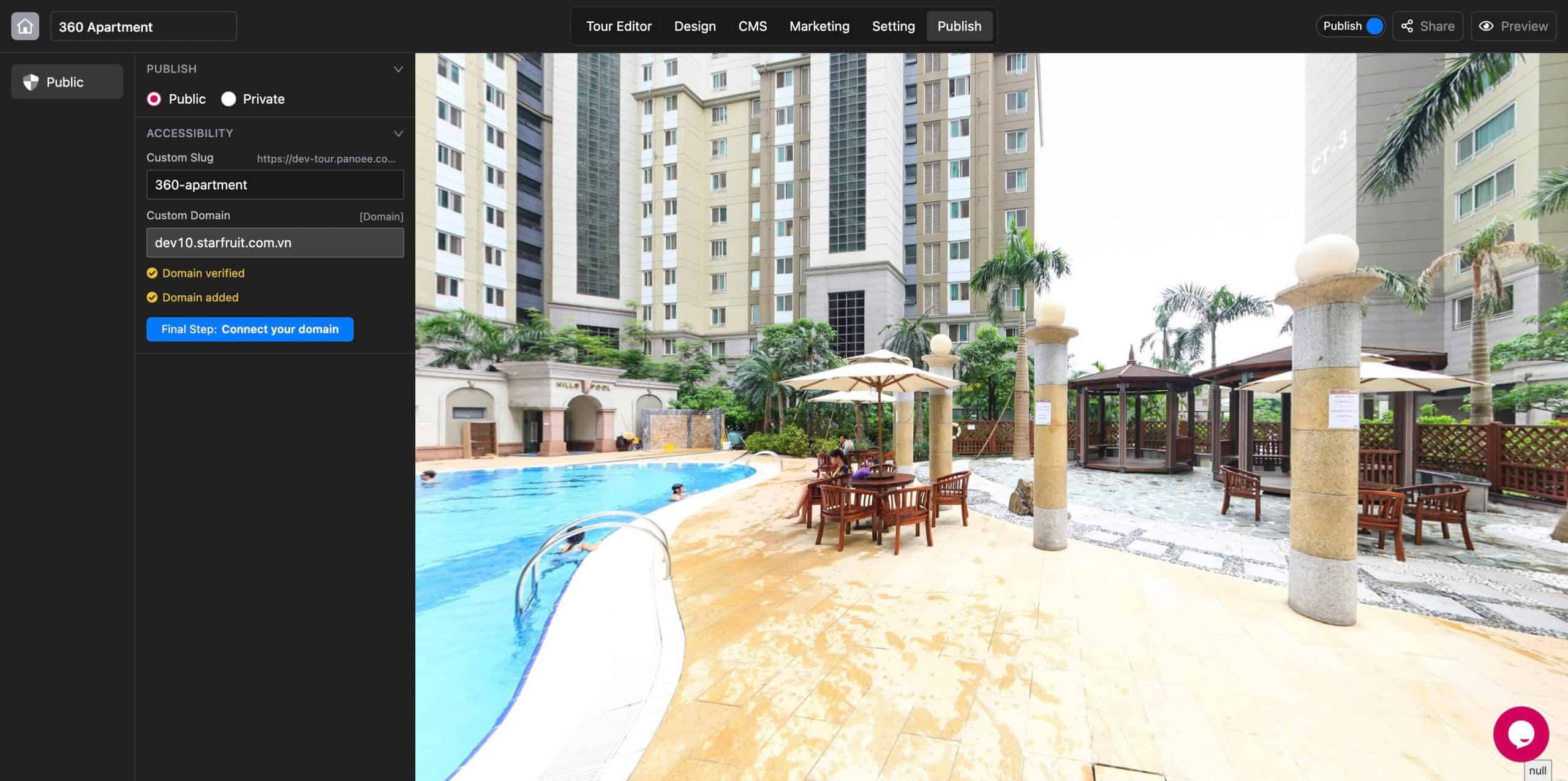 Integrate your domain on the virtual tour
In addition to slug customization, Panoee users can also integrate their custom domain with Panoee's public tour system. For example, you can customize for visitors to access with the domain https://my-tour.company-domain.com.
Domain integration solution will require Virtual Tours owners to be able to manage their domain and point CNAME records to Panoee's Server. This update may take time for the system to validate & synchronize DNS records, but not more than 30 minutes. In addition, the benefit of domain integration is that users can take advantage of the convenience of Cloud-based Virtual Tour software. It allows them to keep Virtual Tour updated anytime, anywhere on the admin page https://studio.panoee.com, while the changes will be done immediately on the customer's domain.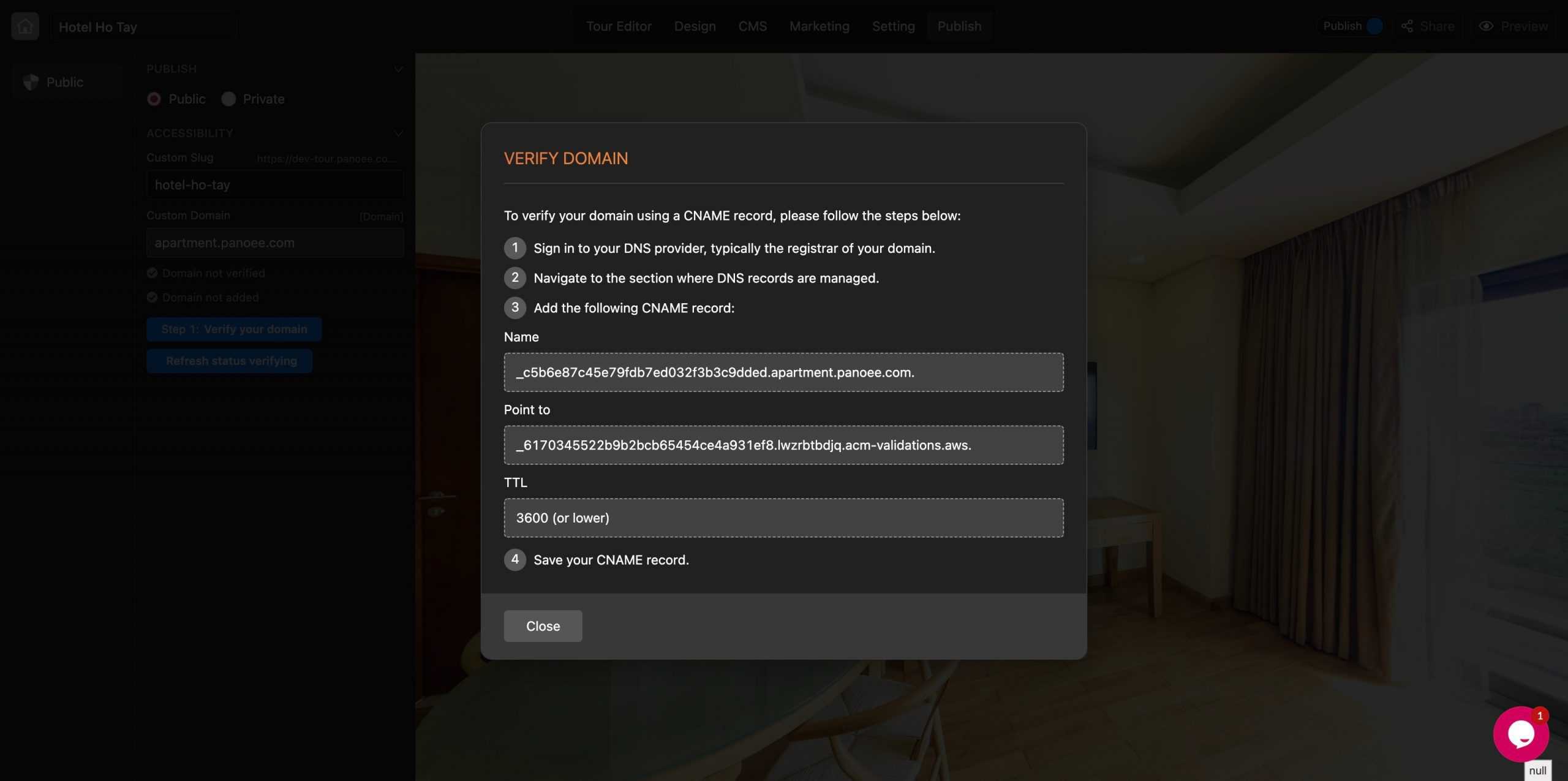 Panoee Hosting Solution provides Export Tour (Frontend & Complete) solutions.
Panoee truly becomes the freest Cloud-based Virtual Tour software platform available to all users by allowing the export. Now, Panoramic Photographers can manage and update the content on the Studio system, then export files to self-host on the Server or run in the offline environment.
Virtual Tours can now be officially handed over to customers with export permission, giving back the most powerful management rights with all files and data. Customers can bring Virtual Tour to many different environments, hosting on as many domains as they like.
All exported tours are still guaranteed with features, image quality, interactivity and can work entirely Offline. There is no limit to the number of times the Virtual Tours can be exported, so users can keep updating & publishing continuously for a long time.
Panoee Hosting Solution supports two export options:
Export Frontend: Panoee exports a compact Virtual Tour interface file for users to host on their Server, but all data & files are still stored on Panoee's system. This feature allows users to keep Virtual Tour updated in real-time without a hitch while still using their own domain & hosting.
Export Complete: Panoee exports all files of Virtual Tour, including interface files, image files & data files, so that Users can host on their Server. It will take a little more time between each export & cannot be updated in real-time. Still, users can run Virtual Tour offline or choose the most optimal hosting solution depending on the customer's geographical location.
Compare three options of Panoee Hosting Solution.
With the information about the Panoee Hosting Solution mentioned above, we summarize the advantages and disadvantages of the four solutions as follows:
| | | | | |
| --- | --- | --- | --- | --- |
| | Customize slug | Domain integration | Export Frontend | Export Backend |
| Integration speed | Very fast | From 15 minutes to 1 hour depending on the domain management unit | Very fast | From 5 minutes to 15 minutes depending on the size of the Virtual Tour |
| Support Real-time Update | Yes | Yes | Yes | No |
| Support Offline | No | No | No | Yes |
| Level of difficult | Very easy | Requires the ability to govern domain | Requires the ability to control the domain | Requires the ability to control the domain |
| Cost | Free | Update soon | Update soon | Update soon |
| White-label | No | Yes | Yes | Yes |
The Panoee team hopes that the above Hosting solutions can help our partners – Panoramic Photographers & Agencies can effectively exploit Panoee in implementing Virtual Tour projects for customers.