There is a large number of people in this world who have a great interest in the field of art. Unfortunately, visiting and enjoying the art in person cause some difficulties from time to time; especially in the context of post-Covid-19 where several limits are set on traveling within the biggest cities of art. On the other hand, some of the originals are out of reach of the public not only because of their priceless value but also to conserve them from some extreme visitors. Remember when the famed Leonardo da Vinci painting – the Mona Lisa was smeared with cake at the Louvre in the name of protecting the Earth?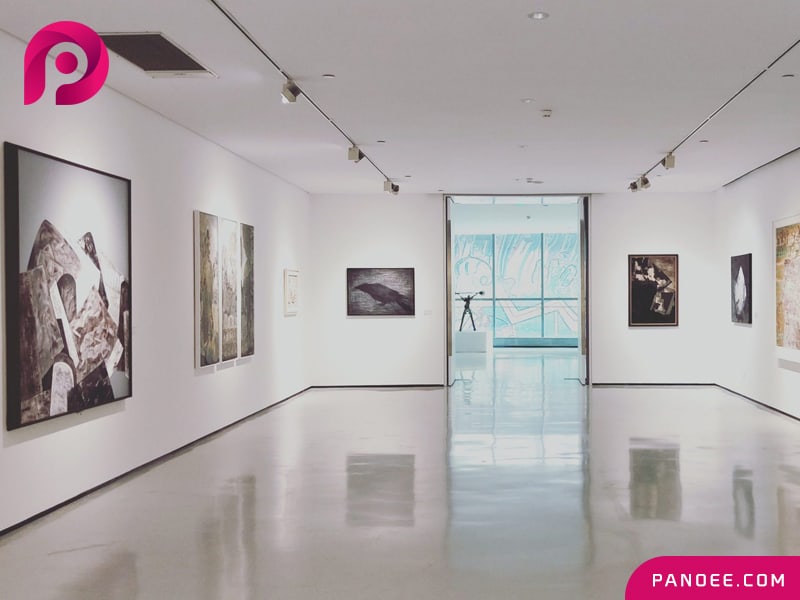 Art Gallery's Virtual Tour is a great way to enjoy world-class art without the queues or tickets. You can view thousands of paintings, sculptures, and illustrations,… online as well as explore the art by role-playing through virtual visitor features and discover the museum yourself on various platforms from interactive, 360-degree video or full walk-around tours. And if you are an art lover and delight to share your journey with friends and family, Art Gallery's Virtual Tour promises to bring meaningful experiences to your loved one.
How might we recreate the experience of visiting an Art Gallery through a virtual experience?
The world of art is increasingly moving into the virtual universe. In this article, we are going to be taking you through how to create a basic virtual tour for your art gallery. 
How much does it cost to create a virtual tour?
Virtual tours are one of the most effective marketing innovations these days. Using this technology, your customer or friends can walk through your art experience from the comfort of their home. Every commission is different. The main factor involved in how we price a virtual tour costs will depend on a few factors below: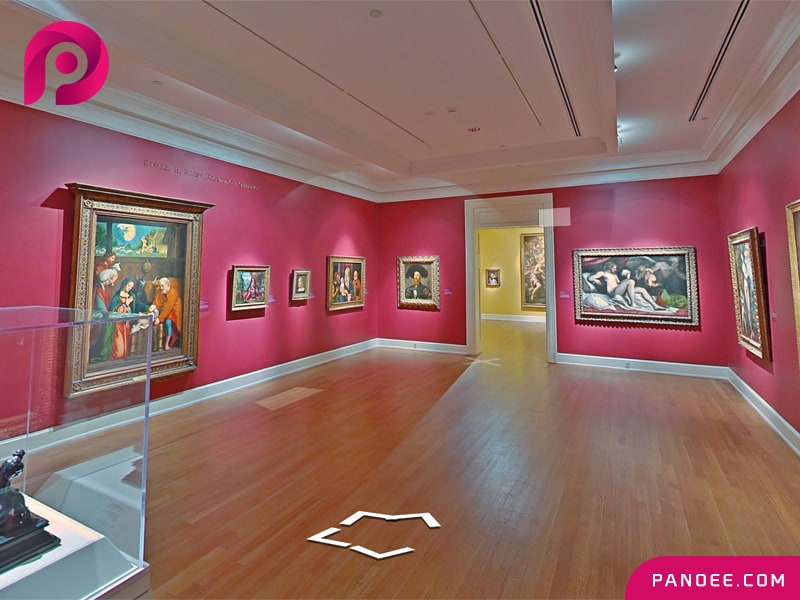 The size of the location you want to show:

usually the bigger the space, the more expensive your virtual tour will cost since you have to insert more photographs, videos, and compiles. It requires a virtual tour software or browser to have a strong connection, large capacity, and many innovative features to help users unleash their creativity in accordance to effectively showcase the areas. Consider paid virtual tour creation software. You will find that creating a virtual tour is a lot easier than you think.

Who will make your virtual tour:

If you make the virtual tour yourself, the cost will be cheap to zero compared to going through a third-party media agency. If you are considered to hire an experienced team to make a virtual tour for your gallery, a company that has a simple one-off fee is a great choice over monthly or yearly fees. Your virtual tour may start around $600 – $3000 when made by a professional team.

The level of complexity and convenience of your virtual tours

: could make the cost higher. It depends on the size of your gallery, the level of complexity you require on your virtual tour, and the convenience your virtual tour will offer to your visitors such as a voiceover tour guide, quantity of high-quality photos/videos, user-friendly ordering, or payment features,… 
Virtual tour design services:
Below is a breakdown of all of the virtual tour design services you can create with Panoee so that you don't have to play any guessing games to find out what cost-effective virtual tour design services are best for your business.
High quality, high resolution 360 panoramas:

can engage and immerse your potential clients to become your actual clients when created with conscientiousness and expertise. Unlike still photography or video, high-quality and high-resolution 360 panoramas offer your visitor immersive interactivity to view the artworks to a certain extent by providing them the first-person point of space's view. Especially small spaces with high ceilings is a common structure of galleries usually hard to capture with photographs as still images but are very potential to capture in 360°. 

'Deep zoom' gigapixel panoramas virtual tour:

is a billion pixels or more panoramic images/videos that allow interaction to pan and zoom to explore the great detail they contain. To create gigapixel panoramas, you will need to stitch multiple images/video captures over a span of minutes. Then you stitch them together to estimate camera parameters for each video tile. You can apply vignette removal in color correction to reduce artifacts' tile boundaries.

Bespoke virtual tours:

is a proven marketing method to effectively promote and increase trust. This user-friendly virtual tour is not only just panoramic images jumping from room to room but includes doll-house view through 3D model, floor plan view, highlight reel, information tags, … This is considered as a rough introduction to your gallery before users officially discover it
How to design a virtual tour for an art gallery with Panoee:
If you want to create a flash, or more professional-looking virtual tour with more options, and more interactivity with the lowest budget from free version to paid version, you will love Panoee – the next-gen Virtual Tour builder. This is the most popular software developed to provide all sorts of editing tools for your self-made virtual tour. Here is how to use Panoee to create your art virtual tour:
Create your project to showcase the art spaces:
First you need to determine the art space that you want to present. With Panoee, you can create 3D space to showcase your art virtual exhibition. You can start by creating your bespoke space from scratch. In order to create the space that best matches the actual spatial experience, you should consider the ratio of relative dimensions between the 3D space and the actual space. You can preview your space by clicking on the Preview button.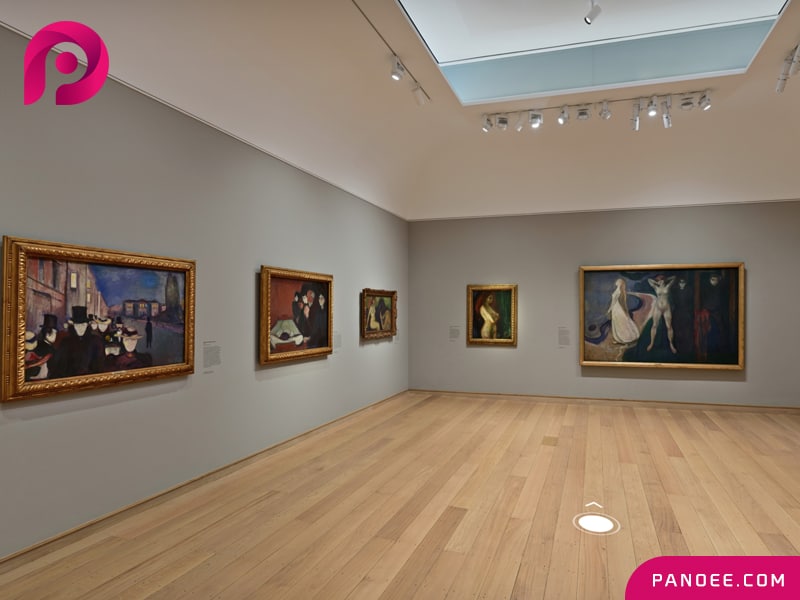 Then you need to capture 360 images from a special spherical camera in high resolution. You can also use your phone (with lower quality results) by downloading the app Google Street View, selecting the camera icon in the bottom right corner, clicking "take photo" and following the instruction to take photos of images that will eventually represent your art. When you are done, click the check mark and the 360 images will automatically save to your phone gallery. You can send the photo to your PC or laptop to continue using Panoee.
Place your artwork and set details:
This is the most exciting step in creating a virtual art tour with Panoee. Click on the upload icon on the toolbar, select the images to upload to your virtual tour project and drag them into position within the 3D space. Then, you will need to add info hotspot and link hotspots. There are a few things you can do with info hotspots within your art space. 
You can add a little bit of detail to certain things in your scene that you think your viewer might miss at first glance. 

You can use the info spots to put the title of the work in the title section and then list some attributes about the work itself such as the artist, the collection status, the dimension, the material and a short description of the piece. 

You can place all your info hotspots by clicking on the info hotspot and dragging it around the place where you want it and clicking the pencils to edit the text.
You can link hotspots so that they allow your viewer to jump between different rooms, and different panoramas that you have imported. To get back, you can create a link hotspot again and drag it where you want it to be placed. You can rotate where you would like the arrow to point. You can also add floor plan to your design. Panoee offers the Multiresolution Feature for high-quality virtual tours and more Essential Virtual Tour Features.
Promote the exhibition with your audience:
After you have customized your design, choose to submit and save your virtual tour in the created project. Now you can share your virtual art tour on your website or on your social media so your community can view and purchase the artwork. Click on the Share button, and choose your social platform such as Facebook, Twitter, LinkedIn, etc. 
Join our community
Our Blog