Virtual tour technology is a revolutionary element in the 21st century, for many industries such as real estate, hospitality, hotel & tourism, etc. Virtual reality has been booming since late 2019, then, after the Covid-19 outbreak & lockdowns, more and more people started to embrace advanced technology. In this article, we supply more pieces of information about the virtual tour app for android and PC. Especially, Panoee is certified as the best Tour Software for Windows.
What is Virtual Tour Software?
Virtual Tour software helps real estate agents, college recruiters, sales representatives and all kinds of businesses create a 360-degree view of the spaces and grounds that are being promoted to their potential customers.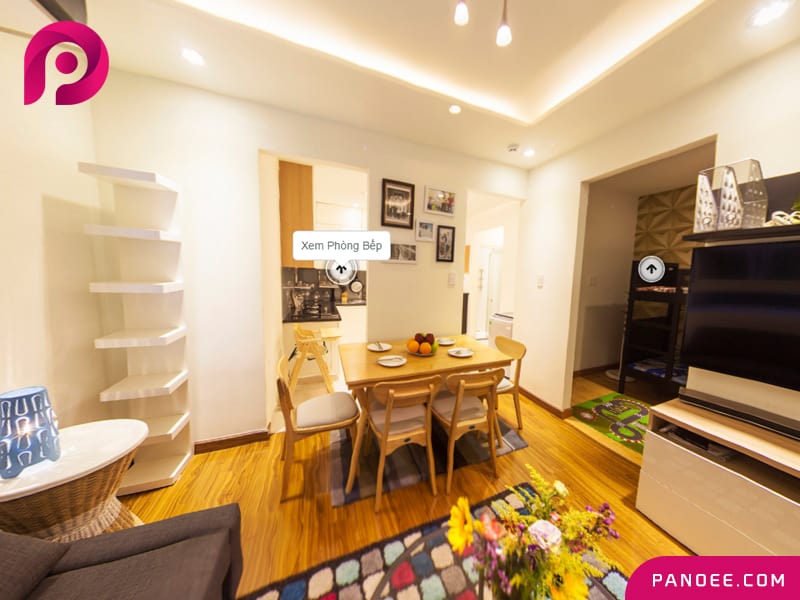 Virtual tour software facilitates the design and presentation of virtual tours of properties and landscapes in a 360 virtual reality experience. Through VR, these software systems render a building plan, layout, and designs into a three-dimensional (3D) client experience using VR headgear and sound systems. 
The benefits of the virtual tour platform
More property visits: 
It's difficult for agents and buyers to visit multiple properties or product areas in a single day. However, with virtual tour software, buyers can make multiple virtual visits to properties without having to travel to multiple physical locations, saving time and increasing the number of potential visits for both agents and buyers. 
Effective, professional digital presentations: 
In the business, effective, professional property presentations are key to making a sale. Virtual tour software helps agents create such presentations using 3D maps, interactive images, audio clips, videos, and panoramas that provide a more interesting experience than printed brochures.
The cost of virtual tour software
Almost of virtual tour platform vendors in the market are priced on a per-month or per-year basis and can be divided into three pricing tiers based on their starting price.
Pricing ranges per month:
$0 – $13
$13 – $45
$45+
This list summarizes pricing for the base plans of most virtual tour platforms. An enterprise or premium product that is priced higher often includes additional premium features such as custom branding of tours, storyboards, web editor, heatmap traffic, and advanced reporting.
Typical features of virtual tour software
A virtual tour is a marketing tool that can help bring new customers and clients to your business. It also supplies a virtual reality view of your business relayed in visual images that allow the viewer to be right at your location. It becomes the best way to accurately show what your location really looks like. So what are the typical features of virtual tour software? Let's check below:
Virtual reality: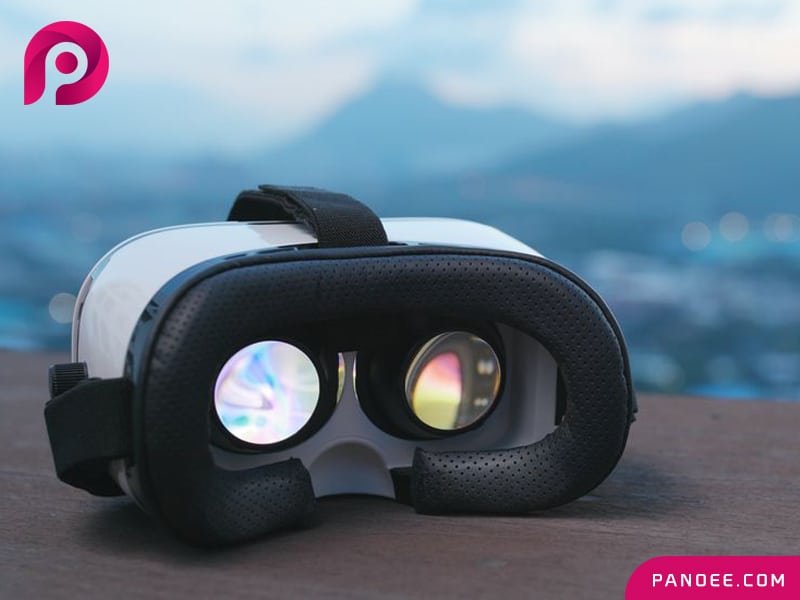 A computer-generated digital tour that incorporates audio and video elements to create an interactive virtual experience. 
Floor plans and maps: 
Replicate and map actual floor designs and directions to a virtual floor plan using digital tools. 
Drag-and-drop: 
Ease to use "Drag-and-drop" digital elements while creating presentations and virtual tours. 
Social sharing: 
Share virtual tours on social media to reach a larger audience and promote listings.
Hotspot: 
Specific areas within a virtual tour act as a trigger. Hotspots are added to specific rooms or maps and are hyperlinked to perform specific actions when clicked. 
Considerations when purchasing virtual tour software
A virtual tour is a vital research tool for users, allowing them to make more informed decisions about your company. A virtual tour allows users to get a feel for the atmosphere of the location quickly or the right size and layout for the event day. That is the reason why consider carefully when choosing and purchasing virtual tour software.
Industry-specific software: 
Virtual tour software solutions are not only designed for real estate businesses but also to serve other business verticals. Virtual tour platform allows academic institutions to offer VR educational experiences to students, while sports and recreational-focused systems facilitate the design of indoor virtual training sessions. If your small business doesn't operate in the real estate sector, explore VR applications within your niche to identify specialized offers before purchasing virtual tour software.
Completed and unfinished property tours: 
Virtual tour software supports both completed and unfinished properties but uses different technologies to do so. When working with unfinished properties, designers use computer-generated imagery to show property elements that are still under construction. On another side, with completed properties, designers use photographic VT software, which transforms high-definition images and video of the actual site into a VR experience. Buyers should determine whether they need one or both of these applications, and shortlist virtual tour software accordingly. 
Best Virtual Tour Apps
To make the search for the right product easier, this is the compiled list of the 10 greatest virtual tour software often chosen by many business specialists. All the programs described here have many positive reviews are budget-friendly, feature-rich, and simple to use.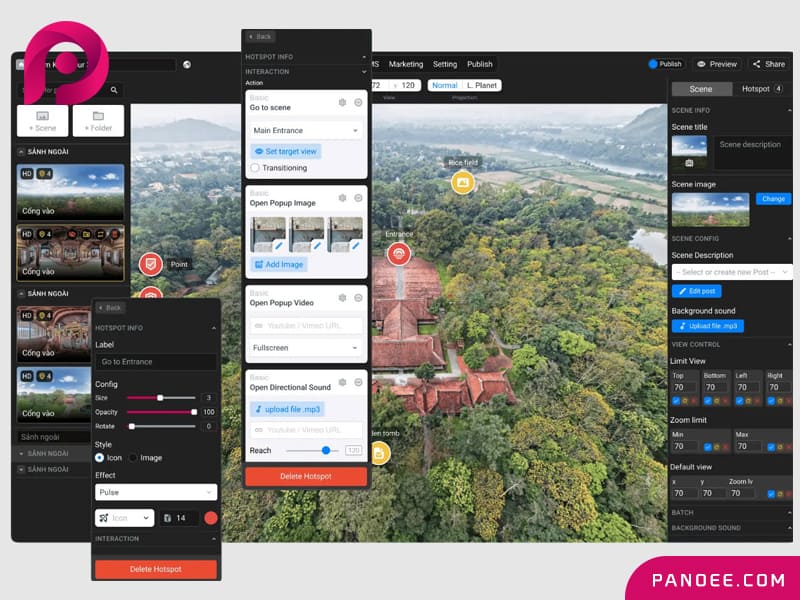 When selecting the best virtual tour software, you should evaluate such features as extensive sharing options, the possibility to add links and notes, and create different types of views, from panoramic to aerial.
Best Virtual Tour Apps for Android 
VR Maker
The most advanced virtual content creation platform that empowers you to create 360° digital twins or 3D-rendered virtual spaces! 
ThingLink
ThingLink helps you enhance your content using interactive hotspots in images, videos, 360 media, and 3D models.
TeliportMe
TeliportMe helps real estate agents and sales reps create high-resolution 360-degree virtual tours
Best Virtual Tour Software for Window
Panoee is well-known as one of the best Virtual Tour Software for Windows, as free next-gen Virtual Tour software that focuses on helping both 360 photographers & end-users to edit & publish high-quality, versatile, beautiful, interactive 360 Virtual Tours in a few minutes.
Panoee is the only cloud platform that supports unlimited high-quality, multi-resolution panorama at zero cost. Moreover, Panoee supports variant types of Hotspots including polygon Hotspots, media hotspots, and product hotspots with lots of customization. Panoee has built-in CMS to manage all posts and data centrally, combining with multiple themes/templates so users can design the Virtual Tours to match business brand guidelines. Panoee also allows users to set up all the interactive features they want including floorplan, auto-rotation, little planet intro, and sound guide,…
Panoee's philosophy is giving full freedom to users, anyone can customize the Virtual Tour's URL the way they want without restriction, including their own copyright information and custom domain.
Now, you can make yourself a professional virtual tour by Panoee – the best Virtual Tour Software for PC. Discovering how to create a new Virtual Tour is so easy with just 2 simple clicks, and more information in Panoee's Blog