Virtual tours are used in many fields and integrated by websites such as tourism-related, real estate, or education ones and help in providing more information than just text-oriented links or websites. In this article, we make and chance to give more information about Panoee – the best virtual tour-making website, iPhone virtual tour apps, and how to make a virtual tour using your iPhone and PC.
How to make a virtual tour using your iPhone, Android?
A virtual tour is one of the most effective technologies that can bring the attention of your viewers. If you have a virtual tour for your business, then you can surely get an edge over your competitors and attract more prospects. In fact, it's possible to capture an iPhone panorama image, on your own, and turn it into a virtual tour without any professional help at all.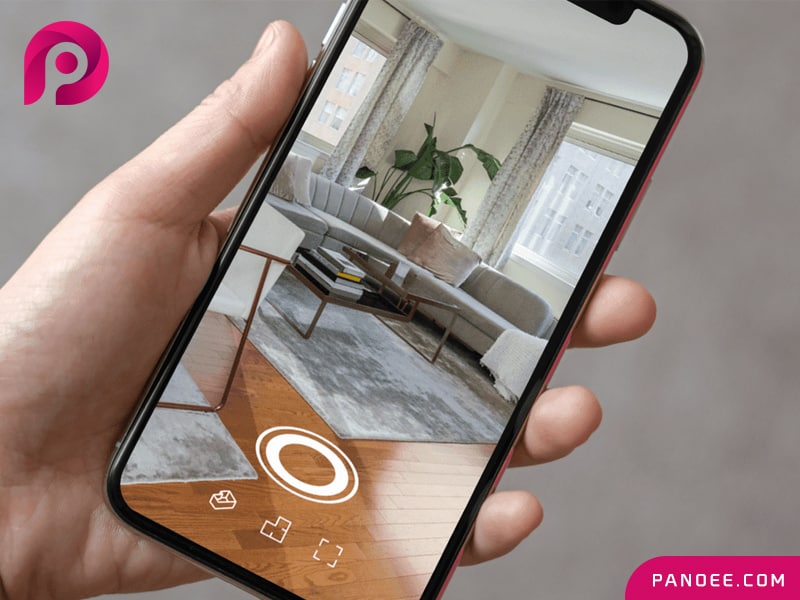 Today, you will get a step-by-step guide so that you can learn how to make a virtual tour with your iPhone easily.
What you need to make a virtual tour using Your iPhone, Android
All you will need is your iPhone, an app to capture Panoramic images, a monopod if possible, and a simple virtual tour creator.
Google street view app for iPhone to capture Panoramic images

Virtual tour app for iPhone: for example, GOTHRU, ZILLOW APP, MATTERPORT 
Steps by steps to make a virtual tour with iPhone Panorama 
Step 1: Open the Streetview app and click on the camera (create) icon. Then click on the "(Take) Photo Sphere" and point your camera to the orange dot. Once the first dot is completed, it will show you the next dot. Continue shooting all the dots until the checkmark is green.
The images will overlap and look horrible but don't worry, the app will process the images to take out most of the errors.
Step 2: Once all the images have been taken, you will see a green check mark at the bottom of your screen. Click that to start the processing. (if the checkmark is NOT green, you are missing more dots – shoot them all, otherwise, the image won't be 360º)
Step 3: Once the process is finished, click on the image (android, click on profile first, then on the image) then click the  "upload/share icon" and then choose "share privately". On the next screen save the image to your camera roll (iPhone)
The following steps may be different base on your app.
Step 4: Create a virtual tour following the directions of each app.
Panoee – the best virtual tour apps for PC
Panoee is a free next-gen Virtual Tour software that focuses on helping both 360 photographers & end-users to edit & publish high-quality, versatile, beautiful, interactive 360 Virtual Tours in a few minutes. It is the only cloud platform that supports unlimited high-quality, multiresolution panorama at zero cost.
https://www.youtube.com/watch?v=R5YcCOM-3UU
Panoee has done the user interface and experience which works really fast and intuitively. With drag, drop and customize panel, Panoees' product is inspired by Figma for Virtual Tour software. Users can manage lots of projects and publish a new one within minutes, just upload the Panorama and drag it to create a connection, and then everything is ready to share or embed on your own website. Moreover, Panoee does SEO automatically, which helps your look perfectly displayed on Twitter or Facebook.
How to make a virtual tour with Panoee on a PC
This part teaches you how to shoot and edit a 360-degree tour of a house. While you'll need a camera capable of shooting 360-degree panoramas, you can use a free Panoee website to piece together, host, and publish your video.
How to record your tour with a 360° camera
Step 1: Buy or rent a 360° camera.
You'll need a camera that can shoot 360° panoramic footage, which means the camera must be able to shoot both horizontally and vertically. Besides, you'll also need a tripod for the camera.
Step 2: Ensure that your camera works remotely.
Most 360° cameras can be controlled via a remote or an app on your smartphone so as to avoid capturing their owner in the shot.
Step 3: Position your camera.
Place the camera in the first room that you want to shoot, making sure to position it in the best location to capture the largest part of the room.
Step 4: Make sure your tripod is level.
Having a camera that isn't perfectly level—even if it's only off by a few degrees—can result in imbalanced, tilted footage.
Step 5: Turn on and connect to the camera.
This will vary depending on your camera and its method of remote control, but you'll usually press the camera's "Power" button and then either use a remote to control the camera or install an app on your smartphone to access the camera.
If you end up installing an app on your smartphone, you may have to pair your phone with the camera via Bluetooth. Some cameras can also pair via Wi-Fi.
Step  6: Take a panoramic shot
Step out of the room in which you're shooting, then use the remote control or the app to record a 360° take of your selected room.
Step  7: Shoot the rest of the scene
Move your camera forward to the next area you want to shoot, then repeat the process.
Keep in mind that you may have to take multiple shots within a few feet of each other if you plan on transitioning through a doorway.
The service you'll use to piece together your footage allows a maximum of 25 photos.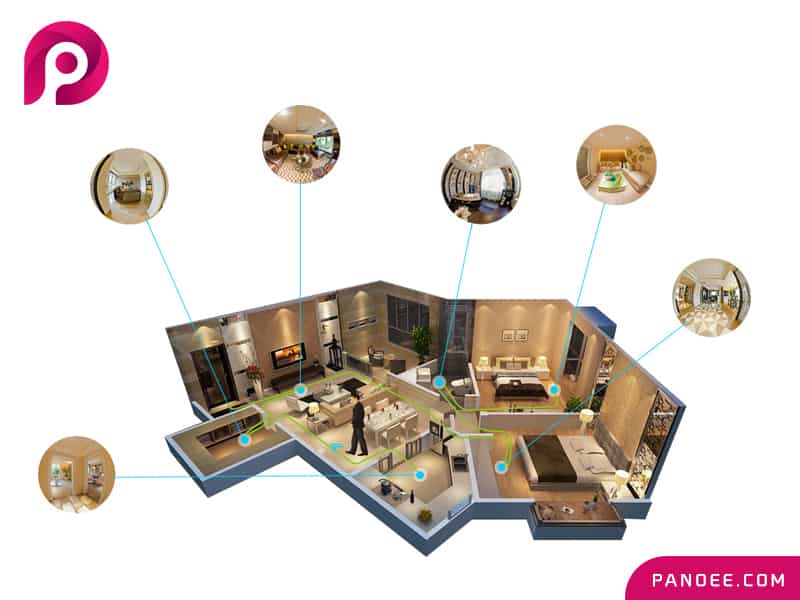 Step  8: Move the photos from the camera to your computer
Once you've taken your photos, you can transfer them onto your computer by plugging the camera's SD card (or the camera via its cable) into your computer, opening the SD card's (or camera's) folder, and dragging the photos onto your computer from there.
The photos can usually be found in a "DCIM" folder on the camera or its SD card.
If you're using the camera's SD card, you may have to place the SD card in a USB adapter and then plug the adapter into one of your computer's USB ports.
How to create your tour with Panoee on PC
Step 1: Open the Panoee
Go to https://studio.panoee.com/  in your computer's web browser.
Step 2: Create an account and sign in.
Registering a new account would be easy with just 2 clicks. You can create a new account with your email or your Facebook / Google email.
Step 3: Create a project.
Creating a new Virtual Tour is so easy with just 2 clicks; first, click the pink button on the top-right. Then, choose a good name for your project, then click "Let's go" to make a great Virtual Tour. You will be redirected to the Virtual Tour Editor interface.
With the easy-to-use interface and free-to-use support, Panoee has rapidly become one of the most popular virtual tour apps for PC. Discovering more about Panoee at the website: https://panoee.com/, and more directions on how to create your own virtual tour at our blog: https://panoee.com/blog/ .