As a showroom owner, you understand the significance of attracting and engaging customers to your showroom. Showcase your products to their best advantage while making them feel like they belong in your store – yet this seems increasingly impossible in 2023, when more consumers prefer online shopping over physical visits.
Virtual tour software for showrooms provides the solution. Virtual tour software enables you to create immersive and interactive 3D tours of your showroom that customers can access from any device, anytime and anywhere. Therefore, This blog will explain what virtual tour software for showrooms is, how it works, and why you require it in 2023, plus share some tips for choosing and creating breathtaking virtual tours that will impress customers.
1. What is Virtual Tour Software for Showrooms?
Virtual tour software for showrooms enables you to create 3D tours of your showroom using 360-degree photos, which you can then upload onto websites or social media platforms and share with customers.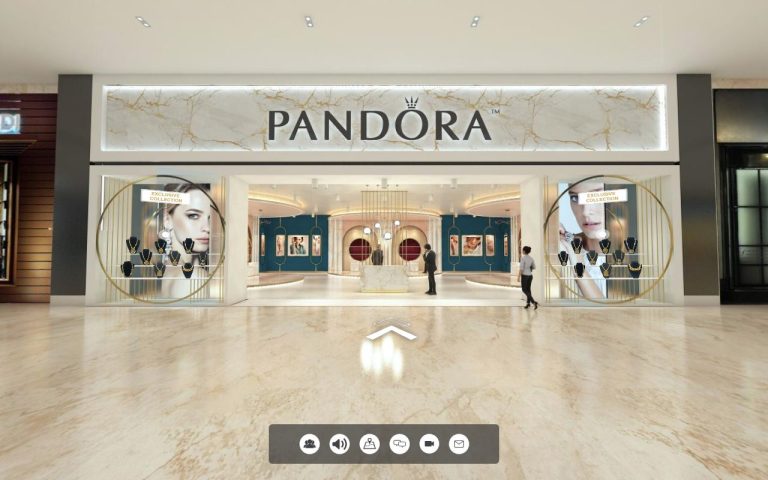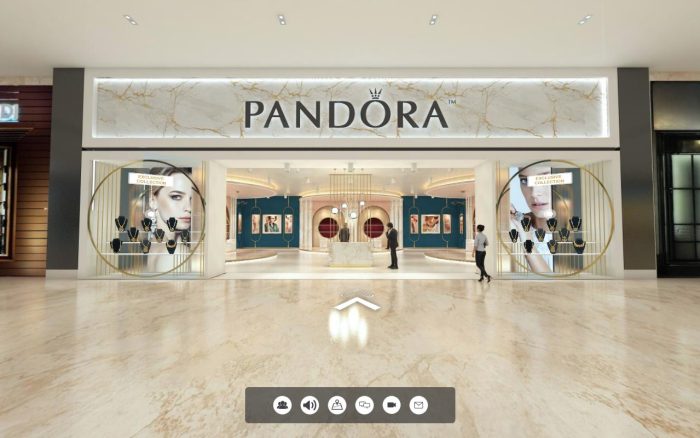 Virtual tour software designed for showrooms allows you to add interactive elements such as:
Hotspots: clickable areas that link to other scenes, images, videos, audio files, text pages, or web pages
Floor plans: maps that outline your showroom layout and allow customers to navigate between various areas easily.
Labels: tags with product names, prices, features, or descriptions printed on them
Call-to-action buttons: these prompt customers to take immediate action, such as buy now, contact us, book a visit, etc.
Virtual tour software for showrooms also comes equipped with analytics tools that allow you to track and measure the performance of tours, such as:
Views: how often your tours have been viewed;
Engagement: the length and nature of customer interactions on them;
Leads: how many have filled out forms or clicked call-to-action buttons
Conversions: the total number of customers who completed a purchase or booking and have made contact.
3 Reasons Why Virtual Tour Software is Essential For Architects – Learn more
Best Virtual Tour Software for College – Learn more
2. Why Do You Need Virtual Tour Software for Showrooms?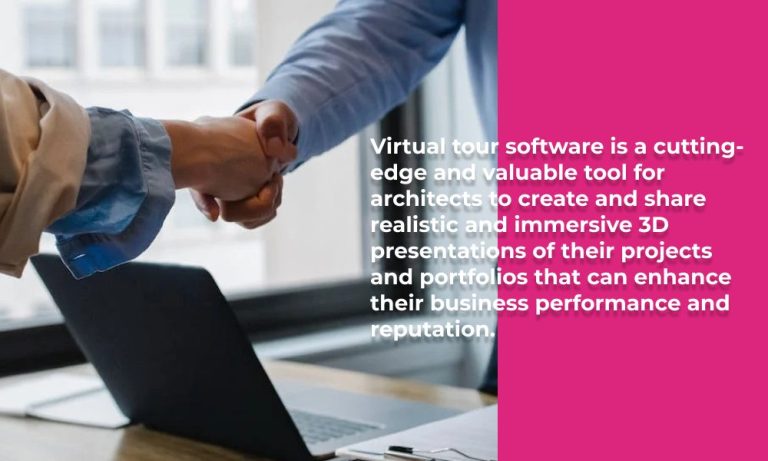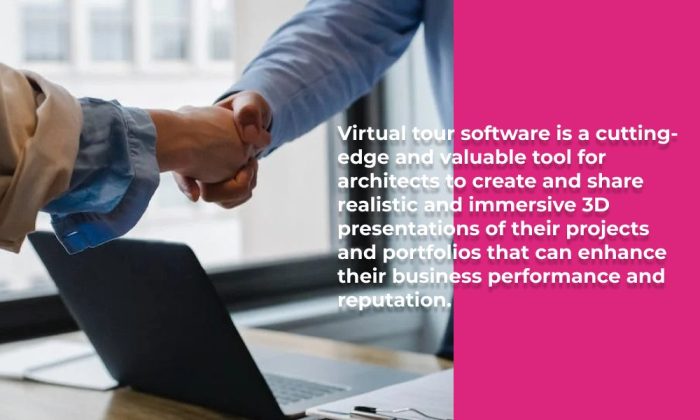 Virtual tour software for showrooms is not just an extra feature but essential in 2023. Here are a few reasons why this virtual tour tool should be part of your strategy:
Helps your showroom adapt to changing customer behavior and expectations
Customers increasingly rely on online channels to research and purchase products; they expect convenience, speed, and personalization from their shopping experience. Virtual tour software gives them an online alternative to visiting in person while also providing more realistic product presentations than still images or videos can.
Makes your showroom stand out from the competition
Virtual tour software for showrooms helps your showroom stand out from the competition, giving it an edge over those still using traditional marketing methods. By drawing customers' attention and sparking their interest with something innovative and different, virtual tours allow customers to see that you stay up-to-date with technological trends and build trust and credibility with each visit.
Increase sales and conversion
Virtual tour software for showrooms can help increase sales and conversions by giving customers more information and options; it also reduces friction or hesitation that customers might otherwise have when making a purchase decision. You could, for example, use virtual tour software to:
Show customers how your products look and function in different settings and scenarios,
Offer customization and personalization options
Provide social proof from other customers as testimonials.
Encourage customers to take action by offering clear and compelling call-to-action buttons.
Best Virtual Tour software for Real Estate 2023 – Learn more
Virtual Tours in Healthcare – Learn more
3. How to Choose the Best Virtual Tour Software for Your Showroom in 2023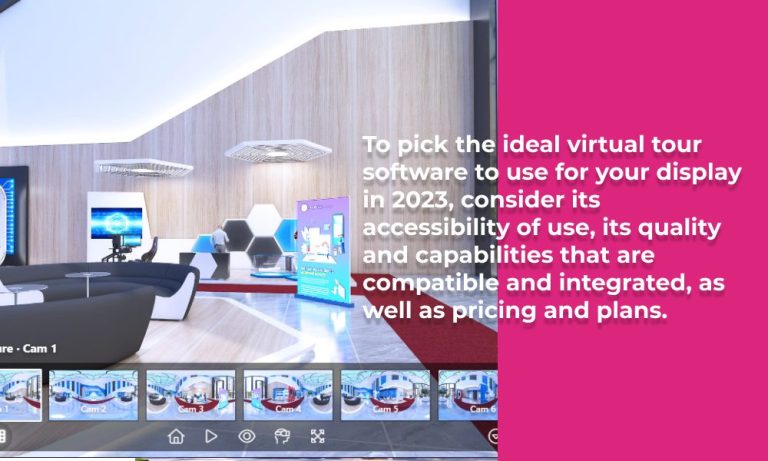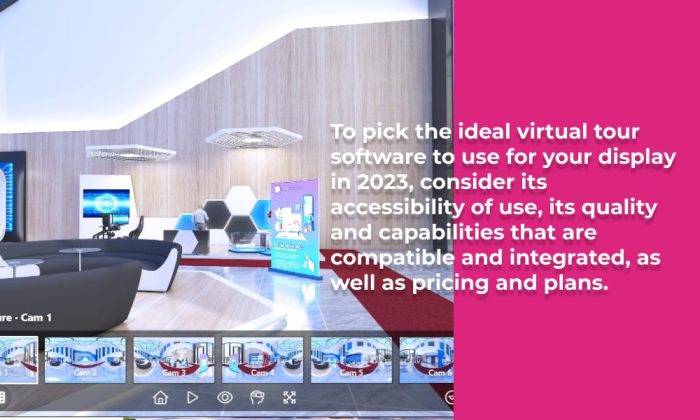 There are various virtual tour software for showrooms today; however, not all are created equal. To select the optimal virtual tour software for your showroom in 2023, take into account several factors:
Easy of Use
Simplicity should be your top priority for your virtual tour software to be user-friendly and effortless to navigate without requiring technical skills or coding knowledge to use effectively. A tool with an intuitive drag-and-drop interface should simplify creating and editing tours while providing tutorials and support is ideal.
Quality and Features
Quality and features should be top priorities when searching for virtual tour software. Customers want to engage in high-quality tours that leave an impactful first impression on them and interactive options that add life and engagement to each tour experience.
Compatibility and integration
Compatibility and integration should be top priorities when searching for virtual tour software. You need one that works seamlessly across devices and platforms and is easily integrated with websites or social media channels, CRM tools, email marketing platforms, analytics services, or similar software that can all play an integral part.
Pricing and Plans
When searching for virtual tour software, look for affordable yet flexible plans that meet your budget and needs. In addition, seek one offering free trials or demos so that you can test before buying.
Using AI in a Virtual Tour – Learn more
4. Which Virtual tour software is highly recommended by the community?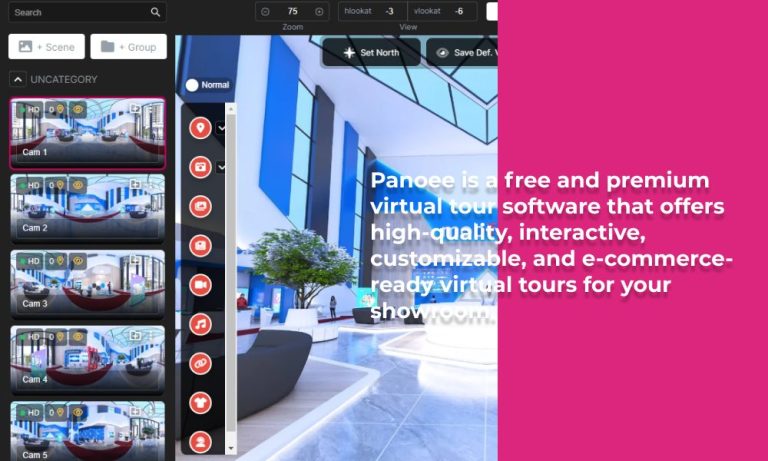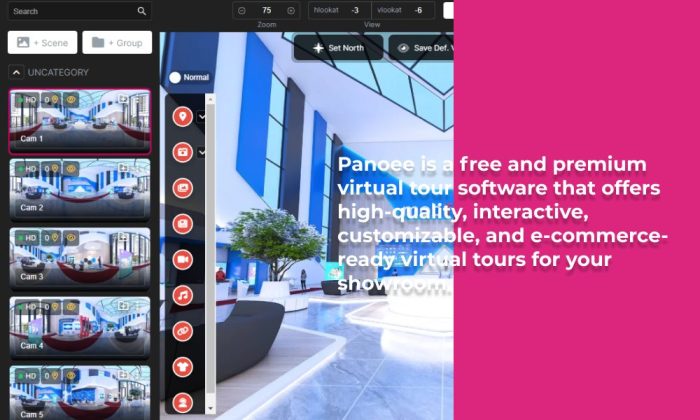 With the above evaluation criteria, there is virtual tour software that can meet your needs. Let's come to Panoee, a free 360° virtual tour software with premium features that lets you upload your panorama images, add hotspots, customize themes, integrate e-commerce, and much more. With Panoee, you can create high-quality, multi-resolution virtual tours on all devices and platforms.
Highly rated by users of Facebook, Capterra, and G2. Panoee does more than that, such as:
Support high-quality panorama images and multi-resolution. Panoee supports super high-resolution panoramas and renders them into fully multi-resolution 360 interactive media, which work best on all devices from mobile to 60'' screens.
Add interactive hotspots. Panoee allows you to add 12 interactive hotspots to your virtual tours, such as text, image, video, audio, link, callout, polygon, media, etc. You can also customize the style and appearance of your hotspots to match your brand and design.
Customize themes and branding. Panoee offers beautiful themes and unlimited customization options for your virtual tours. You can change the colors, fonts, icons, logos, backgrounds, sounds, etc., to suit your preferences and identity.
Integrate e-commerce. Panoee enables you to integrate e-commerce features into virtual tours, such as PayPal, Shopify, etc. You can sell your products or services directly from virtual tours and generate more revenue.
Export and embed your virtual tours. Panoee allows you to export your virtual tours as HTML files or embed them on your website with a simple code. You can also use your custom domain and optimize your SEO metadata for better visibility.
5. How to Develop Attractive Virtual Tours of Your Showroom with the Latest Software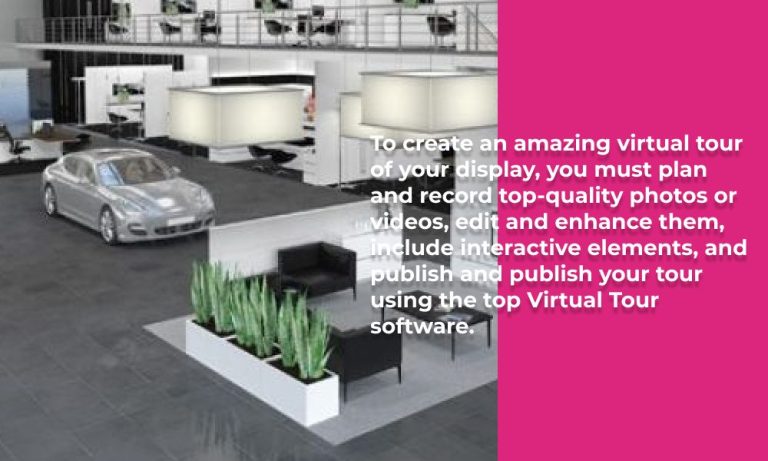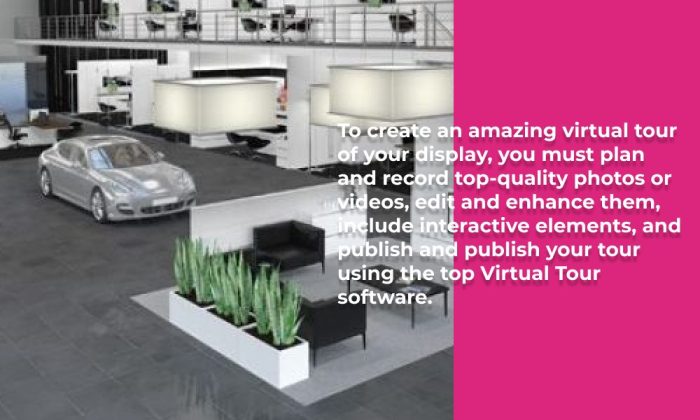 Once you have selected the ideal virtual tour software for your showroom in 2023, you can create breathtaking virtual tours to impress customers and draw them in. Here are a few tips on how you can use the best software available:
Plan Ahead
Before beginning to take photos or videos of your showroom tour, you must plan and determine what areas will be included, the order in which they should be shown, and any interactive elements you want to include. It is also necessary that the showroom be tidy, well-lit and free from debris.
Capture high-quality photos or videos
To produce high-quality tours, you must capture high-quality photographs or videos of your showroom. A professional camera may be used, or a smartphone equipped with a 360-degree lens/app may suffice; make sure that these are clear, sharp, and well-exposed to prevent any reflections, shadows, or distortions in them.
Edit and Improve Photos/Videos
After uploading photos or videos to virtual tour software, editing and improving them to improve their quality and appearance can be done using its editor to crop, rotate, adjust brightness, contrast color, etc. Filters effects transitions may also be added to increase the tour experience's attraction.
Add Interactive Elements to Your Tour
For an engaging tour experience, virtual tour software editors allow users to add interactive elements. Hotspots, floor plans, tags, and call-to-action buttons can all help provide customers with additional information and options while customizing its look and feel with logos and branding elements. Music can make tours even more interactive and immersive.
Publish and share your tour
Once satisfied, it can be published on the virtual tour software's platform or embedded on websites and social media. Customers may receive it by email or QR code, and you can also monitor its performance using analytics tools in virtual tour software.
Virtual tour software for showrooms is essential to engaging customers in 2023. This technology enables you to create engaging 3D tours of your showroom that customers can access from any device – providing increased online visibility, distinguishing you from the competition, and helping increase customer retention.
Follow Panoee:
Facebook: https://bit.ly/Panoee_Community
Twitter: https://bit.ly/tw_panoee360
Youtube: https://bit.ly/yt_panoee360
Telegram: https://t.me/panoee360