Most of us have probably tried virtual tours at one time or another. Such terms are highly prized by both everyday people and companies, but certainly, carry the most practical and financial use to businesses and institutions. Anyone who going to create this sort of solution likely has many questions about the format, features, and other development aspects. As a VR app development company that has produced a variety of virtual tours for customers around the globe, Panoee is ready to answer your questions and help get you started with building your own digital tour, especially a virtual tour real estate app.
A Virtual Tour Guide for Virtual Worlds – What are the main advantages of virtual tours?
Following your world in just a second with a Virtual Tour not only helps you discover more multiply but also works more efficiently.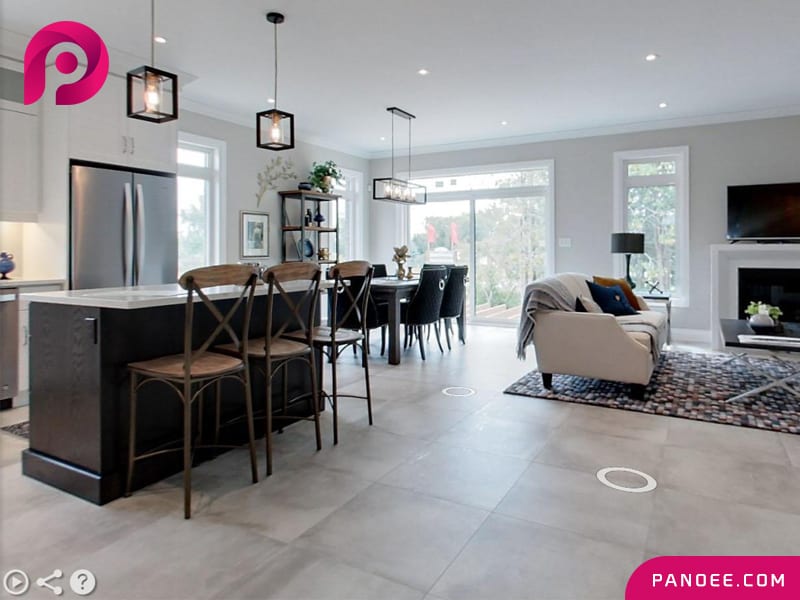 A virtual tour is a digital solution that lets you walk around and explore a location or area without visiting it in person. As for the format of the tour, everyone has a different perception and experience, but most stick to the description that virtual tours are presented with lifelike visuals that recreate the physical experience in one way or another.
Discovering what are the main advantages of virtual tours?
Freedom of movement
Digital tourists are not constrained by time or physical ability, visitors can view the locations of a tour at their own pace and get an unprecedented level of detail. For example, they can also approach exhibits and objects up close, seeing them with a 360 beautiful level of detail.
Greater learning opportunities
Instead of listening to a tour guide drone on with boring information, digital tourists can instantly choose which information they want to research, and take their sweet time reading or listening. Especially, there is no pressure, expectations, or need to absorb everything on the first try, because they easily take a looking back as soon.
No crowds or limitations
Most of the time, a virtual tour will be an individual experience, so you can perfectly get away from crowds, noise, and pressure, focusing only on what you see. Visitors enjoy the great tours at any time and anywhere, as long as you have access to the necessary hardware and software.
A powerful marketing tour
Taking the time to create a digital tour is not only easy and cheap but also is a great way to break ahead of the pack and beat your competitors in presentation value. You totally give new visitors a good reason to visit your locations in person or conduct their business online, as well as boost your online presence.
Show more than physically possible
Not all digital tours are modeled after existing physical locations, you can create an experience such as underwater, in space, or in a fantasy world that users would not be able to get anywhere else and stimulate their senses, imagination, and state of awe.
Benefits of Using Virtual Tours to Attract Real Estate Buyers
Real estate professionals are often having difficulty closing deals as the industry faces significant challenges due to the COVID-19 pandemic. However, when social distancing went into effect and showing houses in person was prohibited in some states, that is the reason why virtual tours emerged and became a viable way to address this issue. It is important that the physical presence of both parties when a property changes hands, but also we've discovered that digital alternatives are proving to be an effective way. 
Digital Marketing Materials
As a real estate agent, your ability to create and implement a successful marketing plan is a part of the value of your services. These days, standard real estate marketing strategies must compact and apply digital marketing materials. Displaying virtual tours on your site is an excellent way to signal to clients that you're aware of cutting-edge technological solutions and versatile marketing toolkit. They'll be impressed by your property listings and your marketing knowledge.
Interactive by Design
Interactive technology is fascinating by its own definition which helps audiences enjoy digital media forms that provide space for independent exploration. Virtual tours give your clients the chance to investigate a realistic digital environment by visiting each room, zeroing on details like light fixtures and artisan tiles, especially they do all from their own laptops. Virtual tours share another marketing advantage with video, it means they hold attention for minutes at a time and leading audiences are more likely to feel invested in the interaction and more likely to take the next step in their purchase journey.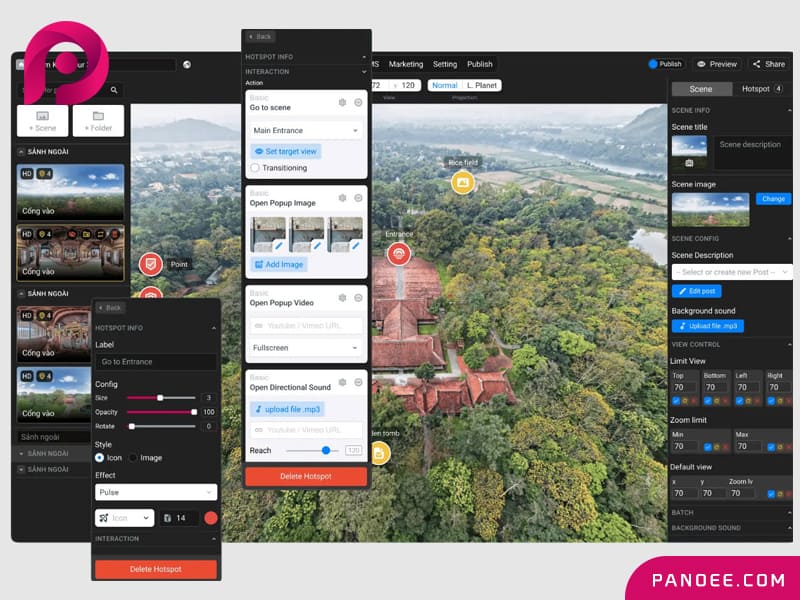 Using a tool like Panoee, you can transform a 360 viewing into an interactive open house experience complete with narration, walkthrough, and additional help text.
Create an Instant Sense of Ownership
Virtual tours allow clients to see the sights of the property independently, on their own time, and at their own pace, giving them a sense of autonomy and personal connection. You can enhance and deepen this sense of connection by adding your virtual tours to a suite of other interactive features such as a mortgage calculator, information about local amenities, and IDX search functions so that clients can use your listings to conduct extensive personal research. The more time and energy they spend, the more probably they'll feel committed to reaching out to you with research.
Permanent Open House
Open house events are great solutions for any real estate agent's business marketing, but they mean a great deal of work such as scheduling, staging, long hours on-site, and keeping track of notes, and contact information. Virtual tours allow you to digitize part of this plan, keeping listed properties "opening" and on display around every single hour of time. Especially, you gather helpful feedback on virtual tours by including them in social media and blog updates which viewers can leave questions and comments.
Panoee – The Top Rating Virtual Tour Real Estate Applications
Especially, a virtual tour professional will also add background music and narration to improve the customer experience. Once the job is done, they will upload the tour to your site. Then, they can also make adjustments or add extras based on your feedback. These are some of the features that Panoee – the top rating virtual tour real estate applications
Panoee – Create 360 Virtual Tours in minutes, with ease.
https://www.youtube.com/watch?v=R5YcCOM-3UU
Panoee rapidly becomes the most useful free Virtual Tour software to publish interactive, high-quality, and beautiful 360 Virtual Tours in minutes. At zero cost, Panoee supports variant types of Hotspots including polygon Hotspots, media hotspots, and product hotspots with lots of customization. As a free next-gen Virtual Tour software Panoee focuses on helping both 360 photographers and end-users to edit along to publishing high-quality, versatile, beautiful, interactive 360 Virtual Tours. Basically, Panoee has built-in CMS to manage all posts and data centrally, combined with multiple themes/templates. Users can design the Virtual Tours to match business brand guidelines. Moreover, Panoee's vision is to give full freedom to users, so anyone can customize the Virtual Tour's URL the way they want without restriction, including their own copyright information and custom domain.
Most affordable · Highest Quality · Marketing & Commerce Suite
Panoee is "The Only 360° Virtual Tour Software, FREE with Premium Features" which is suitable for personal, freelance, startups, SMEs, agencies, and enterprises. 
Panoee Features
Conversion Tracking

Drag & Drop

Floor Plans & Maps

For Hospitality Industry

For Real Estate

Hotspot

Panoramas

Social Media Integration

Virtual Reality

Voice-Over / Audio
As online marketing efforts become more and more widespread, if you're interested in using virtual tours by Panoee to boost your online marketing efforts on real estate, discover more on our website at: https://panoee.com/, and the blogs which are updated day by day about How To Use and How To Create Your Own Virtual Tours, or How Virtual Tour Can Help Boost Your Online Marketing Efforts.