A virtual tour is composed of a number of shots taken from a single vantage point to a simulation of an existing location. It may also use other multimedia elements such as sound effects, music, narration, and text. It is distinguished from the use of live television to affect tele – tourism. In this article, we introduce Software for virtual tour making and how to create a free virtual tour. By the end of this post, you should have a good idea of which virtual tour software is best for you.
Software for virtual tours – the best to increase business effective 2022:
A virtual tour is pretty much what the name implies. It's a way to let people experience a place such as a museum, guest house or other points of interest. It's extremely popular in the real estate industry as a way to let people view homes from the comfort of their homes. As you can probably tell, the scope of application for virtual tours is wide.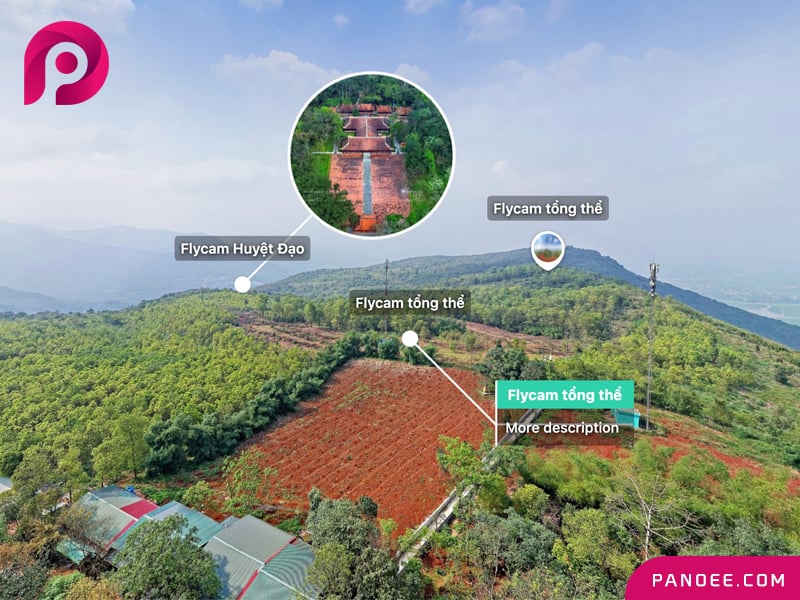 Virtual tours are built using either 360-degree photos or videos. Photos are by far the most popular choice. In addition, they can have audio, narration, hotspots and other enhancements to enrich the experience.
Every buyer wishes to have a virtual tour of the property before even visiting it on-site. The availability of affordable and reliable virtual tour tools in the market has turned out to be a blessing for real estate business owners. The best virtual tour software for real estate can empower your team to create an appealing tour of the property within a couple of hours.
Virtual tour software is designed to help businesses with creating, distributing, and managing online virtual tours of Homes, Universities, schools, and more. Features of the platform include customized branding, adding a tour to your main domain, adjustable polygon markers, tour maps or floor plans, guides, mobile access, background audio, and a mobile-friendly responsive viewer that can be embedded into the user's website.
Top 3 software for virtual tours 2022
We have performed extensive research and comprehensive analysis to handpick this list of the best virtual tour software. If you are looking for a simple yet efficient virtual tour solution, check the below list of top virtual tour software.
Panoee focuses on helping both 360° photographers & end-users to edit & publish free high-quality, versatile, beautiful, interactive 360° Virtual Tours in minutes! Panoee supports super high-resolution Panoramas and renders them into fully Multi-resolution 360 interactive media, which work best on all devices from mobile to 60" screens. Anyone can use Panoee at zero cost. There's no limit on the number of the Virtual Tour or how many & how big the Panoramas you can use, as long as you need to build & publish a Virtual Tour. Panoee is created to be the essential tool for 360 Photographers, and we respect the ownership. Put the copyright the way you want, host on your server or ours, and even use your domain. Everything is under your control.
KUULA Create real estate virtual tours that sell for basic & simple use
Kuula is an easy-to-use and budget-friendly solution for 360 virtual tours of properties. Build Virtual Tours that will impress your clients, generate leads and boost sales! Kuula supports photos from all major 360 cameras as well as DSLR photos stitched in panoramic software
3DVista Virtual Tour Proform pro use
Create interactive 360º virtual tours in the easiest and most pleasant way: 360º views (panoramas), 360º videos, embedded sounds, videos and photos, floor plans and fully customizable frames. Start telling actual stories with multifunctional hotspots and clickable objects that your audience discovers when walking through the tour. New 3D transition effect and unique features, such as Animated Panorama, Live Panorama (day-to-night effect), Adaptive HDR and 360º video with hotspots on top.
Find the right authoring and hosting platform
There are plenty of choices when it comes to making and publishing your virtual tour. Some offer free account tiers and others are quite expensive.
Panoee is a great place to start since they have a Basic free tier to get you started. You can both author and publish your tour using this one platform and upgrade to a paid account later if you want to have features such as hotspots or custom branding. With amazing 3D mapping abilities for your 360-degree photos, it takes some practice and study, but you can turn your 360-degree photo into a true 3D space, which can also be viewed as a 3D "dollhouse", linking multiple rooms together into a cohesive building or building section. The choice depends on what you need, how much you're willing to pay and which platform offers the right mix of features and capabilities.
What do you need to make a virtual tour?
If you are looking to get started making virtual tours then one of the most important things to consider is the software you'll use to host and create your tours. As well as choosing the right 360 camera, selecting your virtual tour software creator will determine the quality of your virtual tour and what you can do with it.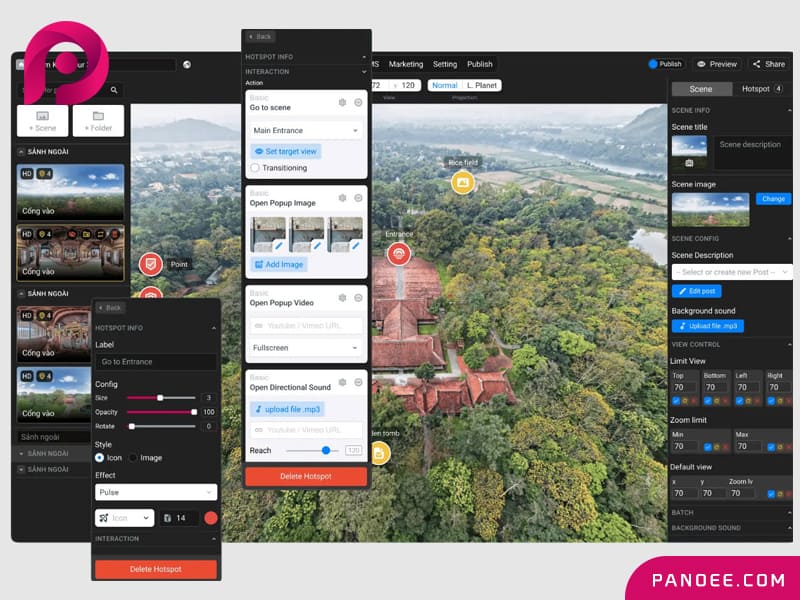 When a user starts up a virtual tour, they'll find themselves in the first spot specified in the tour. Depending on how the tour creator sets things up, the user can then move along a fixed path, move freely between points of interest, or can choose between multiple guided paths. It all depends on what's best for the type of virtual tour you're creating.
Creating a virtual tour involves a fairly lengthy workflow with lots of moving parts. Different people have different solutions when creating these tours. However, in general, you'll find that the following are going to be part of the project:
A 360-degree camera or suitable "pano head" to adapt a regular camera
A smartphone or tablet to operate the camera
Software to stitch, edit and otherwise process the photos to make them suitable for publication
A virtual tour authoring tool
A virtual tour hosting solution
Additional content such as narration, normal photos, etc.
More often than not, the authoring tool and tour platform come from the same developer and are integrated. At the high end of virtual tour construction, you may find highly-complex authoring tools that require coding knowledge, but for the most part, using tour creation tools doesn't require more than a few days of learning and practice.
Summary of how to make a free virtual tour with a 360 camera and the Panoee software.
If you are just getting started with virtual tours, Panoee is one of the cheapest virtual tour premium software that gives you the full capability of constructing a full professional virtual tour. Panoee has a great set of features included in the packages as well as inside the virtual tour editor. Panoee also has unlimited hosting that allows you to make as many virtual tours as you want. Do not hesitate to check out a tutorial video that will show you how to create a virtual tour once you've signed up for Panoee.