Virtual tour software facilitates the design and presentation of virtual tours of properties and landscapes in a 360 virtual reality experience. There are a number of free Virtual tour software on the technology market, Panoee, the top-rating Free & Premium 360 Virtual Tour Software, emerged as a phenomenon that many 'players' noticed. In this article, we proudly introduce our  360° Virtual Tour Software, a free download with Premium Features.
The top-rating Free & Premium Virtual Tour software
Panoee is "The Only 360° Virtual Tour Software, FREE with Premium Features". Thanks to the leading strength of Panoeee with today's most competitive prices, free download, easy-to-use intuitive application interface, diverse features, a high browser running speed, continuous updates, and extremely fast customer support, Panoee promptly becomes the best companion for Virtual Tour lovers.
Panoee – The best companion for Virtual Tour lovers
Panoee is a free next-gen Virtual Tour software that focuses on helping both 360 photographers & end-users to edit & publish high-quality, versatile, beautiful, interactive 360 Virtual Tours in a few minutes.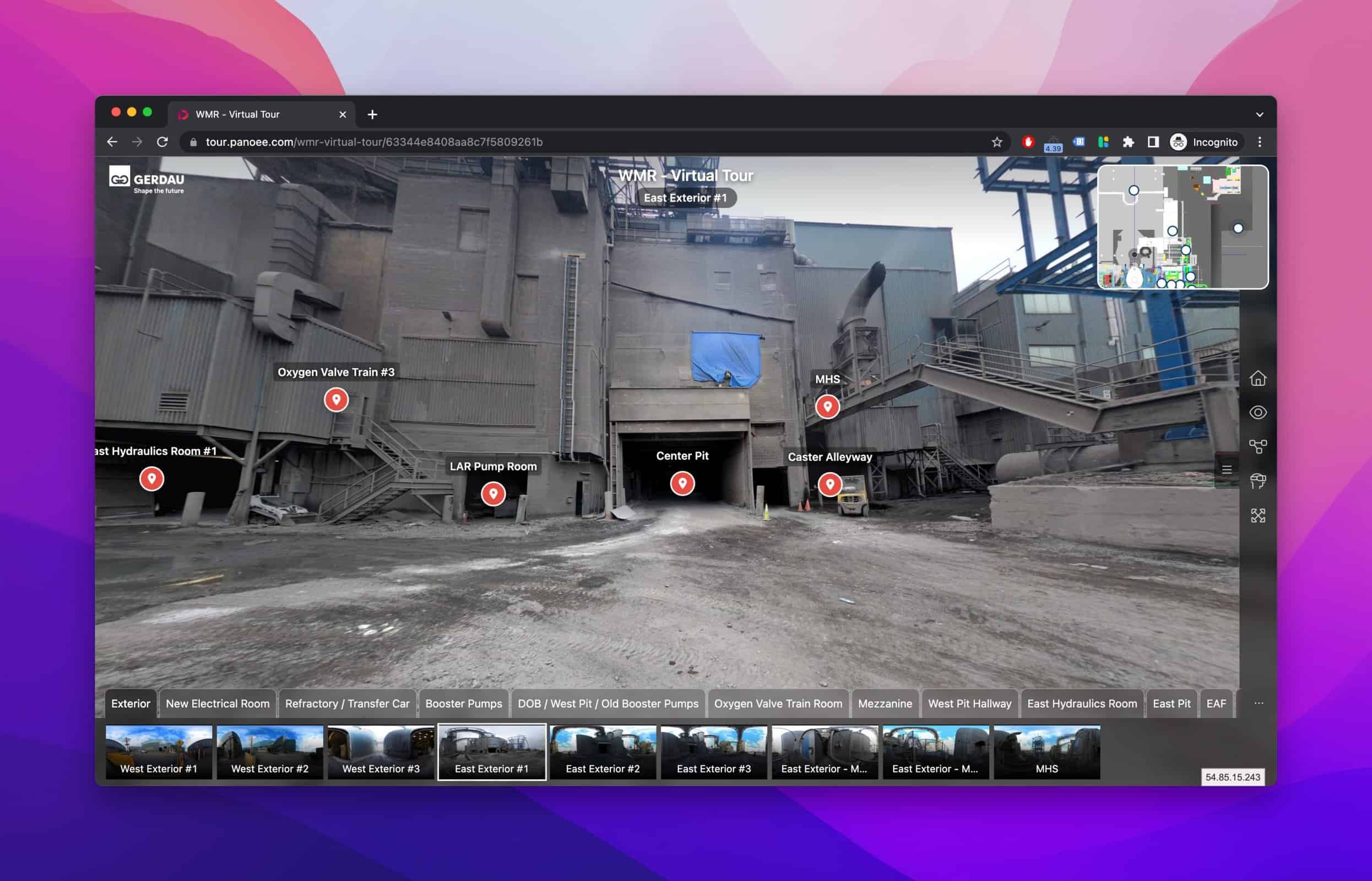 Panoee is professional online software for creating virtual tours for professional work. With Panoee you can quickly and easily create a virtual tour, integrate it into your website, share it on social media or send a link to the virtual tour to your customers.
Panoee has an easy and powerful virtual tour creator as well as a VR player that makes viewing a virtual tour extremely enjoyable with its smooth transitions and animations.
Panoee a Free Platform for All
 Panoee is the only cloud platform that supports unlimited high-quality, multiresolution panorama at zero cost. Moreover, Panoee supports variant types of Hotspots including polygon Hotspots, media hotspots & product hotspots with lots of customization. Panoee has built-in CMS to manage all posts & data centrally, combining with multiple themes/templates so users can design the Virtual Tours to match business brand guidelines. Panoee also allows users to set up all the interactive features they want including floorplan, auto-rotation, little planet intro, and a sound guide,…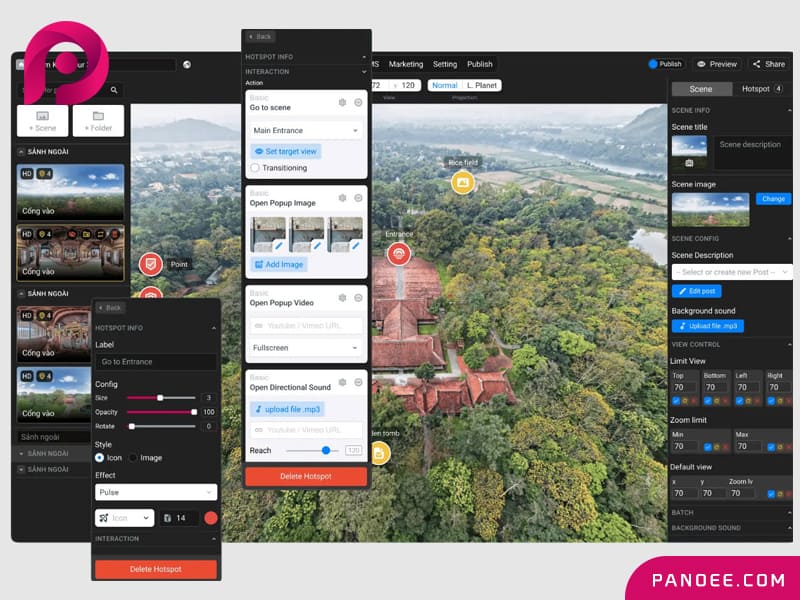 Nevertheless, Panoee's philosophy is giving full freedom to users, so anyone can customize the Virtual Tour's URL the way they want without restriction, including their own copyright information and custom domain.
Panoee virtual tour software is not only precisely designed to create virtual real estate tours but can also be used in any other area where 360-degree content is needed. Our clients are real estate agencies, hotels, interior and exterior designers, architects, restaurants and bars, car dealerships, furniture companies and professional photographers, who need to deal with 360-degree content for their business.
How does Panoee work to create a virtual tour?
Panoee is a 360 virtual tour software with a free download supported by Panoee Team. Panoee is built from a startup dream "Build the real world on the Web", so how to do that?
Capture
Virtual tours can be captured using a professional camera kit for 360 DSLR & Nodal Ninja or portable 360 cameras like Trisio Lite2, Insta360, Ricoh Theta. Such virtual tours are made up of a number of shots taken from a single vantage point. The camera and lens are rotated around what is referred to as a no parallax point at the back of the lens where the light converges.
Create
With Panoee, the user creates an account, then making a new Virtual Tour is so easy with just 2 clicks: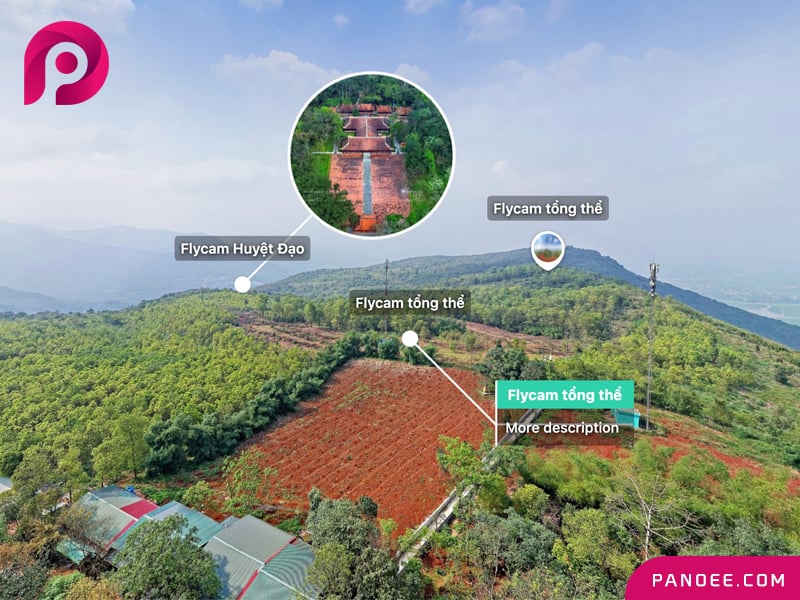 First, click the pink button on the top-right to create a project.
The second, choose a good name for your project, then click "Let's go" to make a great Virtual Tour. 
You will be redirected to the Virtual Tour Editor interface, uploads photos/videos and then uses the tool to link the photos/videos and create videos directly on the browser/app
Publish
After creating the complete video, the user renders the video online.
To use the created video, the user copies the link and then embeds it on the website.

Users can attach the right copy of the creator's information to the video, attach a logo and customize it according to the purpose (PR, concealer, …) in any position that you want to place.
Users can get more information about how to make a virtual tour with Panoee on the Blog to Create a new Panoee project / or Virtual Tour or Create & Manage Scene in a Virtual Tour.
The benefits of Virtual Tour 360 Solution 
If you need to describe the surrounding space in the most realistic and general way, Virtual Tour has provided all the necessary things for a virtual tour that you need. Moreover, your business can also consider a 360 Video solution if this tour needs to focus on promoting product manufacturing processes, moving or activities occurring in factories or processing areas. So check the content below and discover the outstanding benefits of Virtual Tour 360 Solution 
Experience the real space of the project in Virtual Tour
VR Tour 360 was created to completely replace the real environment around the viewer. Virtual Tour helps viewers actively interact, role-play and visit multi-dimensional space in real-time. Viewers can access it on most types of smart devices (phones, laptops, PCs, Tablets, VR Glasses, …) and on a variety of browsers and platforms (web-based, youtube, …). In addition, viewers can easily interact, move, rotate 360 spaces, zoom in, out, etc. to observe all spaces inside and outside the location easily.
Exploring each area
With Tour 360, users can choose between moving according to the directional arrows on the screen to enhance the experience of visiting and moving through each area in the location. In addition, viewers can choose to move to the desired area via the integrated moving map displayed right on their screen.
Checking all over zones by using Virtual Tour
Tour 360 is integrated and compatible with all smart mobile devices, so as long as a device is connected to wifi, you can easily experience visiting the virtual life and exploring every corner, and every piece of equipment inside. This feature helps you feel the most clearly and honestly about the facilities of the location through extremely delicate details.
Register to view and close the business 
For many businesses after experiencing the Virtual Tour, customers can register to see the project, rent spaces, or buy products. This feature is integrated to help users manipulate with just a few simple clicks to schedule an appointment, and confirm the agreement to rent an area, buy real estate, or any other products which are marketed by virtual tours.
https://www.youtube.com/watch?v=R5YcCOM-3UU
With all the great features integrated, 360 virtual tours will increase online interactivity, save time, and travel costs and help customers learn everything related to the project.
If you want to design a Virtual Tour for your business do not hesitate to visit our website: https://panoee.com  for the fastest consultation.