Did you know that 75% of potential clients prefer virtual tours over physically visiting sites? And virtual tours can increase sales likelihood by 20%? As an architect, these facts should make you consider their impact on your firm.
Virtual tour software enables you to create immersive and interactive 3D models and scenes of architectural designs and spaces. Use virtual tour software to showcase projects to clients, investors and stakeholders realistically while saving time and money with remote collaboration/communicating/collaboration/travel efficiencies. You can even use it to save money with the remote collaboration of teams/contractors, saving travel expenses altogether!
But virtual tour software for architects is more than just an optional extra. It is an essential tool that will enable them to stay ahead of the competition and meet market expectations in 2023. In this blog post, we'll show why virtual tour software is essential and why Panoee stands out as our top virtual tour solution for architecture in 2023.
1. What is a virtual tour in the architecture field?
Architecture virtual tours use simulations of existing or proposed buildings or spaces that can be viewed online, often for design or presentation purposes. Virtual tours can consist of videos, still images or 360-degree images shown sequentially online for viewers to experience; additional multimedia elements may include sound effects, music narration text and floor maps to complete the experience. Virtual tours enable architects to visualize designs, communicate their ideas to clients and stakeholders, and showcase projects – creating an engaging and immersive experience for viewers who want to explore architecture from various viewpoints and scales.
Best Virtual Tour software for Real Estate 2023 – Learn more
Virtual Tour Software for College – Learn more
2. Why Virtual Tour Software is a Must-Have for Architects?
Showcase your projects and portfolios in an immersive and interactive way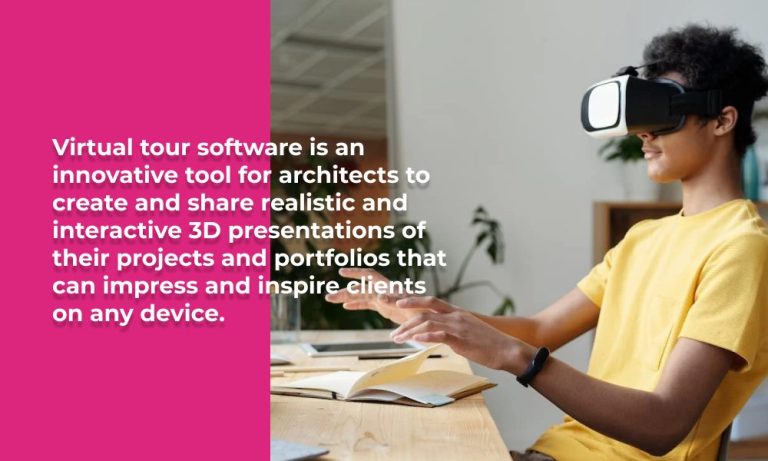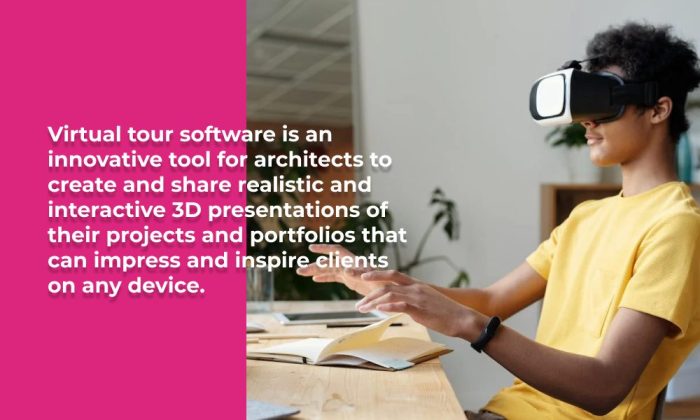 As an architect, you understand the importance of presenting your projects and portfolios professionally and impressively to clients, investors, and stakeholders. Your goal should be to showcase your vision, creativity, and expertise and make them feel like they're there experiencing both spaces and design themselves.
Traditional methods of presentation – 2D drawings, photos, videos or slideshows – cannot do justice to the full potential of your projects. They remain static, limited and sometimes dull for clients who need help to explore from different angles, zoom in on details or interact with the environment.
Virtual tour software provides the solution. By creating realistic 3D models and scenes of your projects and portfolios that can be seen on any device – be it a computer, tablet, smartphone, or VR headset – virtual tour software can assist in creating realistic three-dimensional models and scenes that can be viewed anywhere on any device such as a computer, tablet, smartphone, VR headset etc. Interactive elements like hotspots, annotations, and audio-video links can provide additional information or context. At the same time, customized lighting, colours, textures, and furniture accessories to meet individual design style preferences are also possible, allowing a fully customized experience!
Virtual tour software makes it possible to present projects and portfolios in an immersive and engaging manner that will inspire clients, making them feel part of the story. Your virtual tours can also be shared online or offline anytime, increasing exposure, reaching more potential clients, building trust, and establishing credibility as part of an overall marketing strategy.
Save time and money by reducing the need for physical site visits and travel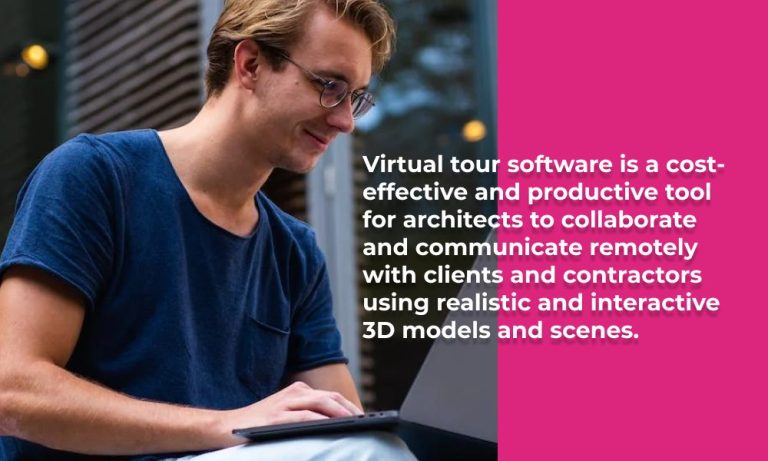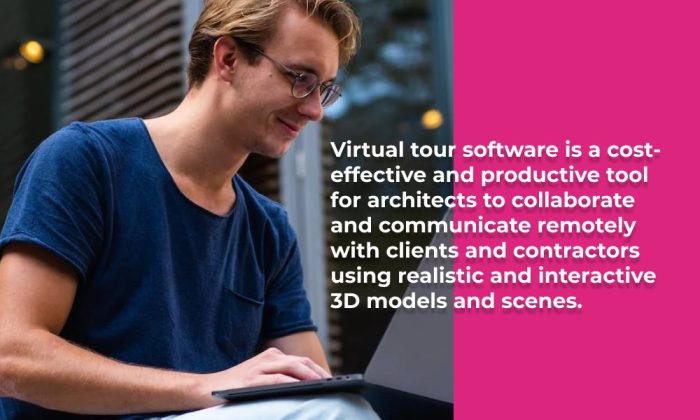 Travel can be time-consuming and costly; meeting clients, team members, or contractors in person can take time and money. It can become quite a stressful ordeal between traffic jams, flight delays, hotel bookings, visa issues, potential accidents or thefts, and health risks.
But imagine being able to reduce or omit physical site visits altogether, collaborate and communicate remotely using virtual tours, and collaborate and communicate with any party remotely.
Virtual tour software can help make that possible by facilitating remote collaboration among architects, clients, contractors and customers using cloud-based platforms. Virtual tours can enable remote collaboration among architects, clients and contractors via cloud services; virtual tours can be shared online or offline using simple links or QR codes, inviting viewers into live sessions where you can chat via text/voice communication while viewing the same virtual tour; analytics tools allow tracking their actions and behaviours as well.
Virtual tour software can save time and money by eliminating physical site visits or travel. Furthermore, this technology helps increase productivity by offering faster feedback loops while eliminating miscommunication or errors that might arise during work processes.
Stay ahead of the competition and meet the changing expectations of the market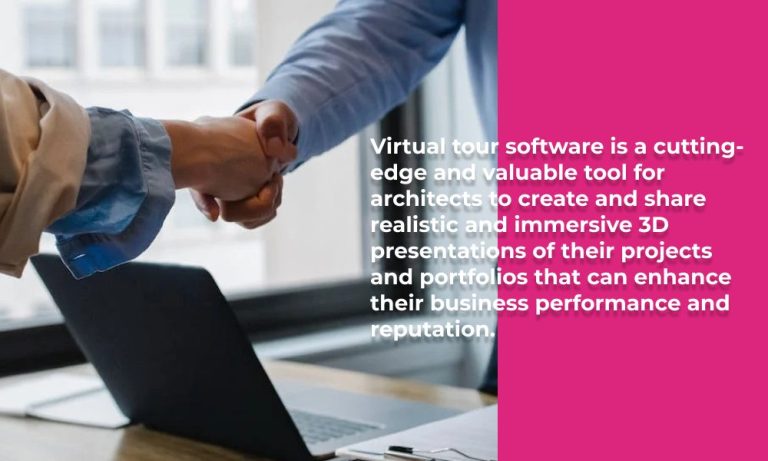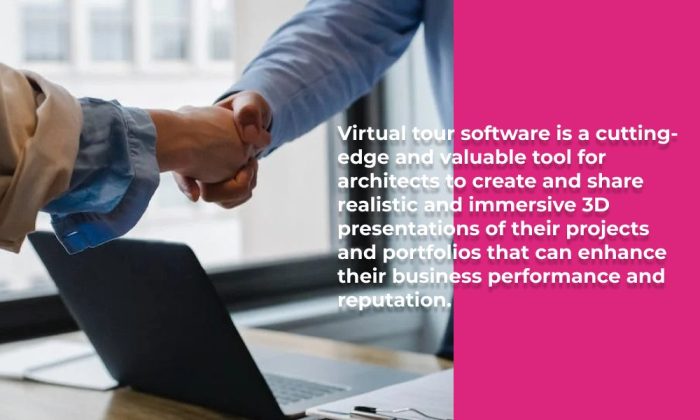 You may understand the complexity and competitive nature of the industry. To stay ahead of competitors in your field, it is necessary to adapt quickly to changes in client needs and preferences and market shifts; offering something unique and valuable sets you apart.
How can this be accomplished in 2023, when the market is projected to become even more demanding and sophisticated? How can you stay current with emerging trends and technologies in architecture and design?
Virtual tour software can give your business the competitive edge and unique selling proposition it needs in 2023. By creating stunning virtual tours that showcase projects and portfolios unlike any other medium can, as well as using AI and VR technologies to create engaging immersive experiences, virtual tour software will ensure clients remain loyal fans.
Virtual tour software can help your business attract more clients, generate leads, convert them more successfully and expand referrals. Furthermore, this tool can boost reputation and brand recognition through viral content shared across social media and online platforms.
3. Why is Panoee our top pick for the best virtual tour software for architecture in 2023?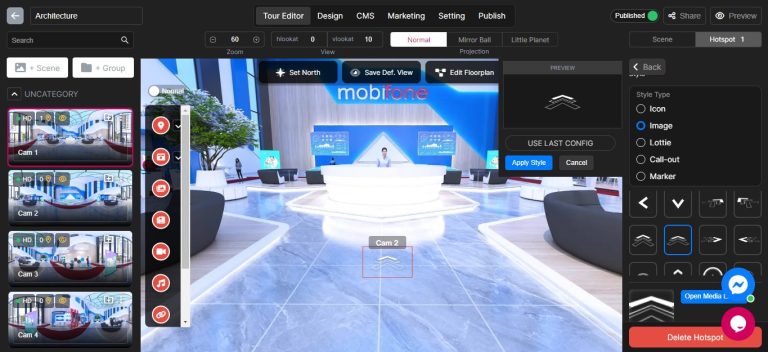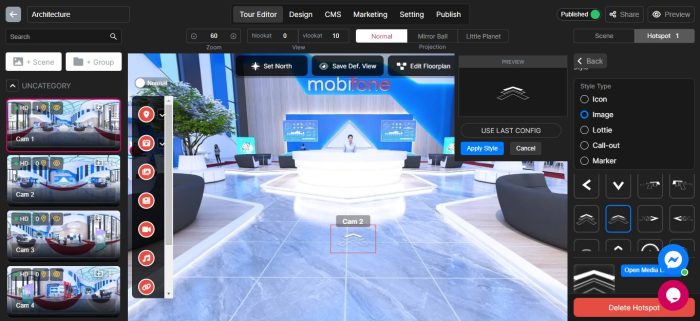 Are You Searching for Powerful yet User-Friendly Virtual Tour Software for Architecture in 2023? Panoee provides an easy, powerful virtual tour software platform designed to showcase architecture. As an intuitive cloud platform that makes creating breathtaking virtual tours quick and effortless – with templates, themes, features, and integration with Google Maps, SketchUp, WordPress, etc. to further your virtual tours – Panoee provides powerful yet user-friendly virtual tour solutions in 2023!
Panoee provides new users with a free trial period so you can assess its capabilities before making your commitment. Plus, don't hesitate to get in touch if you require more info or need support! Our friendly support staff would love to hear from you! We're more than eager to assist.
Here are some of the reasons why we think Panoee is the best virtual tour software for architecture in 2023:
Providing an intuitive user interface, making creating and editing virtual tours effortless without coding or design expertise.
Unlimited upload bandwidth that makes your high-quality rendering image processing quick.
Showcasing your works with Portfolio feature
Many interactive features for virtual tours, such as hotspots, annotations, audio/video files/links/feedback forms/Call-to-action, etc. These features can all add depth and engagement to the experience for visitors – Learn more
Flexible pricing plans to meet the budget and needs of every organization. Choose between free, monthly, or yearly plans to find what fits best. Upgrade or downgrade at any time as your circumstances change!
24/7 customer support to address any issues or inquiries, plus online tutorials and FAQs explaining how best to use Panoee.
How to Create a Virtual Tour for Real Estate – Learn more
Virtual Tours in Healthcare – Learn more
Virtual tour software has quickly become an essential asset for architects in 2023. It helps showcase projects and portfolios engaging and immersively while saving time and money by eliminating physical site visits or travel needs, keeping ahead of the competition while meeting market demands in 2023.
Panoee is a practical yet straightforward virtual tour software solution. You can create stunning architectural virtual tours in minutes using its templates, themes and features explicitly tailored for architecture projects. Furthermore, Panoee can integrate with Google Maps, SketchUp or WordPress to enhance its virtual tours further.
Take advantage of this opportunity to expand your architecture business with virtual tour software like Panoee! Now is the time to take your virtual tours to a new level!
Follow Panoee:
Facebook: https://bit.ly/Panoee_Community
Twitter: https://bit.ly/tw_panoee360
Youtube: https://bit.ly/yt_panoee360
Telegram: https://t.me/panoee360
Tags