Hey Panoee users! Are you looking for an easy and streamlined way to showcase all of your amazing virtual tour projects? If so, you're in luck – Panoee has just introduced its all-new portfolio feature to give you the perfect solution. With this handy tool, you can easily display and manage your entire library of work with ease, allowing anyone to view it seamlessly from any device. Read on to learn more about why our feature is the go-to source for organizing and showcasing your virtual tours!
1. About Panoee's Portfolio feature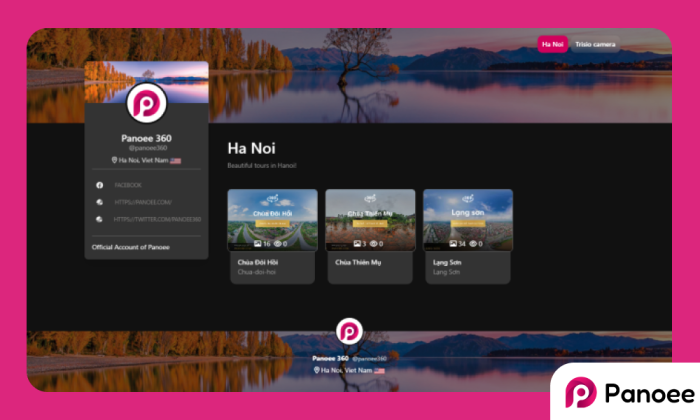 Panoee's portfolio feature makes virtual tour projects come alive by giving them the professional attention they deserve. Not only can you create and organize different categories within your Panoee portfolio, but you can also customize the overall look of the page to match your brand or style. In addition to that, Panoee's Portfolio lets users monitor their various virtual tour projects to see how many views, likes, and shares they've received. This is an extremely useful feature that helps users manage their projects more effectively and efficiently without having to go through a tedious trial-and-error process. In short, Panoee's Portfolio feature is a great way for users to make the most out of their virtual tours.
2. Benefits of using Panoee's Portfolio feature
Professional showcase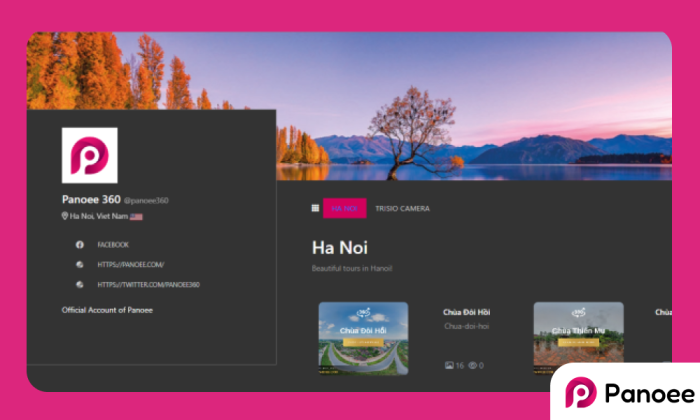 Panoee makes it easy for you to present your virtual tours in the most professional and visually appealing way possible with its portfolio feature. This feature allows users to create an impressive showcase of all their work and it catches the eye of potential clients or viewers. It adds a real edge to the way you can display your virtual tours, making Panoee an unbeatable choice for anyone who wants to show off their work in style.
Customizable design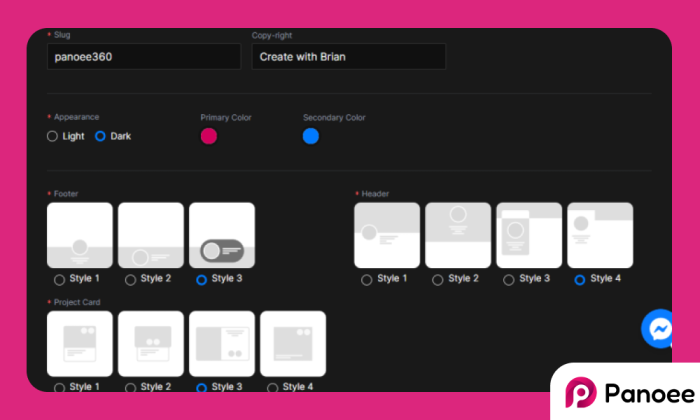 Panoee brings your portfolio and creative vision to life with its versatile customizability for users. Showcase yourself in a personalized virtual tour that reflects you and your brand, by making use of Panoee's portfolio feature! You can customize the layout, design, and branding of your profile page to match exactly what you're looking for; there are endless possibilities to make your Panoee portfolio stand out. With Panoee's user-friendly design tools and customizable options, you'll be able to create a unique portfolio experience perfect for potential clients or employers.
Easy organization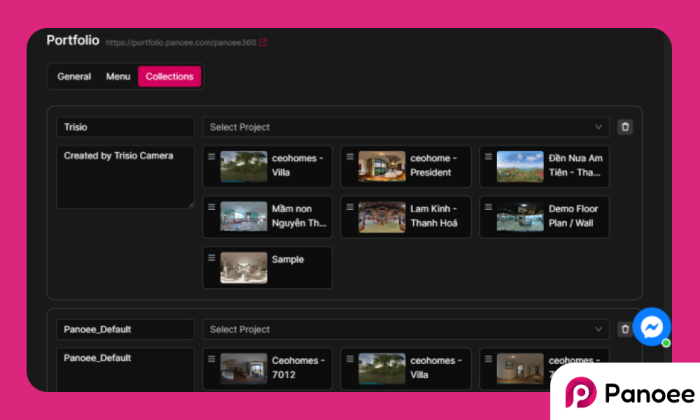 Panoee users will never have to worry about finding the right virtual tour again; users can easily categorize and organize their tours into different galleries and projects for foolproof access. Panoee's portfolio feature allows you to store all your virtual tours in one place, making it easier than ever to see your work at a glance. With Panoee, the organization is incredibly intuitive – not only can you create albums of your work, but also add detailed descriptions and keywords for easy retrievability. Take the headache out of the search by giving Panoee's organization system a try today!
Tracking and analytics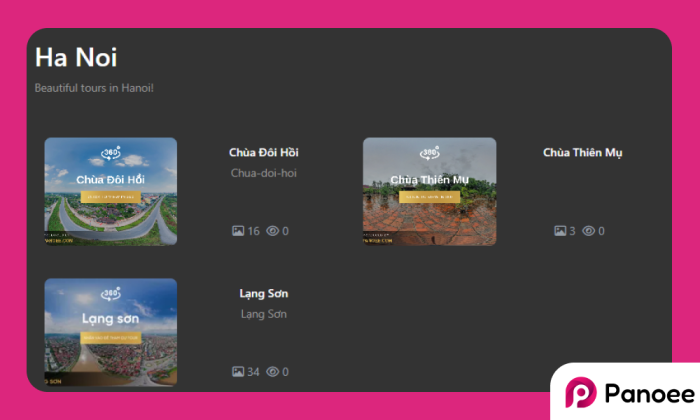 Panoee has introduced a highly useful feature – the Portfolio feature. It is designed specifically to help Panoee users track and analyze their virtual tour projects' activity and effectiveness. With the Portfolio feature, you will be able to keep an eye on the number of views your projects have had and analyze any changes in performance over a period of time. Panoee's analytics provide insights that can help improve your current and future project results, ensuring maximum success. If you're looking for an easy way to track progress and stay ahead of the competition, Panoee's portfolio feature makes it simple!
Marketing and promotion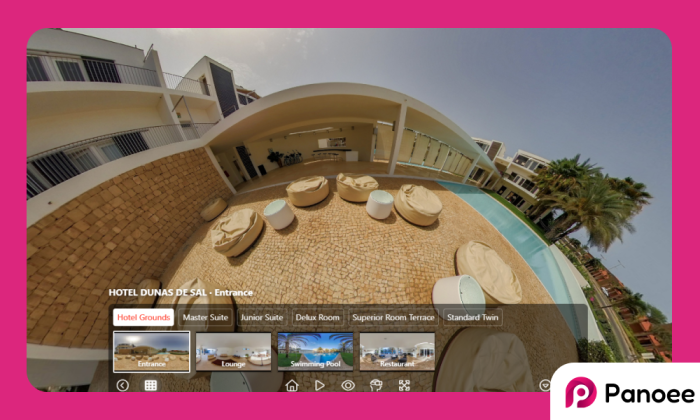 Panoee offers an incredible portfolio feature that makes marketing and promotion of virtual tours a breeze. With Panoee, viewers can easily spin their way through a list of stunning virtual tours, adding a vibrant web presence to any business or individual looking to showcase their projects. Panoee's portfolio feature allows users to organize their portfolios based on project category or other parameters, so viewers are presented with an easy-to-navigate set of themed goodies. Panoee takes the hassle out of marketing and promoting virtual tours, so potential clients and viewers have one less thing to worry about
3. Applications of the Portfolio feature
Real estate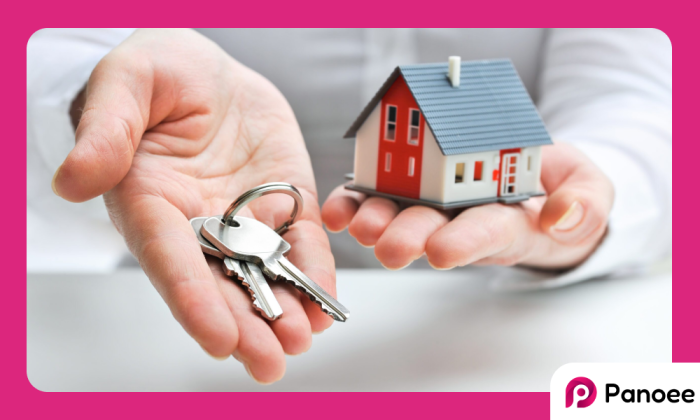 Real estate agents have a great new way to showcase properties to potential buyers without ever stepping inside the door – Panoee's portfolio feature. Panoee offers an immersive virtual tour experience for any listing, allowing agents and customers alike to take a walk-through of a property from a computer or device. Additionally, Panoee's portfolio feature lets you create a custom album with multiple virtual tours so that customers can compare and contrast different listings easily.
Learn more:
Best Virtual Tour software for Real Estate 2023
Real Estate Marketing: 9 Benefits of Using 360 virtual tours
Hospitality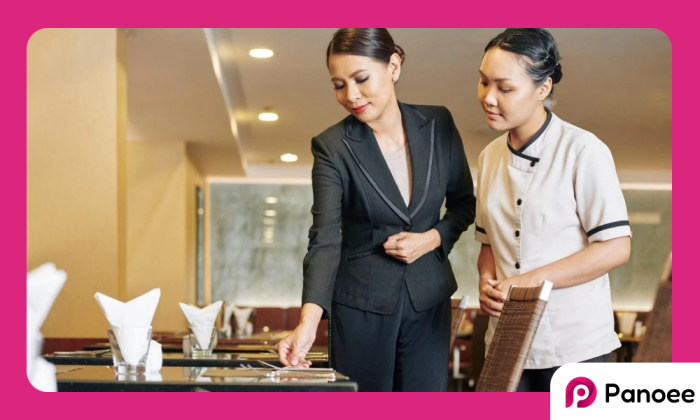 Panoee's portfolio feature offers a great new way for hotels and resorts to show off their hospitality to potential customers! Guests can now explore the rooms, amenities, and event spaces with a virtual tour, getting an up-close look at luxury accommodations. This is an effective way for lodging services to engage with their clientele and influence their decision-making process. Panoee's portfolio feature puts the power in the hands of hotels which can help turn browsers into guests.
Tourism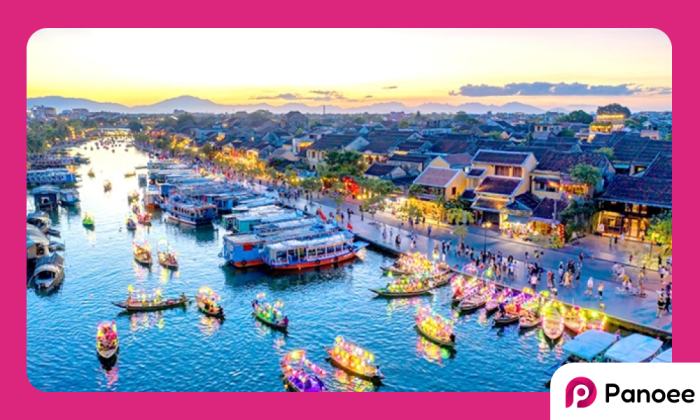 Panoee offers the perfect opportunity for tourist destinations to promote their attractions and provide a preview of what visitors can expect when they arrive. By creating an experimental virtual tourism experience with Panoee, businesses in the tourism industry have the potential to break through barriers of geography and advance customer relationships.
Education
Educational institutions can now provide prospective students with a more realistic introduction to their campuses and facilities thanks to Panoee's portfolio feature. Panoee offers the chance for students and their families to take interactive virtual tours of a school without having to make physical trips. With Panoee, educational institutions have access to an excellent tool for showcasing their campus in vivid detail – so those ready to begin their educational journeys can make well-informed decisions about where they want to go!
Architecture and Design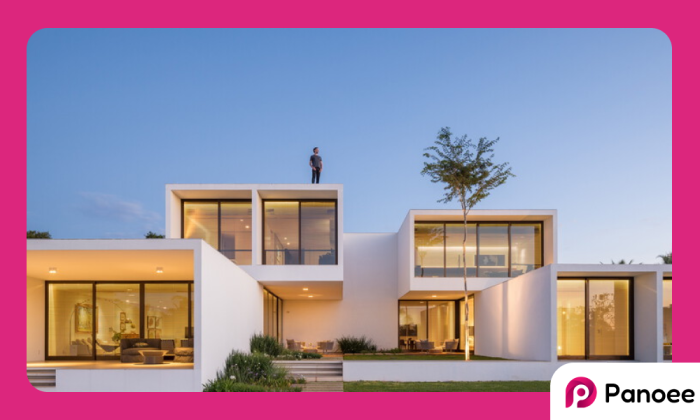 Panoee is an amazing tool to help architects and designers put their portfolios in the spotlight! This portfolio feature empowers them to share virtual tours of their projects with potential clients and grants a much more realistic and immersive experience. Architects and designers who leverage Panoee's portfolio feature will be able to showcase their creations in a way that no other medium can – it brings life to designs they envisioned so they can spread the joy these spaces bring to the real world.
4. How to create a stunning portfolio with Panoee
Fill your Profile information
Open the Profile tab and start filling your information.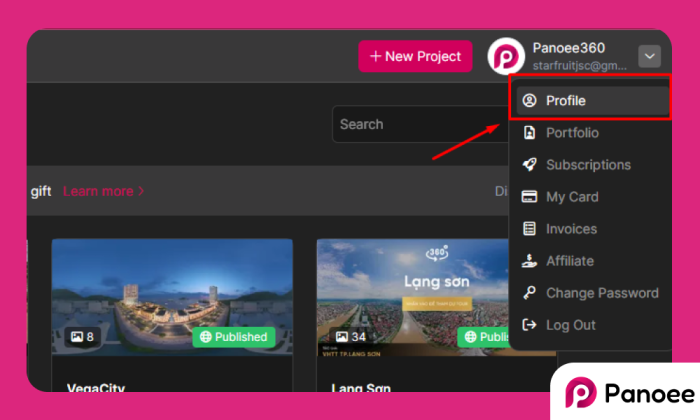 Don't forget to save whenever you done! 😀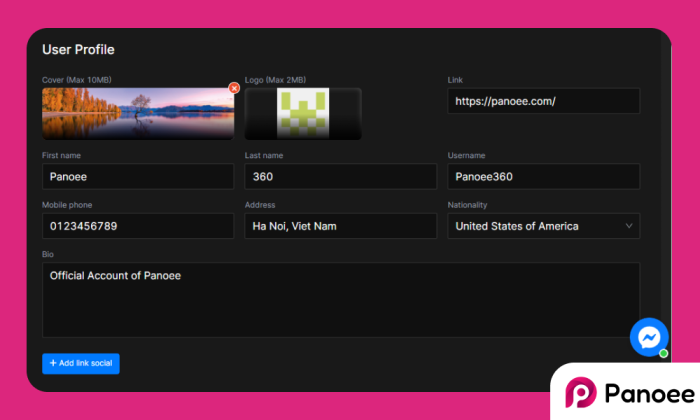 Create your Portfolio
Open the Portfolio feature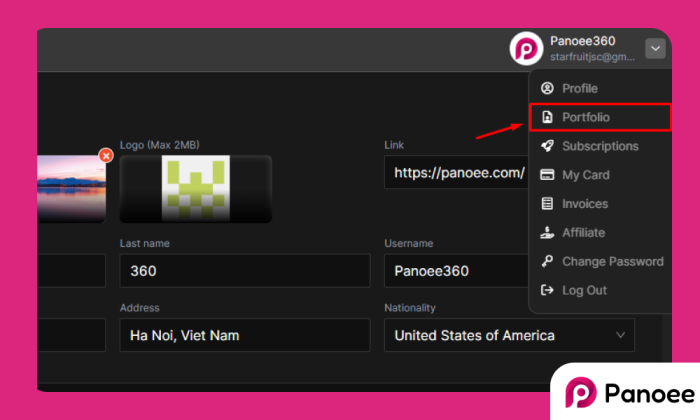 Customize your Portfolio's appearance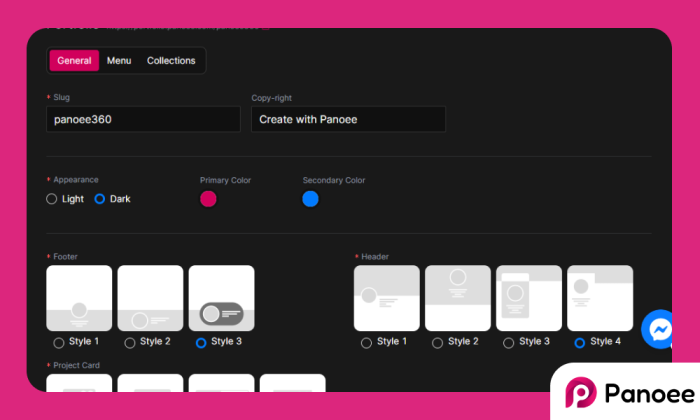 Create some Collections of your work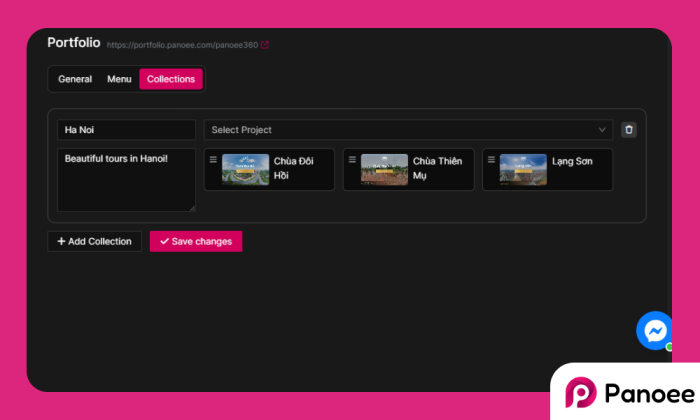 Add Menu to your Portfolio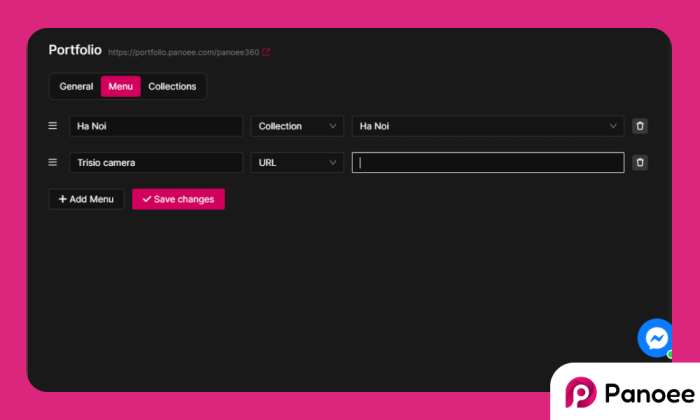 Don't forget to save your Porfolio 😀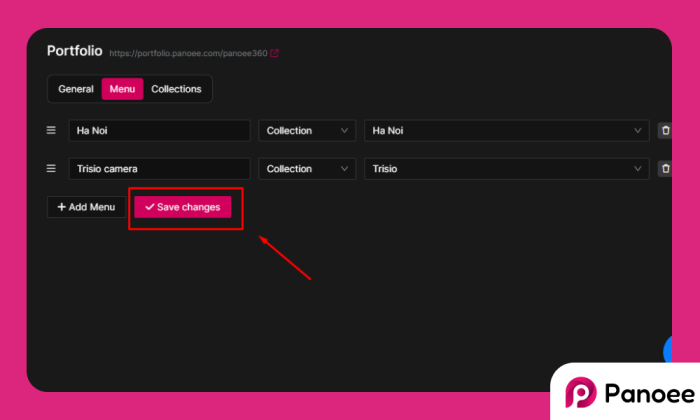 It's clear that Panoee's portfolio feature has everything you need to showcase your virtual tours with ease. From easy-to-access tools and features, as well as an intuitive design, you'll be able to quickly organize and curate the ultimate presentation space for all your records and accessories. Whether you're a beginner or a seasoned pro, Panoee is the ideal solution for you to easily create virtual tour galleries that impress. Plus, with no additional fees or contracts needed, Panoee makes it simple for everyone to share their work with precision, accuracy and style. So go ahead and try out the portfolio feature today – you won't regret having this powerful tool in your virtual arsenal!
Facebook: https://bit.ly/Panoee_Community
Twitter: https://bit.ly/tw_panoee360
Youtube: https://bit.ly/yt_panoee360
Telegram: https://t.me/panoee360