A virtual tour can be a great way to show off your business and its products or services to potential customers. In this article, we will discuss the benefits of virtual tours and how you can use them to boost your online marketing efforts. If you are Dealerships, Sales Reps or Brokers who have multiple or recurring listings and can follow simple instructions and generally understand how to take photos with your phone or 360 camera and upload them, you can use any Virtual Tour  360 software which is easy to free download. Panoee is highly recommended thanks to its ultimate benefits.
Benefits of virtual tours for businesses
Businesses are looking for new and innovative ways to reach their target audiences. The strategy of online marketing that is growing in popularity is a virtual tour, which is an immersive experience that allows users to explore more than a location from the comfort of their own homes. Virtual tour technology has been used for years in the real estate industry but is now being applied to other businesses as well, thanks to the 360-degree ability and multi-outcomes such as computers, phones, or virtual reality headsets.
Generate faster and more sales with Virtual Tours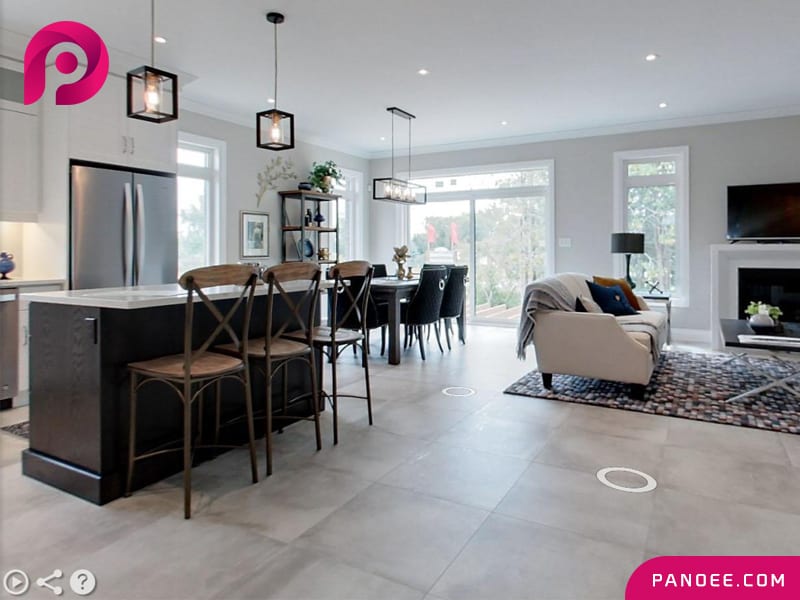 Virtual tours allow clients to see and interact with an environment such as a showroom, venue space, office tour, and so on. There is research showing that the conversion rate on products sold on the website has 360-degree photos, which is about 30% higher than for standard two-dimensional images. 
Enhance your presence in the search with Virtual Tours
A 360 virtual tour is a feature that not only allows a complete and detailed presentation of your business but can also help in building and increasing your online presence. The virtual tour brings more customers to your business and stands out from the competition. A virtual tour offers extra confidence in your business as clients and customers can view inside and see how and where you work. Clients naturally feel more affinity with businesses they can see. There are statistics have shown that websites with virtual tours are viewed more than usual times longer than those without.
Increase traffic and engagement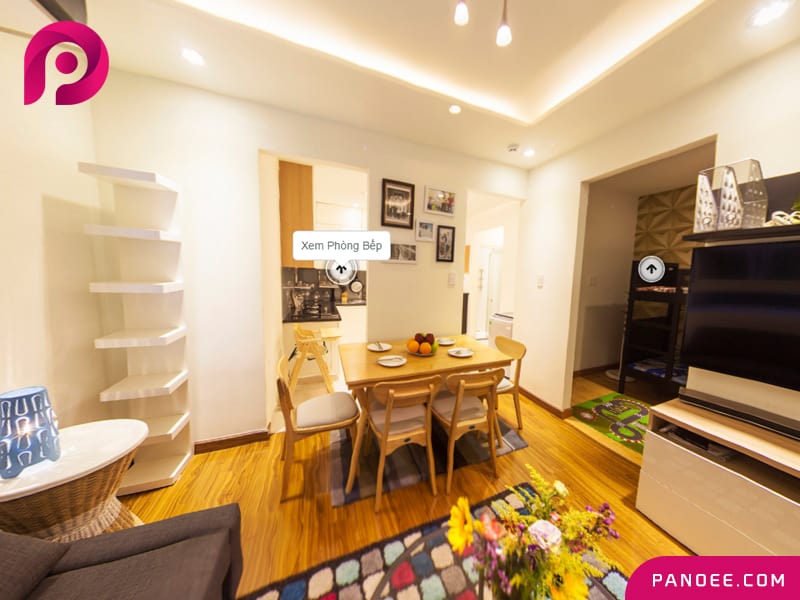 According to a study by BIA/Kelsey a client helps companies competing in today's local advertising and marketing environment, they said there are 97% of consumers go online before purchasing to research products and services locally. The evidence suggests that whatever the business, retail, office or service industry, there will be more people who will be willing to purchase or work with you if they know exactly who you are.
Best virtual tour 360 software
Virtual tour software takes a business in this industry to the next level – being professional. Whatever your use, in any case, virtual tours are now an essential part of doing business in the 5.0 technology century. Keep reading to find out the list below of the best virtual tour software that can help you create a virtual tour in such a little bit of time.
Panoee 
Panoee is a free next-gen Virtual Tour software that focuses on helping both 360 photographers & end-users to edit & publish high-quality, versatile, beautiful, interactive 360 Virtual Tours in a few minutes. Moreover, Panoee supports variant types of Hotspots with lots of customization. Panoee has built-in CMS to manage all posts & data centrally, combining with various themes/templates so users can design the Virtual Tours to match business brand guidelines. 
BeFriend

Free

Companion

$18 / month

Enjoy making Virtual Tour

without worrying about the cost.

Unlock all premium features

for all purposes.

7 Types of Hotspot

Multiresolution support

Unlimited, high-quality Upload

Unlimited Bandwidth

20Gb of free Data

Customized Theme

Integrate Analytic

Branding: Logo, Credit,…

Password Protected Tours

2 free Custom Domain per month

Custom FloorPlan & Map

eCommerce support

Detail Analytic

10 Type of Hotspot

Access all Premium features in future

+ Everything in "Be Friend" Plan
User is not worried about the pricing if you need basic Virtual Tours with basic features to showcase your photography and use Panoee for free forever with no strings attached. Panoee is entirely free to use! The Free Plan does have some limitations; however, you can upgrade your subscription plan anytime you want!
Panoee does not offer a free trial, mainly by technical issues. But as assuring 100% no-risk Money Back Guarantee, if the service can not satisfy, Panoee software happily refunds your money, without questions.
3DVista
3DVista Virtual Tour Suite is a Virtual tour solution designed to help businesses of all sizes in the real estate and tourism sector use inbuilt multimedia elements such as photos, videos, sounds, and floor plans to create virtual tours. 3DVista Virtual Tour Suite enables designers to add clickable hotspots that open detailed images and purchase windows or 3D models to attract customers. It also allows creators to add animated and live panoramas, and 3D transition effects, and include 360-degree videos to create VR-compatible tours.
With the pricing of US$199.00/one-time and free trial, 3DVista Virtual Tours can be seen on any computer, tablet or phone (Android & iOS) – no installation or plugins are needed.
Features of 3DVista Virtual Tour Suite
Social Media Integration

Drag & Drop

Virtual Reality

For Real Estate

Floor Plans & Maps

Hotspot

Panoramas

Voice-Over / Audio

For Hospitality
Cloudpano
CloudPano 360 virtual tour software empowers you to create 360 virtual tours. Market any property in full 360 and VR. With over 16,000 users on CloudPano, entrepreneurs start and grow virtual tour businesses on CloudPano. Now with Live video chat, CloudPano aligns with the sales goals of business owners around the world.
CloudPano Features
Conversion Tracking

Drag & Drop

Floor Plans & Maps

Hotspot

Panoramas

For Hospitality Industry

For Real Estate

Social Media Integration

Virtual Reality

Voice-Over / Audio
Do it Yourself Virtual Tour Solution using the Panoee virtual tour 360 software
Panoee Virtual Tour Solution is ideal for Dealerships, Sales Reps or Brokers who have multiple or recurring listings, and want the convenience of taking their photos or living outside. Virtual Tour Solution enables dealerships, listing agents or resellers all over the world to take their own 360° photos, and upload them then create a professional Virtual Tour for the listing or web page. And it can be used with your existing website or listing page.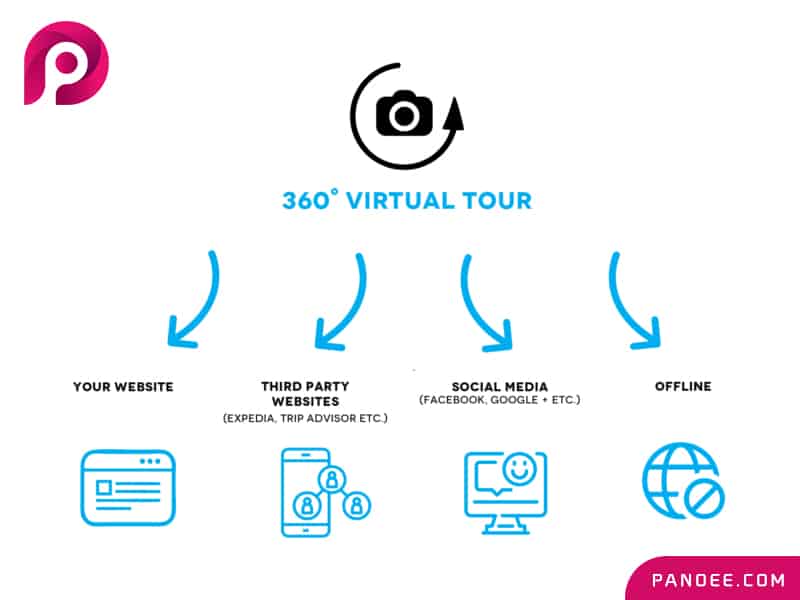 If you can follow simple instructions and generally understand how to take photos with a 360 camera and upload them, you can use the Panoee virtual tour 360 software to create 360 Virtual Tours in minutes, with ease.
There 3 simple steps to make your own Virtual Tour by Panoee:
– Step1: Take photos using 360 cameras like Trisio, Insta360, Ricoh Theta, or Mobile App
– Step 2: Edit, produce and publish 360-degree photos by Panoee
– Step 3: Post on the web, Facebook or other social media
For more detail instruction, you can access our guide blog on Website
If you're interested in using virtual tours to boost your online marketing efforts and enhance business, there are a few things to keep in mind.
First, make sure the virtual tour is high-quality and informative. You want potential customers to get a good sense of your business, so be sure to include plenty of information and details.
Second, promote your virtual tour on your website and social media channels. You can also create a short video or blog post about the virtual tour to generate interest.
Finally, consider offering a discount or incentive for customers who take the virtual tour. This will help you boost leads and sales!
Furthermore, you may use the bespoke form to collect leads at touch points, allowing your potential customers to provide their contact information, including email and phone numbers – a crucial resource for retargeting.
A virtual tour is a great way to reach potential customers and differentiate your business. By following the tips above, you can use the virtual tour to boost your online marketing efforts and grow your business!